Licensing
3 Min.
How to upgrade the WordPress plugin to the Pro plan
The Tripetto WordPress plugin always helps you to build awesome conversational forms, but also offers additional pro features that can be unlocked by upgrading to the Pro plan. Let's see show how you can upgrade to the Pro plan!
---
About Tripetto Pro
Tripetto's Pro plan always includes all features and priority support. Its pricing only varies depending on the number of sites you want to equip with Tripetto:
Single-Site - Lets you equip a maximum of 1 WordPress project with Tripetto;
5-Sites - Lets you equip a maximum of 5 WordPress projects with Tripetto;
Unlimited - Lets you equip unlimited WordPress projects with Tripetto.
Click here to discover and purchase the Pro plan.
---
Purchase Tripetto Pro
The Pro plan can be purchased in two ways:
Via our website;
Via your WP Admin.
Purchase via our website
On our pricing page select your preferred amount of sites and then follow the steps to checkout.
Purchase via your WP Admin
Inside your WP Admin navigate to the Tripetto plugin menuClick UpgradeSelect your preferred amount of sitesFollow the steps to checkout.
---
Install Tripetto Pro
After checkout you will receive everything you need to proceed, namely:
A .zip file with the Pro version of the plugin, which you can download after the checkout. Save this file to your computer. You don't have to unpack the .zip file;
Your personal license key, which will be sent by email.
To install the Pro plugin, open your WP AdminNavigate to PluginsClick Add NewClick Upload PluginSelect the .zip file from your computerClick Install NowClick ActivateEnter your personal license key.
Now the Pro version of Tripetto is installed and ready to use right away!
💡 What happens with your data?

If you already had Tripetto installed, for example the free version, that plugin will be deactivated automatically during the upgrade process. Any existing forms and entries will be availabe in the Pro version right away, so you won't lose any data.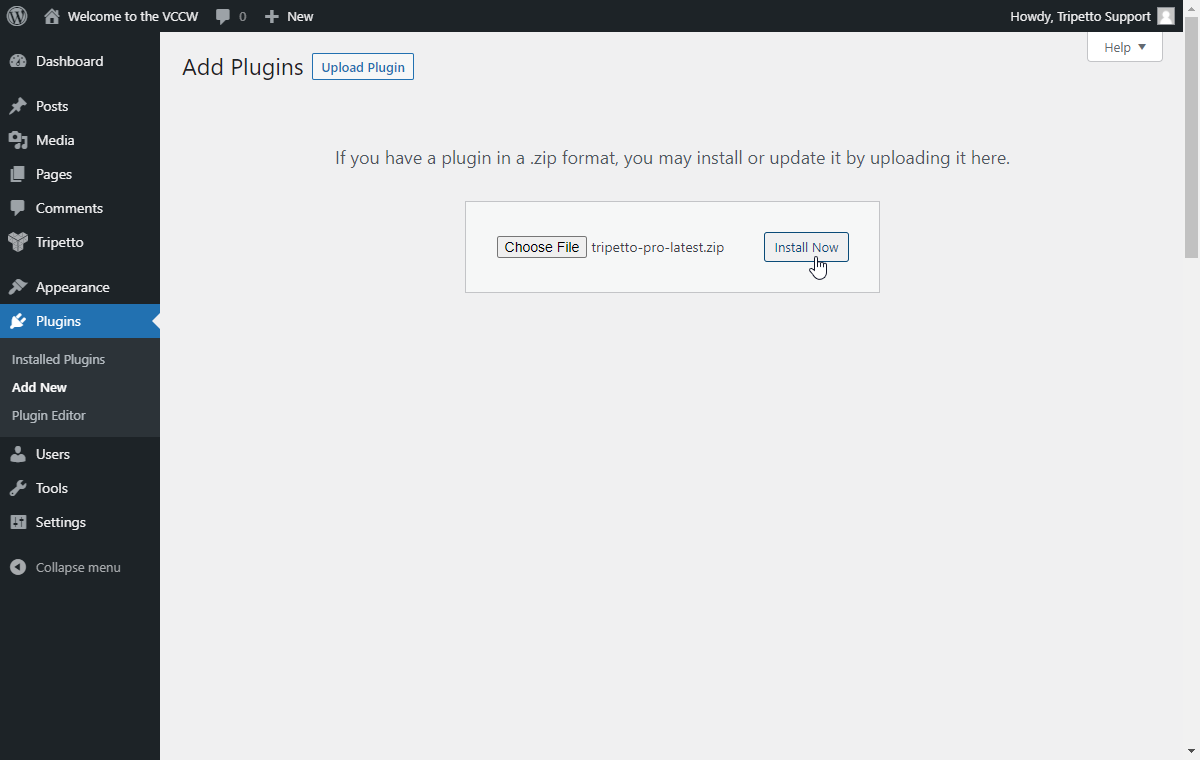 ---
Manage Tripetto Pro license
After you have purchased a Pro license for the Tripetto WordPress plugin, you can manage your license activation, account information and billing information via our licensing partner Freemius. They take care of distribution, licenses, subscriptions, payments, billing, etc. Basically everything related to your Tripetto Pro license. Learn more about managing your Pro license with Freemius.