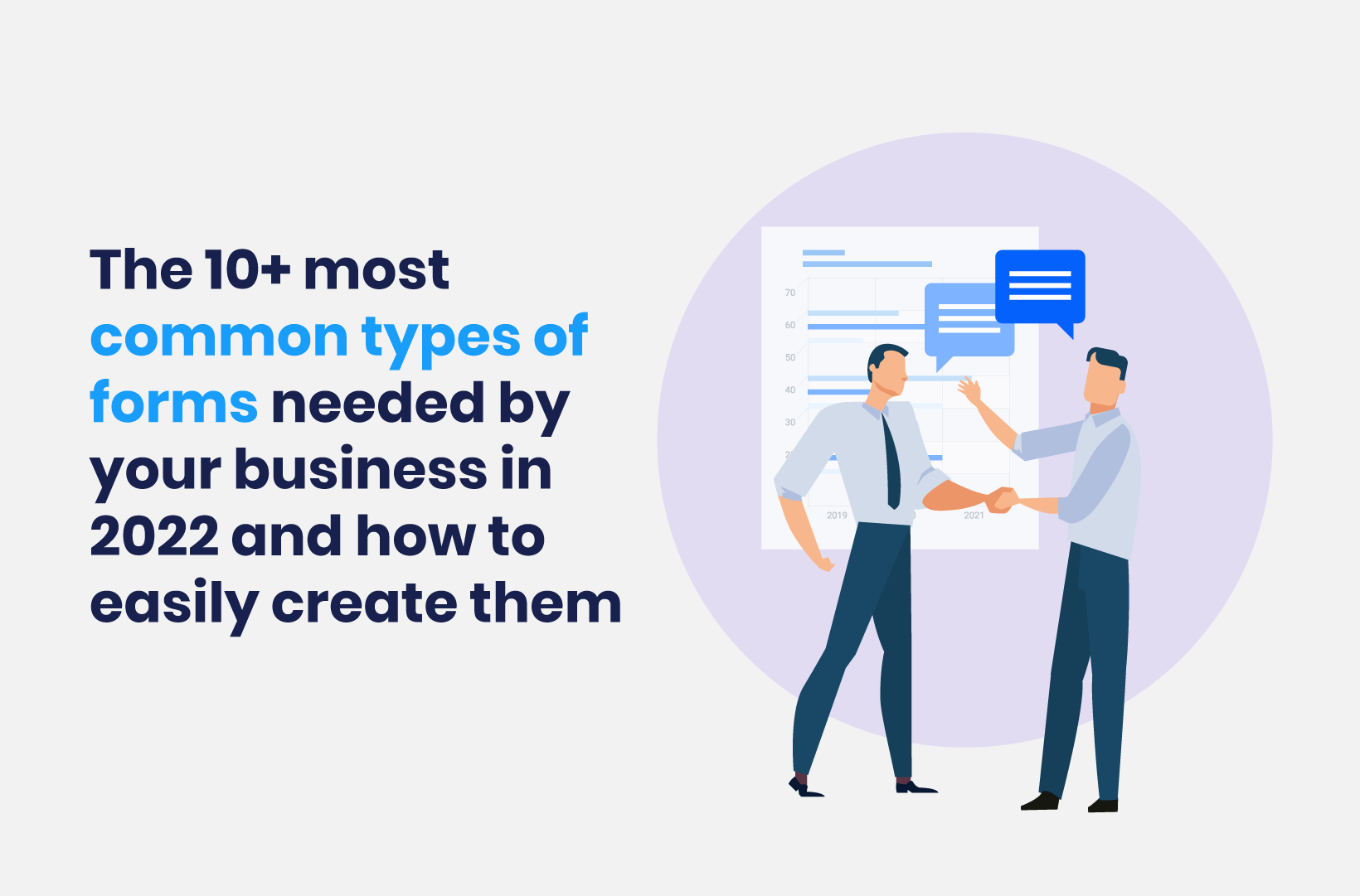 Tips & tricks
11 Min.
The 10+ Most Common Types of Forms Needed by Your Business in 2022 and How to Easily Create Them
Forms can be the lifeblood of your website and key to boosting your income. This post will discuss the most common types of forms your business needs in 2022!
---
Forms are one of the most versatile and powerful elements of your site. There are numerous types of online forms that you can use to collect all sorts of data and provide a dynamic aspect to help user engagement. However, WordPress doesn't include built-in form functionality by default. The good news is you can use Tripetto to create all of the most common types of forms you'll find.
If you want a way to nurture leads without propping up negative connotations, such as how invasive a poorly-designed solution can be, Tripetto will offer the goods. It uses an intuitive workspace and builder to help you create professional forms for all sorts of niches. No matter whether you work in marketing, sales, or an internal department, thoughtful forms are on the menu.
In this post, we're going to look at some of the most common types of forms you'll use for your business in 2022. Before this, let's take a quick look at some of the best practices you'll want to follow to make your forms stand out.
---
The Best Practices You Should Follow When Creating the Most Common Types of Forms
As a precursor to the most common types of forms for your business, it's worth pointing out some of the best practices you'll want to follow when you build your own forms. This applies on a global level, in that regardless of your niche, these tips can enhance different types of forms and add value to whatever your goals are:
The writing you use in your form should be clear and direct. Any message should explain exactly what to do, and in some cases, you'll also want to explain why. This doesn't have to be a long-winded approach – use the least amount of words to get your point across.
By extension, you only want to ask for critical information that's necessary to 'win' a conversion. This is a situation where you'll get the right answer given the right question.
The structure of your form matters, and your use of underlying logic is central to the whole experience – so consider this a primary facet of your form's design.
This might seem counter-intuitive, but you should also minimize the number of text fields in your form. Users tend to respond less to long forms, and in any case, your choice of form builder should let you offer variety in how a form can be completed. If you're looking for additional information it should always be optional.
Further to this, an engaging form that uses a good layout is one a user will want to complete.
Central to lots of business web pages is a Call To Action (CTA), and forms are no different. You can treat the primary action on a form much like a landing page. For example, if you offer a CTA and incentive to complete the form, you'll get more responses in theory.
You'll also want to make sure all users have the opportunity to complete the form. If your form doesn't play nicely with smaller screens and mobile devices, you run the risk of alienating sections of your audience – and this could be a sizable chunk of people.
Summarizing the Best Practices You Need to Follow
It makes sense that if your needs require lots of different form types, you'll want to choose a builder that can cope with the demand. It will need to offer various good-looking layouts, advanced functionality and logic, and a number of different question types and form fields.
What's more, it should also make your forms look as good on mobile as it does on desktop. Combined, you have a great foundation to build on top of. The only step from there is to break a sweat and get to work!
---
The Most Common Types of Forms Your Business Needs in 2022 (And Key Tips to Create Them)
All of the forms in the following section have a dedicated group. We've chosen to split them into three, dealing with marketing niches, customer support, and human resource and internal operations. Within, you'll find more variety.
Of course, you may want to read about all of the forms, because there is cross-over functionality to consider. What's more, you may be able to adapt a technique from one to your chosen application.
1. Marketing and Sales
Let's start with marketing and sales forms, of which there are a few different designs. There's also some crossover, so consider 'pollinating' your forms by taking a piece from a few different types.
Contact Forms
We should start with one of the most common types of forms around! You can consider this the base of every other form you'll create, regardless of its final presentation. It's the typical way a user who visits your site will get in touch with you, so it needs to be as approachable as you'd expect to be in person.
You'll want to use as few fields as possible, because there should be no barrier between the user and access to you.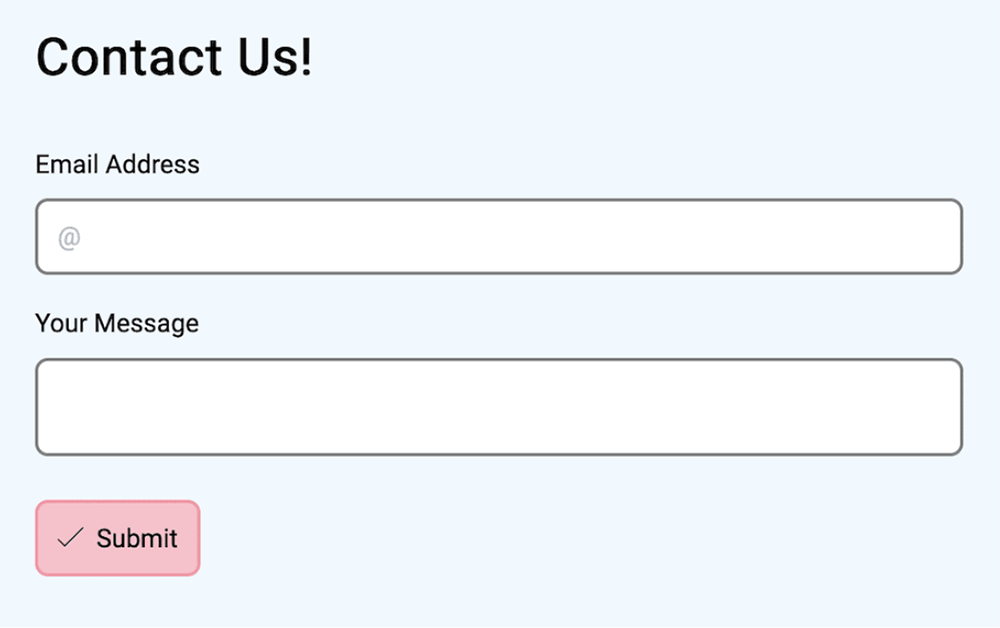 As such, you'll want to use maybe two or three fields at most: It will need a way for the user to type their message and the ability to enter their email address for replies, and that's it!
Newsletter Signups
One of the other common types of forms is a newsletter or email reminder service: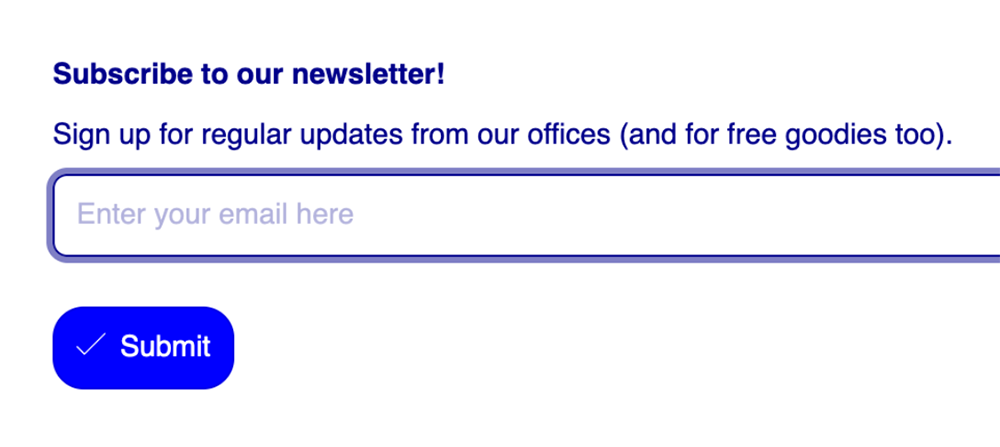 This type of form is really a 'one-trick pony': It lets a user sign up to your mailing list. However, you'll want to consider what your chosen newsletter service does to get the user on board. If they offer multiple opt-in steps, you'll want to consider this for your newsletter form.
For example, asking for a name would be nice to make a form more personal, but if you use double opt-ins, it's asking for trouble. Remember, the more steps a user has to undertake will increase the bounce rate for your form.
In most cases, you'll want to use one field for an email address and leave it at that.
Lead Generation
Lead generation forms come in all shapes and sizes. Of course, they are stellar for generating new leads, but they can also 'qualify' a user too. Because of this, the scope is wide for what you can achieve.
Much like the newsletter signup form, the key field here is for an email address because this is the primary contact information you'll need. However, you can (and should) add more forms here, along with an incentive for completion. This is where a form builder's logic functionality will shine, as you can provide different outcomes depending on the answers a user gives.
Appointment Forms
The ability to book appointments and book for events online is one of the core and common types of forms, so you'll need to employ this one at some point. It's great to help a user 'self-serve', and for you to take a hands-off approach and keep tedious administration to a minimum: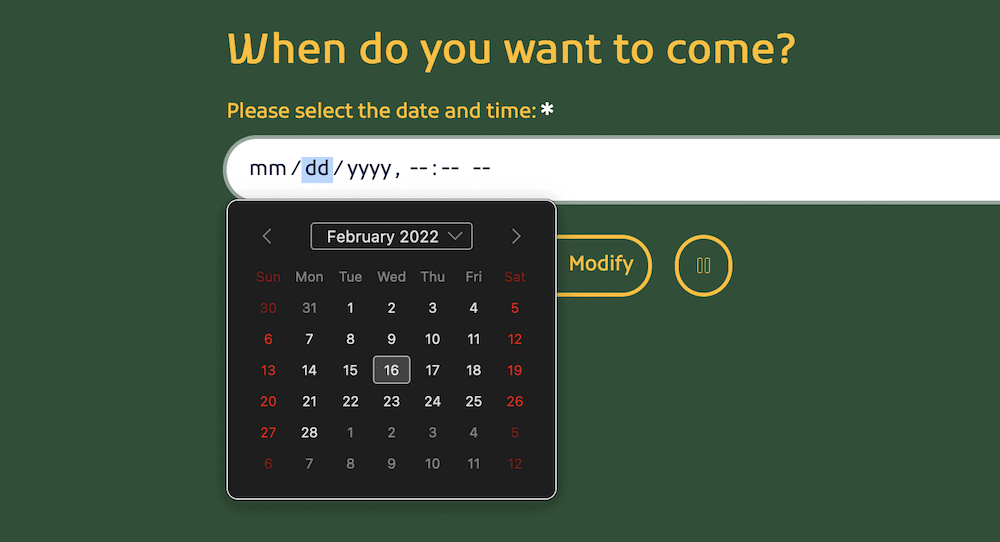 What's more, you can build logic into the form depending on the date and time the user chooses. Of course, you'll want to include a dedicated calendar, but also fields for a user's name and email address too.
An appointment form will often need you to connect to a third-party service, and Tripetto can carry out the heavy work for you. It connects with over 1,000 other services, and could be the final touch for your fully functional appointment form.
Invoicing
It's a left-field use case, but lots of businesses use forms as a way to submit invoices. In fact, this is a top-notch application because you can again build logic into your form to help the user submit the right invoice in the best format for you.
There are at least two fields that are non-negotiable here: Some form of identity, such as an email address, and a file upload field for a PDF or other document format.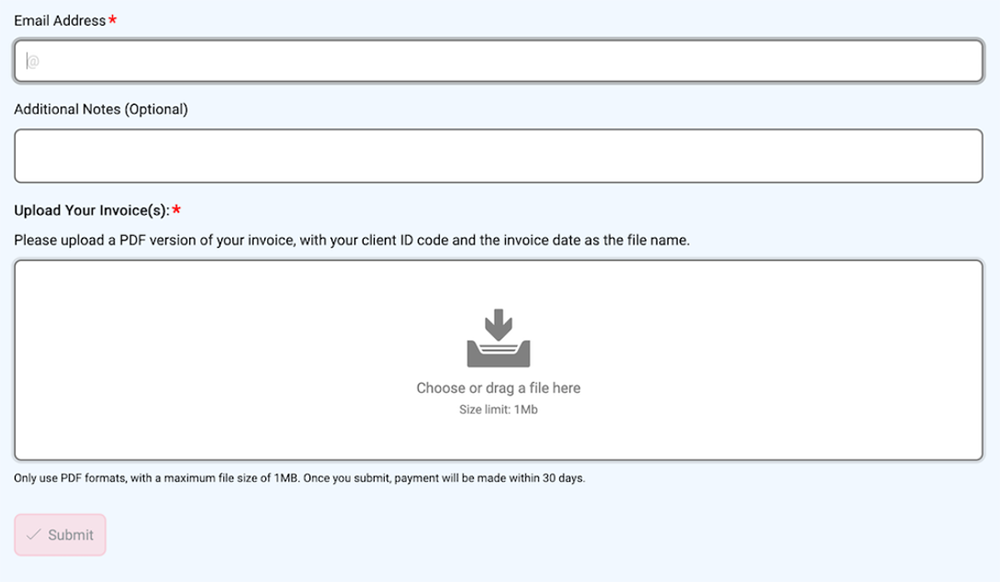 From there, you can customize the form to your liking. However, given that you'll be dealing with money, you won't want to make a form too difficult to submit.
Online Ordering
This form could be complex, depending on your needs. There are some cases where e-commerce functionality is too much for your site, and an order form or payment form will be a perfect fit. For example, you might process orders manually or prefer to use a payment gateway that doesn't have support with your chosen platform.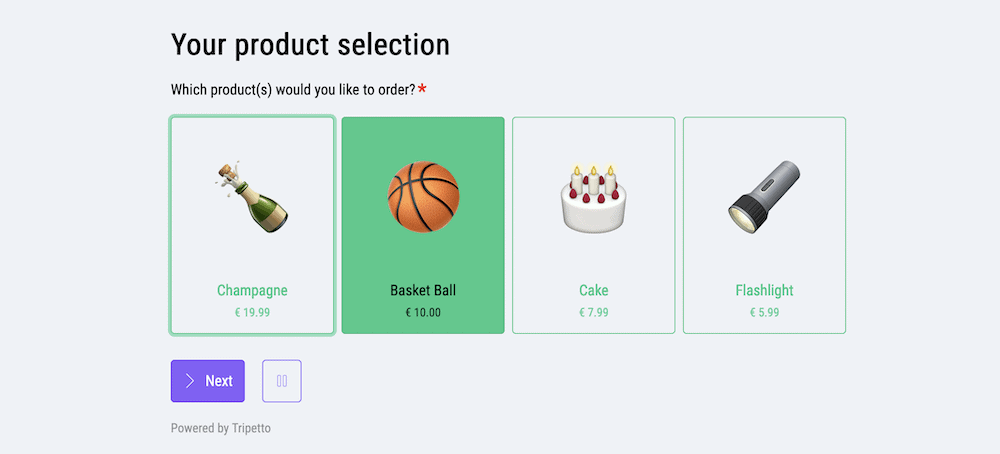 If you use a type of gateway such as PayPal, you won't need many fields. We recommend a picture choice field to select the product.
Furthermore, Tripetto's calculator block can help to calculate prices, discounts, shipping costs and every other aspect of your pricing.
Donations
This is another type of form that might rely on third-party gateway functionality. It will also seem complex on the surface, but this doesn't have to be the case.
Sometimes, you'll build this functionality into another form, such as a free download setup. However, in a bubble, a donation form needs as little resistance for the user as possible. This will benefit you, as the more straightforward it is to donate, the greater your potential return.
As such, this type of form will need at least the fields to enter how much to donate and an email address of the user. Simple!
---
2. Customer Support
This section will look at two different form types. However, in some cases, a survey could be a satisfaction form and vice versa. Also, you can refer to some of the forms in the last section, as they will cover the same type of functionality.
Surveys
Unlike some of the other common forms on this list, a survey will be one of the most complex. You'll want to throw everything you can at these forms, because they can reveal a lot about a user's thought and buying patterns: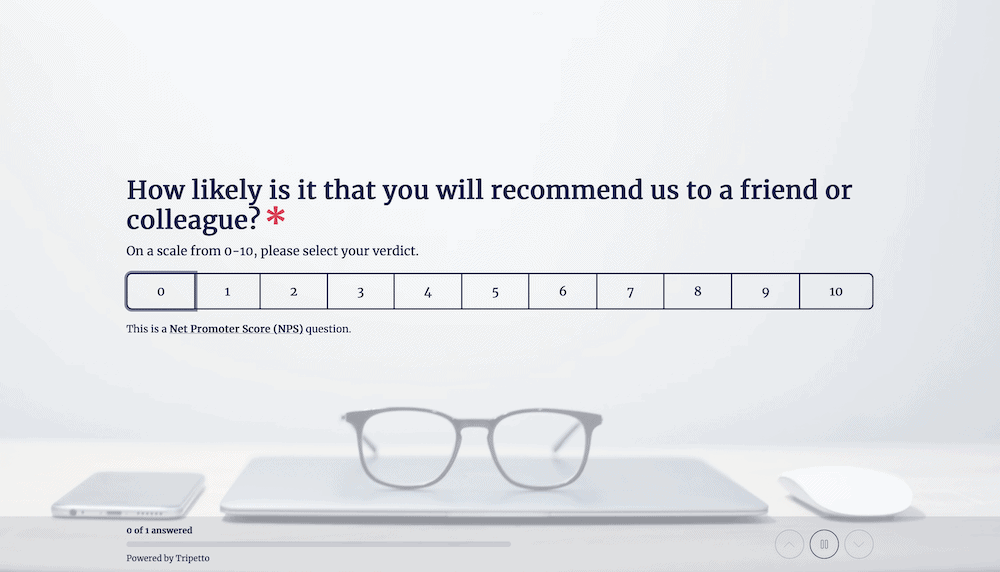 A survey could use almost every form type depending on your needs. You'll want to build variety into the form in order to keep engagement high. However, you won't want to make it too long. A user could opt to leave the page before they complete it. A survey takes a lot of research to get right, but offers immense value.
Customer Satisfaction and Feedback
Feedback forms offer such a wide range of styles that it's hard to quantify. Your company ethos will dictate how you create this type of form, and they're great for getting simple information (such as "How did we do today?") or complex feedback through multiple fields. The latter almost makes this type of form an app.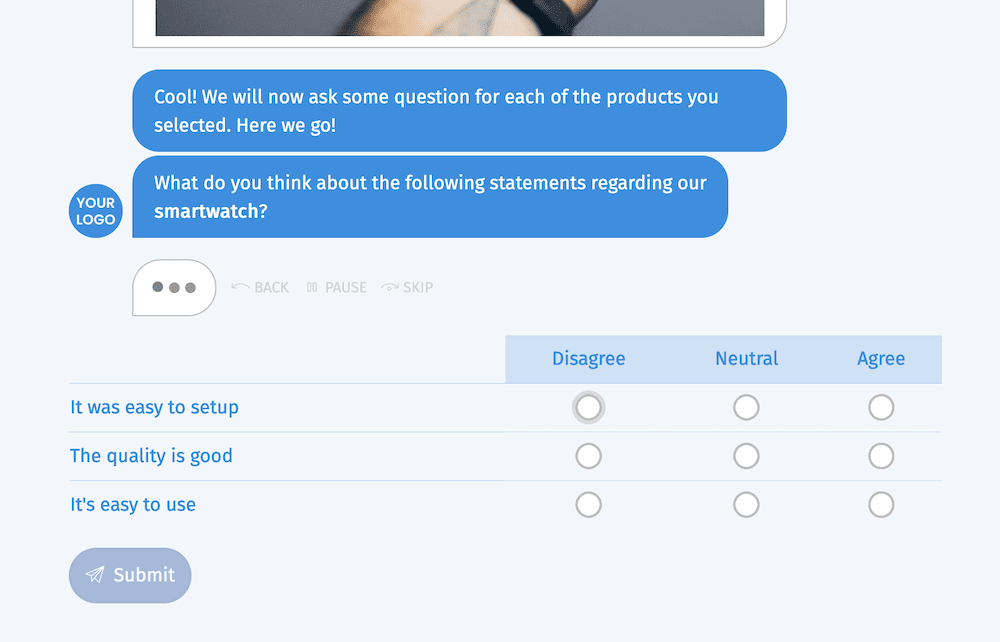 The most straightforward customer feedback example is a simple form with a choice-based layout. All you'll need here is a field that lets the user choose between two options, and a submit button. However, you can expand on this in lots of ways, especially if your builder uses various 'faces' as a way to present your form.
For example, you can combine it with a survey to find out exact information about a product or service. This is where pagination and sectioning your forms come in handy, and your form builder should offer plenty of options to keep engagement high.
---
3. Human Resources (HR) and Internal Operations
Forms don't have to be front-end, customer-focused affairs. You can also use them for internal operations too. You'll also note that there is one type of form missing here: those for collating employee feedback. In lots of cases, you can take the customer satisfaction forms from the previous section and adapt them.
However, let's look at a few other HR and internal forms now.
Job Applications, Assessments, and Tests
Of course, hiring is a key task for any HR department, and making the right hire is so crucial that the wrong one can impact the company for a long time. While a good form builder can't solve the riddle for you, it can offer you the best way to organize your applications and tests, and whittle down the applications, friction free: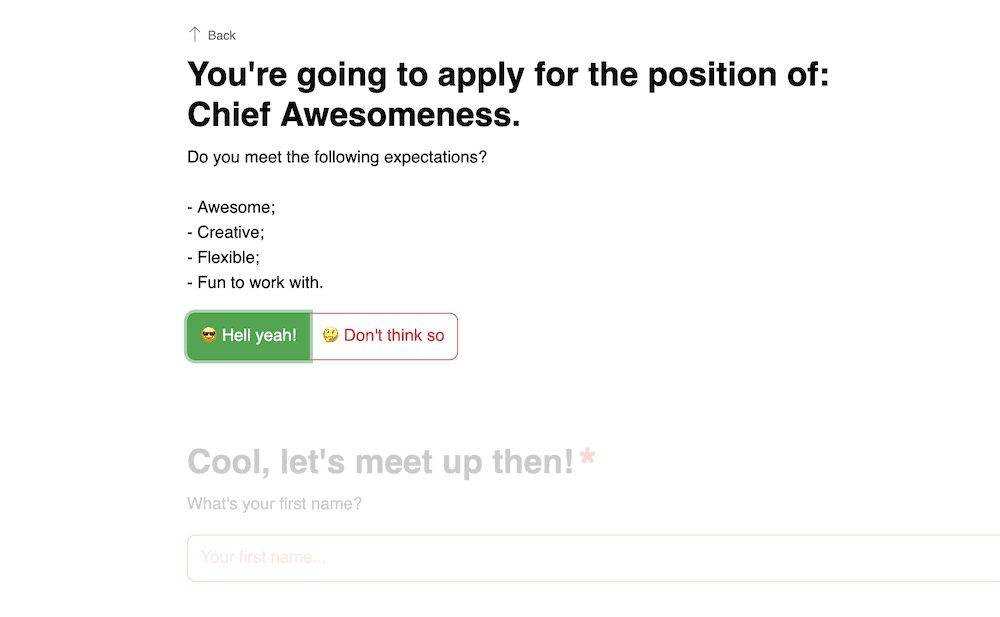 This is another form that needs lots of potential variety, along with the use of multiple fields. It's hard to create job applications without including a lot of text entry fields, and this is where your form-building skills come into play. A robust way to collect and store contact information will help your workflow.
However, one aspect that happens under the hood is applicant scoring. This lets you compare each candidate in an objective way. How you do this is up for debate and relies on what goals your management sets for a hire or successful test. Regardless, you'll want to carry out calculations to automate the scoring process. Tripetto's Calculator block is ideal for this.
It sits under the hood and tallies up predetermined values to provide an overall score. From here, you can collate the results and find the right hire, the best candidate, and more.
Support Requests
Ticketing systems are proven commodities for support teams. The good news is that it's a form at heart, and you can create one with some simple fields.
On the front end, you'll want to provide a few different fields:
A way for the user to explain their issue.
An entry field for an email address or username.
A drop-down menu to select a relevant product or service.
Other than this, you might want to implement a hidden field to assign ticket numbers or some other identifier for your team. This will be invaluable on the backend because you can then prioritize or otherwise organize your tickets.
In fact, you could even connect Tripetto to a solution such as Zendesk to link two great products into one.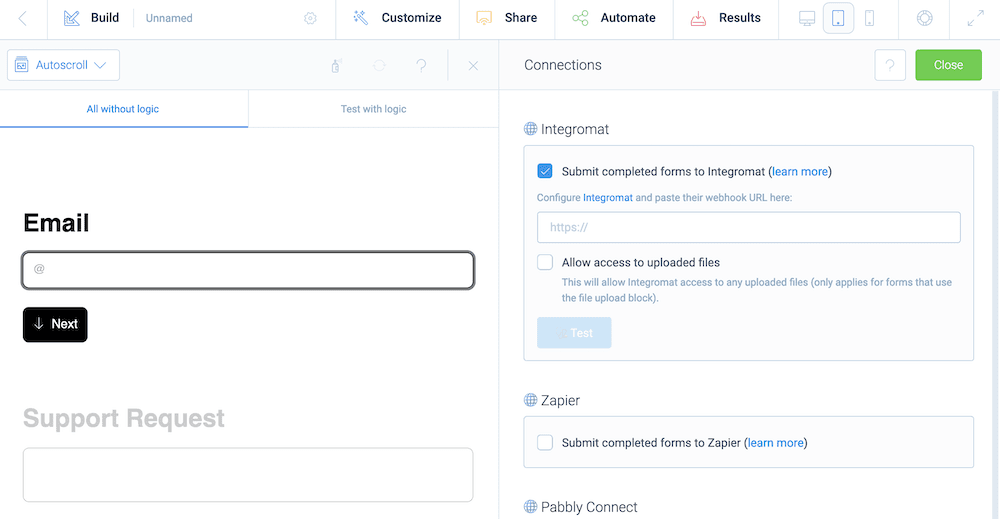 The only other piece of advice here is to keep the form simple. If the user has a need for support, you'll want to make the path to a solution simple.
---
Conclusion
Because forms can be one of the primary ways to invoke engagement and dynamism on your site, you'll want to choose your builder with care. WordPress doesn't include a native form builder, so you'll need to look at third-party options. Tripetto is a leading solution, and one that can help your workflow, regardless of your niche.
For example, you can use the advanced logic and customization options to create powerful form flows that suit your users and your needs. What's more, you'll have an easy time building out your forms with a fantastic UI, intelligent automations, and 1000+ integrations - without a single line of code. Even better, the form data you collect is yours, so you have complete control over the whole process.
Tripetto Pro offers a range of suitable price plans for your budget. What's more, there's a 14-day money-back guarantee on all purchases – no questions asked!