Background story
9 Min.
Powerful Customer Satisfaction Survey Questions Worth Asking
If you're wondering what customer satisfaction survey questions to ask your audience, this article is a must-read.
---
Interacting with shoppers and measuring their levels of satisfaction is critical to business success. After all, your products and services were designed to fulfill customers' needs, so you'll want to ensure that's what you're achieving. Interestingly, the stats bear this out: as many as 83% of companies who think it's essential to make customers happy also experience revenue growth.
But how do you know if your audience actually likes what you sell?
Fortunately, there are various options: product reviews, ratings, social media interactions, customer service tickets - to name a few. But sometimes, you need to dive deeper to get a better insight into the customer journey, how they use your product, and most importantly, what you can do to improve.
This is where customer satisfaction survey questions come into the frame.
In this article, we'll reveal how to build an effective customer satisfaction survey, including the types of questions to ask and how to ensure customers want to answer them.
---
Why's It Important to Ask Customer Satisfaction Survey Questions?
Regularly connecting with customers to gauge their feelings about your products, branding, customer service, etc., is indispensable to your business's growth, customer retention, and encouraging customer loyalty.
That's why it's vital to be proactive about getting customer feedback - especially when you consider that only one in every 26 customers actually voice complaints unprompted. All others are likely to take their business elsewhere, and you'll never know why. In fact, for 58% of consumers, it only takes one bad customer experience for them never to interact with your company again.
Fortunately, customer surveys present a viable solution. Done well, you can easily pick up on problems early on and avoid losing customers as a result. You can design customer satisfaction surveys with different intents that fulfill various branding objectives, including:
General product improvement, or improving specific features;
Improving essential services like customer support or deliveries;
Developing new products and offerings;
Enhancing your website's UX;
Reducing churn;
Auditing how customers perceive your business and products compared to the competition;
Market research.
These are just a few examples, but you get the gist!
---
The Most Effective Types of Customer Satisfaction Surveys
As we just highlighted, customer satisfaction surveys can achieve a lot - so unsurprisingly, there are many ways to go about designing a survey.
Below are some common and effective feedback survey examples:
Customer Satisfaction Score (CSAT): Used to obtain feedback about your products and services.
Net Promoter Score (NPS): An NPS survey is designed to rate how strongly users would recommend your products to their peers.
Customer Effort Score (CES): This collects valuable feedback about the customer journey and the user-friendliness of your website. You can use this survey to answer questions like: How much effort's required for users to navigate the site? How easily can they find what they're looking for? How easy is it to solve a problem by contacting customer support?
Likert Scale Survey: A Likert scale survey is a questionnaire where a respondent will rate statements with regards to how much they agree. In most cases, you'll find five-point Likert scale questionnaires, but you can also use up to seven points.

To achieve accurate results, businesses need to craft their questions carefully. For example, you could ask a customer, "How happy are you about our line of products?" but the answer might take you nowhere as the question is very broad.
Instead, consider the type of information your questions will collect. For example, open-ended questions encourage qualitative insights where customers can share their thoughts in their own words. On the other hand, ratings and close-ended questions produce quantitative data that's quicker, easier to analyze, and much faster to fill out.
As such, we would recommend a mixture of close-ended, open-ended, and rating-style questions to keep your surveys diverse and dynamic. Plus, you'll get a more holistic view of overall satisfaction.
Here are a few examples of excellent customer satisfaction questions across all three categories:
---
Examples of Great Customer Satisfaction Survey Questions
Feedback on Product Quality and Usage:
Open-Ended Questions:
If you could improve the product, what would you do?
Is there a new feature you would suggest for this product? Why?
Closed-Ended or Multiple Choice Questions:
Which of the following words would you use to describe our product? (Add four or five options)
Pick three product features that are most valuable to you. (add options)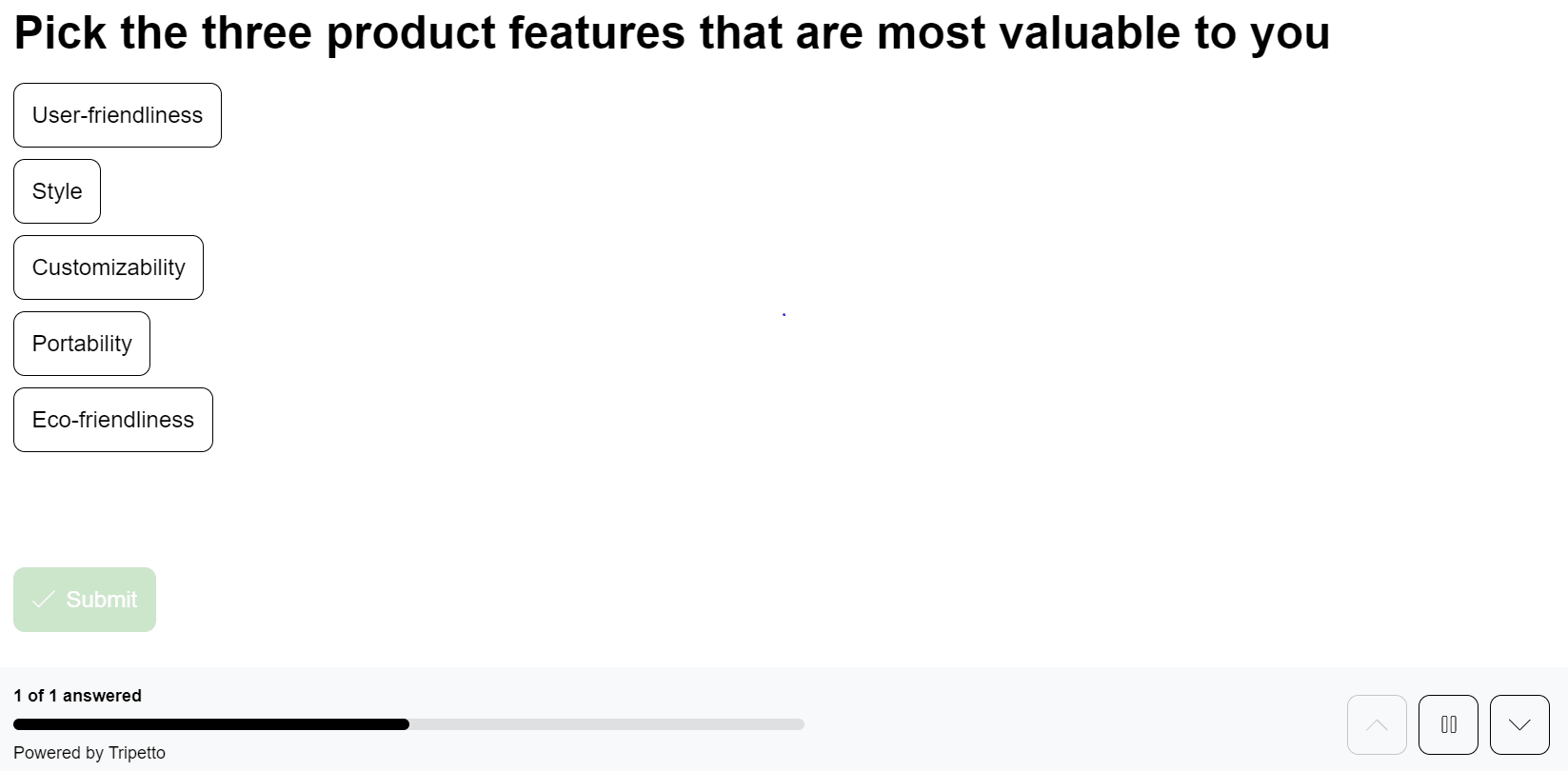 Closed-Ended question with a Conditional Logic Option That Adds a Multiple-Choice Question if The Answer's "yes":
Did you consider alternatives before purchasing the product? (Yes/no)

If answered yes, 'Which ones?' (add options)
Close-Ended or Dichotomous Questions:
Does the product satisfy your expectations? (Yes, no)
Feedback on Customer Experience
Close-Ended Questions:
Do you prefer to shop on your phone/tablet or your laptop?
Did our team answer your request speedily?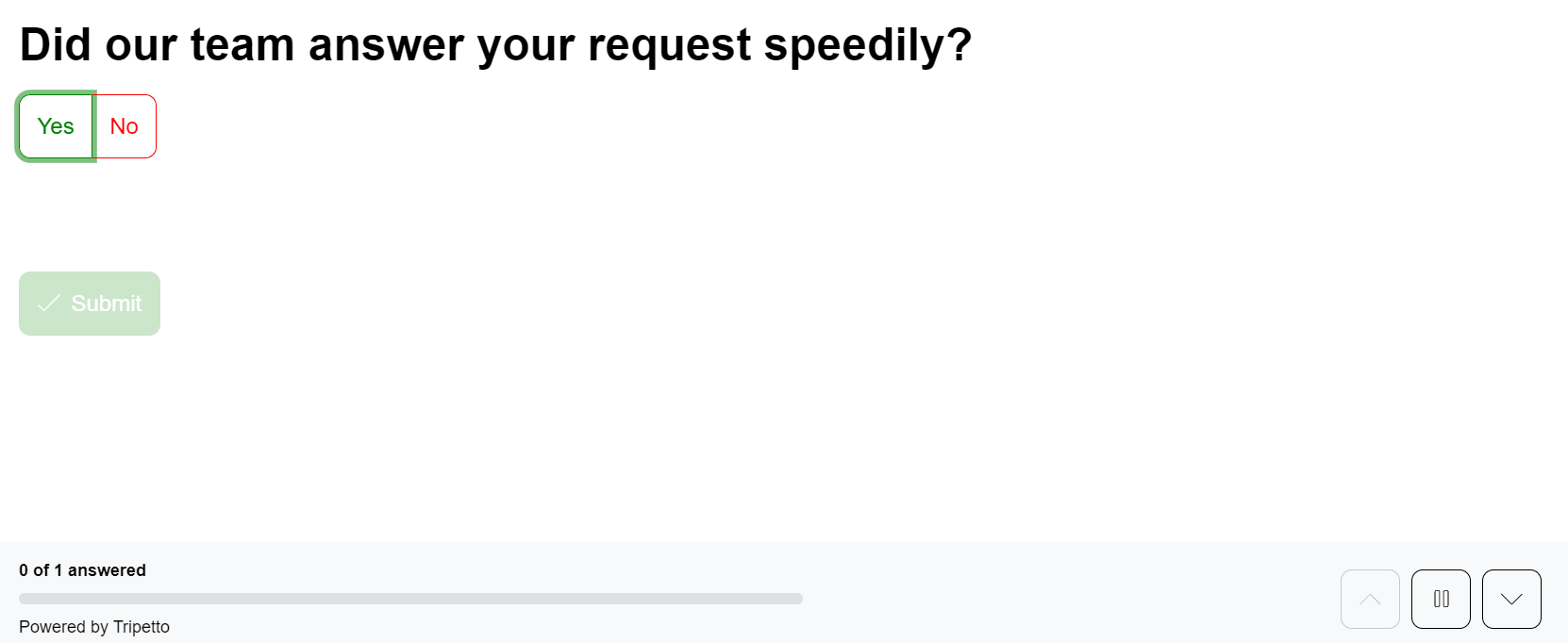 Rating Scale Questions:
How easy is it to navigate our company's website? (for example, on a 1-10 scale)
On a scale of 1-10, how satisfied were you with your most recent user experience on our online store?
On a scale of 1-10, how fair do you think our pricing structure is?
Multiple Choice or Rating Questions:
How likely are you to purchase from us again? (very likely/not at all likely etc. OR rate on a scale of 1-10)
How likely are you to recommend our product/service) to a friend? (very likely/not at all likely etc. OR scale of 1-10)
Feedback on Customer Sentiment to Develop New Products:
Rating Scale:
How much does sustainability matter to you when purchasing a product? (scale 1-10)
Multiple Choice Question:
What's your biggest deal-breaker when you like two similar products, and you have to choose one? (add multiple options)
---
What's The Best Way to Create and Distribute Customer Satisfaction Survey Questions?
While your customer satisfaction survey questions are vitally important, an excellent survey can't succeed unless it's distributed correctly. In light of that, here's our step by step guide on creating and distributing your surveys:
Clarify what you want to measure and who you want to survey. A customer satisfaction survey is near-on pointless if you don't know which metrics to focus on and which customer segment you're researching. So, first things first, decide on your objectives and your target demographic.
Decide which type of survey to conduct and what kind of questions to ask. Of course, this will depend on the survey's objectives.
Use pre-built customer satisfaction survey templates. A generic template can help form the backbone of your survey. From there, you can tweak the questions to ensure they align with your business, customer base, and objectives. With an out-of-the-box solution like Tripetto's logic feature, bringing even the most advanced surveys to life is easy. You won't have to worry about implementing complex and highly customized surveys on your website. Tripetto handles the entire process completely code-free.
Decide how to distribute your survey.

You might send emails with a link redirecting subscribers to an online survey. Or you can use on-page surveys that pop up when a particular event occurs. Alternatively, for surveys with a broader target audience, you could even advertise participation on social media.
The best distribution method depends on what makes sense for your business, your survey's goals, and where the customer's at in their journey. For instance, a brand-new customer won't be interested (or even be able) to fill out a lengthy customer satisfaction survey.

Determine a sample size. Your sample size denotes the minimum number of completed survey responses you need to accurately represent your audience and be statistically significant. Typically, around 10% of the people surveyed are a good sample size. If you want to be more accurate, you can use a sample calculator.
---
Best Practices for Creating Effective Customer Satisfaction Surveys
By following these best practices for customer satisfaction surveys, you'll save yourself some time and increase the likelihood of your first survey being a resounding success.
Choose the right survey tool. Use a tool that enables you to ask different types of customer satisfaction survey questions and provides basic metrics like response rates and how customer sentiment changes over time.
Carefully distribute surveys throughout the customer journey. To achieve quality feedback, you have to find the right moment to conduct your survey. For instance, you could send a customer service survey to users who just had an experience with your support team. Or, you could send product surveys to consumers a few days after they receive their product.
A/B test your surveys. Many small elements could influence how your survey performs. So, test the effectiveness of your surveys from time to time by creating two slightly different surveys. (They shouldn't vary too much, as this will make it impossible to compare the effectiveness of small changes.) Then, send them to two similar audience segments and compare which performs best. For example, Tripetto offers different form faces for various use cases. If you wanted to optimize your surveys for completion rate, you could run an A/B test to determine which layout gets the most completions. For example, you could survey one group with a chat conversation (chat face) and another using a traditional form (classic face).
Ask the right questions. Use simple wording, and keep it short. Surveys shouldn't be rocket science, so ensure every user has an easy time understanding what's asked of them.
Thank respondents for their time. Express gratitude with a short thank you email or a pop-up message on your website. It goes without saying, your survey distribution method and how you say thanks should match one another.
Optional tip: Offer an incentive for taking the survey or reward respondents with a small gesture - a coupon code, a freebie, entry into a prize draw, etc. This goes a long way to securing participants for your questionnaires.

---
These Tripetto Pro Features Support This Process:
The Tripetto Pro WordPress plugin makes the survey creation process easy and flexible. Tripetto allows you to create smart and engaging surveys without writing a single line of code, while still using advanced logic to determine the ideal path and follow-up questions for respondents. Simply put together action blocks to create surveys as beautiful as they are interactive with Tripetto's wide range of customization options.
Tripetto Pro even enables you to remove its branding altogether and simplifies survey-follow-up, too. For example, you can email respondents using the send-email block. And thanks to Tripetto's Zapier integration, you can connect your surveys with your other workflows.
Finally, it's worth checking out Tripetto's form activity tracking. This brand-new Pro feature helps you monitor completion rates and drop-offs. This makes it much easier to see how your surveys work and identify any issues that might cause participants to turn away. With this insightful data to hand, you're better positioned to finetune the customer survey experience to ensure you make the most out of them.
---
Are You Ready to Start Asking Customer Satisfaction Survey Questions?
When done correctly, you can use the results of customer satisfaction surveys to make fruitful changes to your products, services, and website.
Tripetto's value in this context is twofold:
It makes surveys more attractive, so it's easier to entice customers to respond.
It saves you a lot of time and resources by massively simplifying the survey creation process.
So, what are you waiting for? Start by signing up to Tripetto today and begin designing your own customer satisfaction survey questions in just a few minutes!
Net Promoter, Net Promoter System, Net Promoter Score, NPS and the NPS-related emoticons are registered trademarks of Bain & Company, Inc., Fred Reichheld and Satmetrix Systems, Inc.