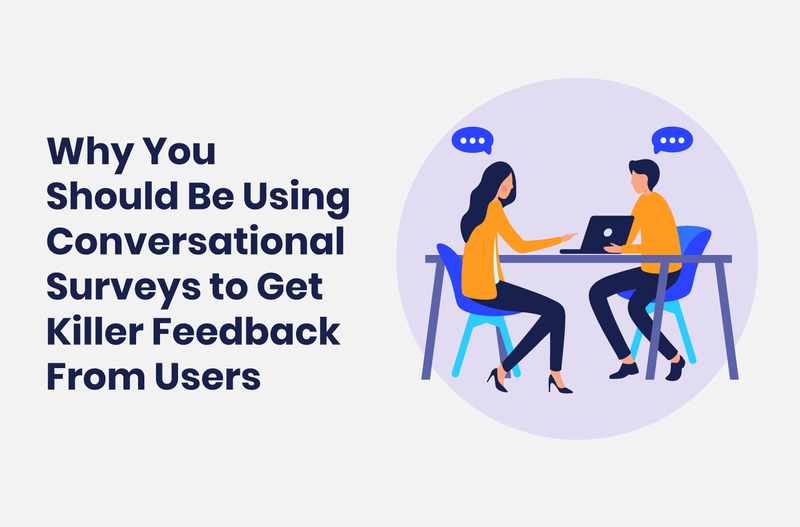 Background story
8 Min.
Why You Should Be Using Conversational Surveys to Get Killer Feedback From Users
There's one way to get killer feedback from users, and the good news is you already have the skills to do it. This post will look at conversational surveys!
---
If you think that customer feedback is not vital for your business, you're almost undermining its value. We'd go as far as saying that consumer feedback is a key cornerstone of your business. However, traditional methods of gathering customer insights won't do the job as well as a modern method such as a conversational survey.
Phone surveys, customer satisfaction forms, generic questionnaires, and others could have a tendency to ask irrelevant questions. While it doesn't seem like a big deal, it can hammer your completion rates and erode your brand's trust. A conversational approach to receiving feedback can be a much better way to find out what your users think.
In this post, we're going to look at what conversational surveys are, and how you can implement them. Let's start with the general concept.
---
What Conversational Surveys Are
Of course, a survey is a great way of obtaining feedback from users about their customer experience or about your products, services, business, and more. Though, this isn't to say any approach will work out. We believe that a conversational survey has the best chance of giving you great feedback from your respondents.
This approach does exactly what it states: It's a manner of questioning that simulates a natural conversation, rather than an interrogative exchange. For example, furniture chain Ikea uses conversational ai to help users find the right page on site: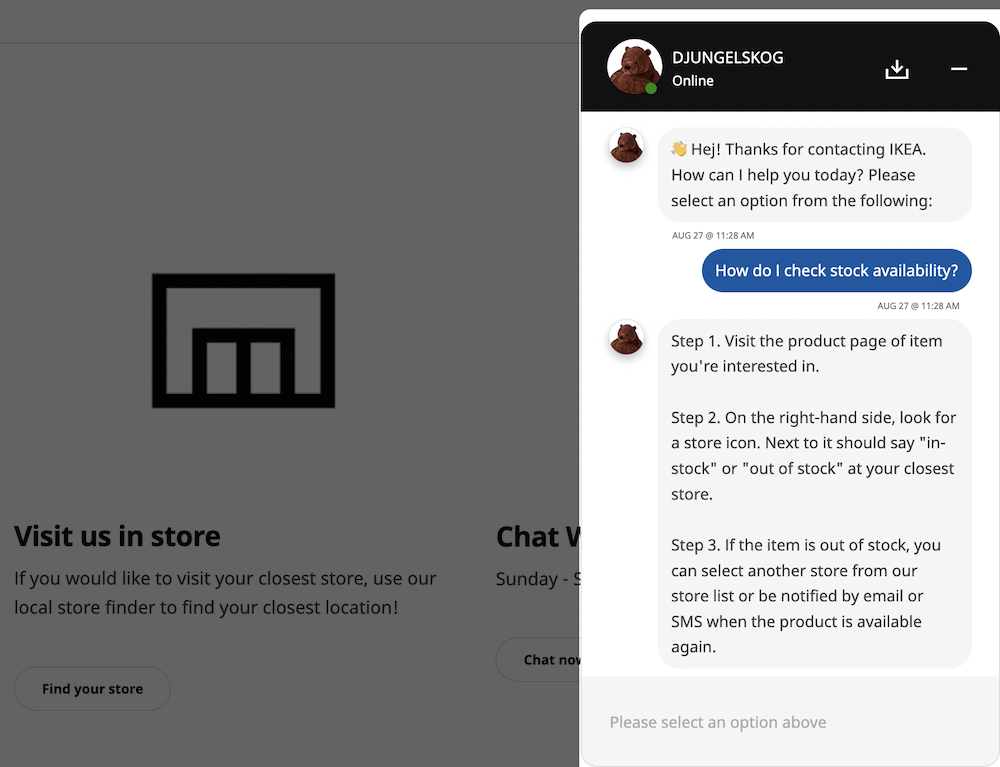 There are a few key aspects that make up a conversational approach:
The conversation itself is 'asynchronous'. This means it's a customer-led conversation that happens on their time.
Conversations should meet the customer. You should also look to be where the customer is, using the myriad social channels that exist to invite the conversation, rather than waiting for the customer to find you.
Each conversation should scale. Your line of questioning should be able to bring in other team members, in order to give the customer their answer.
A conversation should have context, and develop over time. Each question type should build on previous survey responses. What's more, those answers should make future questions smarter.
In fact, two-thirds of customers want a company to adapt to their actions, while three-quarters want a personalized experience. Both of these factors alone mean that treating interactions like a conversation is a must for collecting relevant, valuable, and specific feedback.
Italian bank Banca Widiba uses basic technology when it comes to conversational interactions. It's effective, and a breeze to use: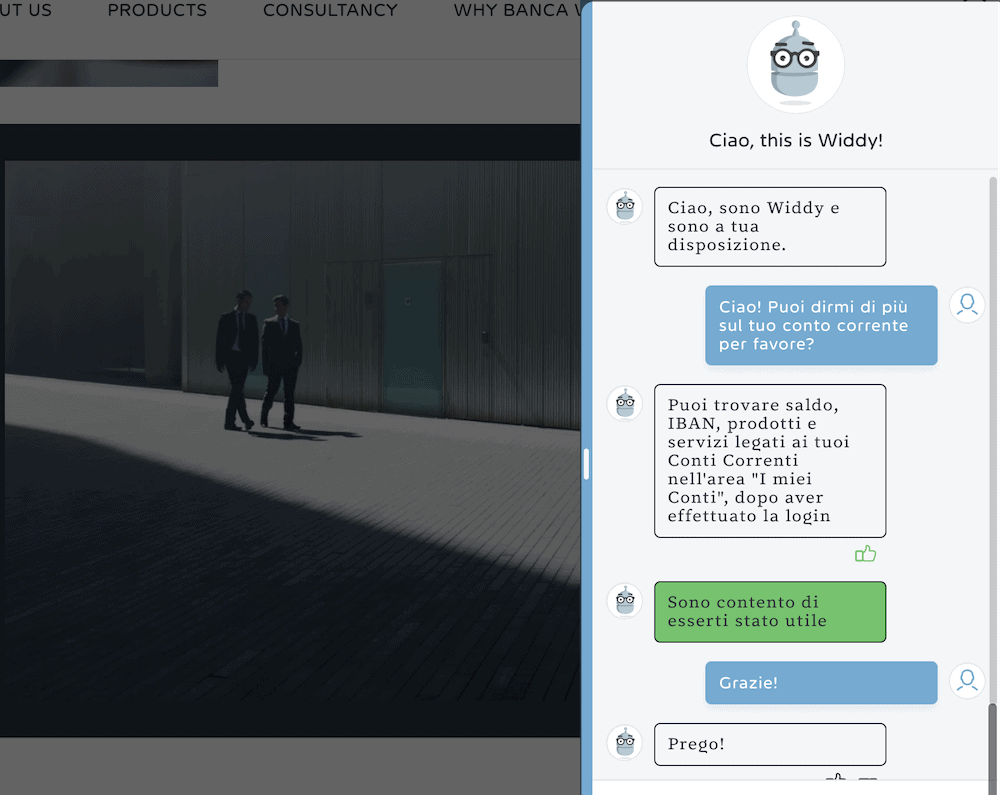 On a subjective level, a conversational approach is more engaging than others, which is understandable. It's more friendly and fun, which in turn creates a relaxed atmosphere. And when your respondents feel comfortable and have trust in you, you achieve higher completion rates and receive better feedback in return.
As such, a chatbot is an ideal way to carry out conversational surveys through messaging. You can plug in a number of question types and branch off into other areas. Also, you don't need to dedicate a human to wait around for the customer across various social media channels. The chatbot can also scale to humans where necessary, through careful programming, considered messaging, and thoughtful scaling triggers.
Now that we've looked at the concept, let's discuss what a conversational survey can do for your site and business.
---
Why Conversational Surveys Can Improve Both Your Website and Business
There are a number of reasons why conversational surveys can offer a boost to your site over more typical and traditional methods.
In fact, we have six reasons to share with you:
You have the opportunity for real-time research and feedback. The nature of the survey (such as the use of notifications) will mean that you get real-time responses to your questions. Over 70 percent of customers expect real-time communication, so this is a big benefit.
You're able to optimize the survey experience for all users, regardless of device. This ties into meeting the customer where they are. Traditional approaches (such as paper-based questionnaires) take more time and effort to fill in, and will have lower completion rates.
Your surveys will integrate with your conversational marketing approach. Much like a consistent branding strategy, a consistent tone and approach to your marketing will have a knock-on effect. You'll be able to build better relationships with your visitors and deliver better help and support.
Conversational surveys are quick to implement and complete. Given that you'll need to engage with users within ten seconds of them accessing your site, a conversational survey is perfect for the task. You can implement a pop-up and give the visitor the choice to engage.
It's a cost-effective approach because you need less human interaction. You're able to reduce your customer service costs by a substantial amount through using chatbots, and by extension, conversational surveys.
The inherent format of conversational surveys means you get greater insights and data from respondents. There are a number of inherent elements with a conversational approach that will help you gain valuable feedback.
To touch on this last point a little more, conversational questioning has a few defining traits. For example, you'll often use open-ended questions, because you're conducting a conversation. This offers a natural way to gain richer insights into how your site or business is doing.
It might seem counter-intuitive, but you also get lots of opportunities to close the conversation in a natural way. This is more for the benefit of the respondent, in that they decide how long the survey will run for. If they're in control, you could benefit from more engagement.
Speaking of which, you also have to be mindful of 'survey fatigue' which is when a survey is too long or unappealing for the respondent - and ends with an abandoned survey. Because with conversational questioning you're asking relevant and personalized questions, you're going to engage the user more than with generic all-purpose ones.
---
The Best Way to Create a Conversational Survey
Given that the best conversational surveys can only happen in real-time using natural language and smart tree-based decision making, it's clear that an offline approach is going to be less effective than an online one.
In fact, we can dig further here and state that if you're a WordPress user, the best way to create a conversational survey is with a good and dedicated form builder plugin.
What Makes a Great WordPress Form Plugin
WordPress and its community of developers offer a lot of different form plugins - although not all of them are equal in terms of features and quality.
To choose the right survey tool, you'll also need to consider what a conversational survey needs, and factor those aspects into your search criteria. In our opinion, great form plugins need to have the following:
The flexibility to create great-looking, responsive forms. What's more, you'll want that same flexibility to help you realize your vision for your survey. For example, you may want to implement customized welcome and end screens, the ability to add further fields and drop-downs, advanced customization options, and a way to add personalization.
Equality when it comes to creating your forms. By this, we mean that your ability to code shouldn't matter. A drag-and-drop form builder is essential here.
You want to make sure your forms are responsive, and able to adapt to the user's device. This is vital in order to meet the respondent wherever they happen to be.
If you want to make a unique and personalized form for your survey, you need to be able to customize it. A conversation approach should also include conditional survey elements to help you ask the right questions and obtain the right answers.
For example, logic is key for a form builder regardless of the application. This will help you make and display calculations (such as a subscription charge), carry the conversation on in a natural way when the user provides a specific answer, and more.
You can also use this logic to combine branches of your tree with automated services such as Zapier and Make (formerly Integromat). This helps you provide an even better array of services and suggestions to your respondents, strengthening the quality of your surveys.
---
Why Tripetto Is the Ideal Solution to Create Conversation Surveys
As we noted, not all form builder solutions are equal, but we think Tripetto has everything you'll need to create conversational surveys, conditional forms, and more.
For example, there's a lot of power under the hood, which lets you customize your forms and the experience they provide to your users. The dashboard is intuitive, unlike any other form plugin, and offers unparalleled options to create your form and its flow:
You'll notice that it sits right within your WordPress dashboard too, as does all of the data you collect. This means you don't have to leave the platform at all to create your form and apply logic and styling.
Speaking of logic, Tripetto comes with a raft of logic operators, field types, and actions to help you build custom conditional elements to your requirements. Typical requirements such as checkboxes, dropdown menus, email fields, and more come as core elements.
What's more, you can also include custom variables to help deliver the right survey questions to respondents. You can even add a built-in calculator to save your respondents the effort of tallying up costs associated with your products or services:

Also, you're not limited in creating forms, adding questions, implementing logic, receiving answers, or anything else associated with Tripetto.
If you need assistance while building your conversational survey, or want to look more into features you haven't used yet, the Tripetto Help Center is stacked with the information and documentation you need: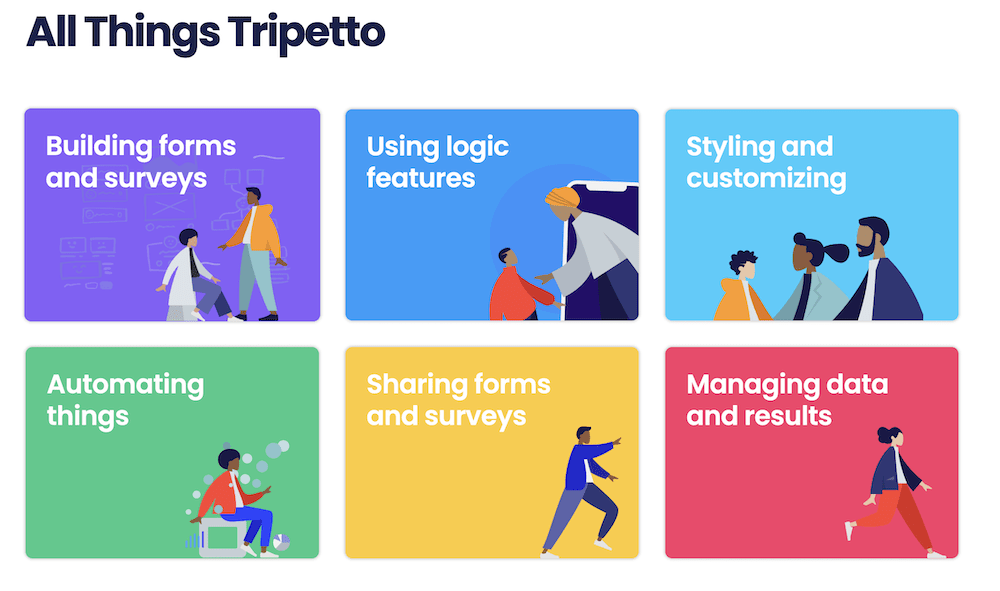 Starting at $99 for a one-site license, with Tripetto Pro you get to remove the Tripetto branding from your forms, automate notifications to services such as Slack, and can integrate your forms with Zapier, Make (formerly Integromat), and more.
There's also a no-quibble, 14-day money-back guarantee on all purchases. This means there's no risk on your end, and you could find your new go-to WordPress form builder!
---
Conclusion
When it comes to getting feedback on your business, website, working practices, or for market research, a conversational survey is the way to go. Talking with your audience in a natural way that gives them the control to dictate the conversation is a great way to get valuable insights into how you can improve (and where you excel).
If you're a WordPress user, a form builder is essential. Tripetto might not have miles on the clock like other form builders, but it combines a thoughtful feature set with innovative design and a flourishing user base. It has all of the features and functionality you need to create gorgeous and invaluable surveys, regardless of your niche or industry.
You can find out more or give Tripetto a try here.