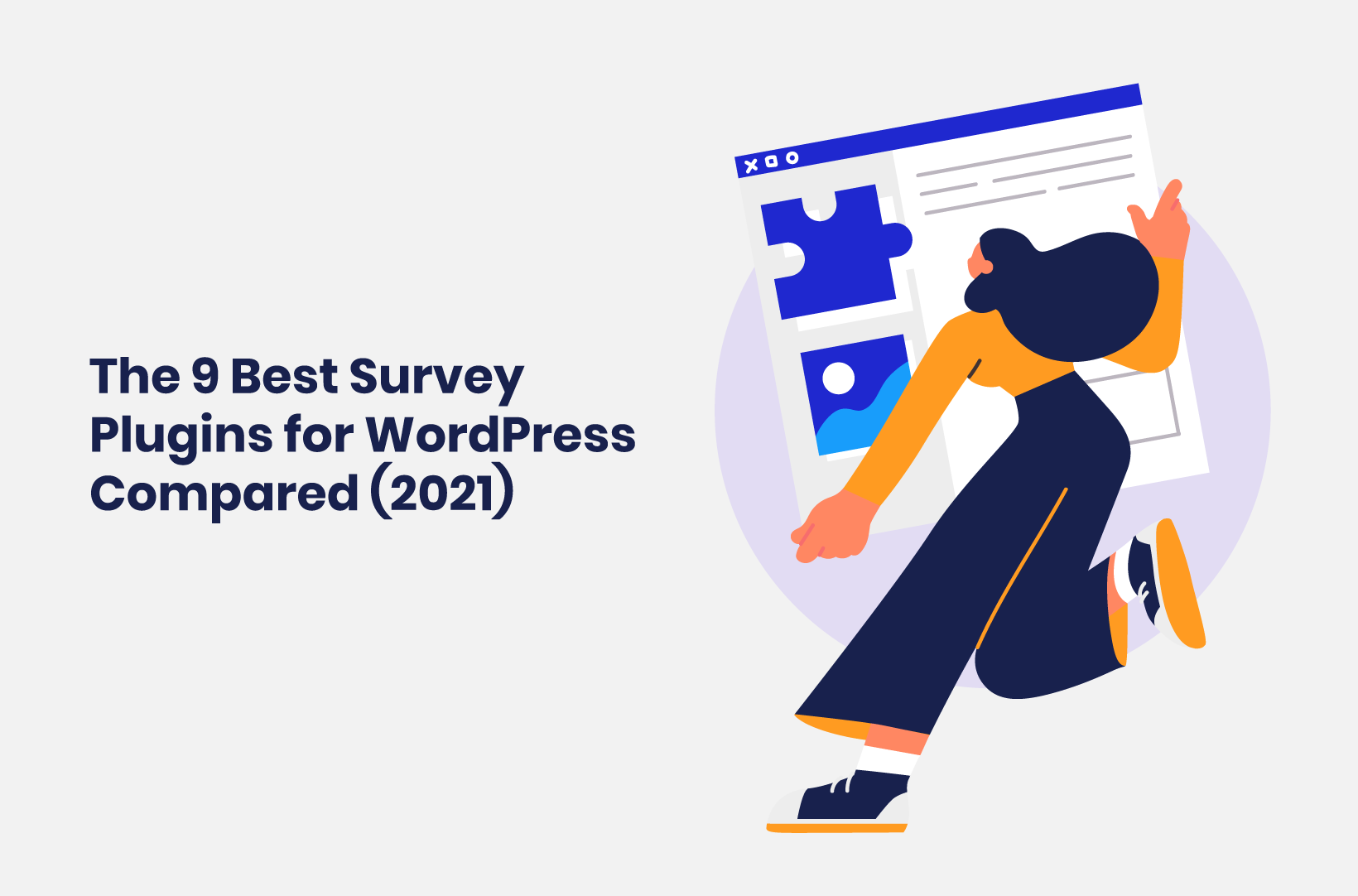 Background story
11 Min.
The 9 Best Survey Plugins for WordPress Compared (2021)
If you're looking for the best WordPress survey plugin for your website, you're in the right place. By the end of this round-up, you'll have a better idea of which extension is best for you.
---
📌 Also see: 2022 Version available too!

Looking for an updated 2022 version of the best survey plugins for WordPress? 👉 The 9 Best WordPress Form Builder Plugins in 2022, Reviewed
If you want to collect valuable customer feedback and gauge customer satisfaction levels, conducting a survey is worth considering.
Why? Done well, a survey can boost response levels by over 85%!
Honest feedback is crucial for shining a light on where there's room for improvement. With this info to hand, you can set about polishing areas of your business that need enhancing. Not to mention, it's an excellent opportunity to familiarize yourself with your users. That way, you can better ensure your company's operations, eCommerce products, and services align with your customer's needs.
If you run a WordPress website, there are tons of survey plugins to consider. However, not all of them are easy to use, nor will they all offer your required functionality. Of course, you don't need us to tell you that researching prospective plugins takes time and effort. So, to help speed up the process, we've listed the best WordPress survey plugins out there. On top of that, we're throwing in some expert advice on what to look for in a plugin and when to use them.
Let's get started!
---
Spoilt for Choice - Navigating Hundreds of WordPress Survey Plugins
At the time of writing, there are over 59,000 WordPress plugins available, hundreds of which can help you create surveys and forms. With so much choice, you'll need to cut through the noise and find a way to quickly and effectively shortlist your best options.
Of course, star ratings and reviews are great for preliminary research. But after that, here are some other considerations worth noting:
Ease of use: Is the tool user-friendly? Does it require additional configuration or coding? If you don't have programming knowledge, ensure the prospective poll plugin doesn't need users to boast coding smarts.
Survey builder: Often, poll plugins with integrated survey builders are the most intuitive. Typically, a visual drag-and-drop builder to quickly create forms without having to write code is best.
Customization: The best WordPress survey plugins enable you to customize your survey's layout, text, form fields, and buttons. Some even go the extra mile, empowering you to use branded colors, add logos, media items, etc.
Conversational logic: Interactive web forms and logic-driven surveys create a better user experience, making surveys seem more human, personal, and pleasant - not to mention less time-consuming.
Mobile responsiveness: On average, 30% of survey responses are conducted via smartphones. As such, plugins with mobile-ready designs have a significant edge! To reach the maximum number of participants and enhance the user experience, your plugin should present forms on all devices and screen sizes, including mobiles, tablets, and desktops.
Integrations: Depending on the size and complexity of your business, creating a WordPress survey may not be enough. If you need to go a step further, choose a plugin that's compatible with:

Your preferred marketing tools (so you can send surveys to your email list, use social media channels, etc.).
Your CRM software (so that it's easier to follow up with customers and leads).

Exportable data and reporting: You'll probably need help making sense of the info you've collected. That's why your WordPress survey plugin should allow you to save, export (in Excel, CSV file), and share your data.
Present data in real-time: Depending on your needs, it might be handy for your plugin to present data in real-time. It's worth noting, some plugins don't provide this option but may integrate with other plugins that do. So, be sure to look out for that!
Workflow: You may want survey completion to kickstart another step in your work process. If that sounds like you, ensure your plugin comes with automation features where you can ping an email or Slack notification to the necessary recipients when a survey response is provided.
Various protection features: A good survey plugin should have:

Spam protection to limit the number of fake submissions.
Banning options to prevent bad behavior (which is another functionality that helps prevent spam).
Depending on how complex your needs are, you have many different options. And Tripetto is one of them.
But in the interest of fairness, here's a round-up of the top WordPress survey plugins to help you see how they compare:
---
WP Forms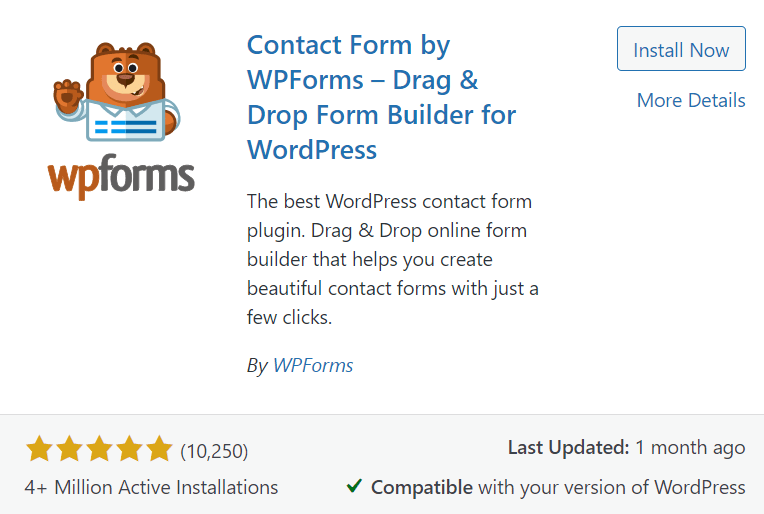 As its name so aptly suggests, WP Forms is a simple WordPress form plugin that doubles up as a survey creation tool. Surveys and polls are add-on features that enable you to create engaging survey forms. The plugin also allows you to create custom notifications, multi-page forms, conditional logic sequences, etc. It also integrates with various email service providers.
WP Forms Pros:
This form builder plugin boasts a beginner-friendly interface optimized for web and server performance, so the plugin will barely impact your website's load time.
Its reporting functionality automatically generates graphs and pie charts based on survey responses. This makes it much easier to spot trends and interpret survey results.
WP Forms Cons:
The free version is extremely basic and doesn't come with dedicated survey templates or survey-specific features. The cheapest plan costs $39.50 per year but lacks critical survey-making features like conversational forms, webhooks, and essential integrations.
---
WP-Polls (WordPress Polls)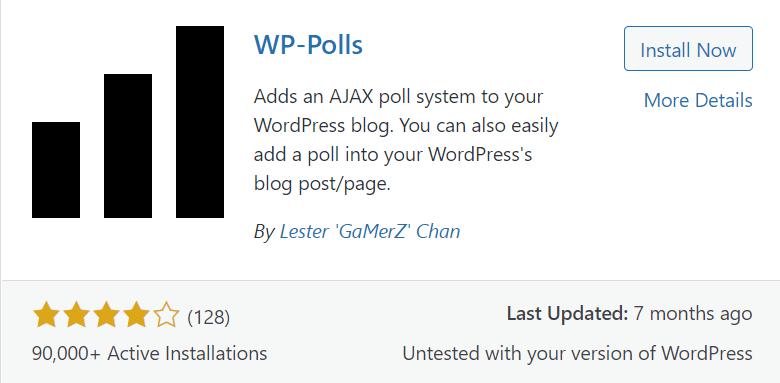 This customizable form plugin lets you create polls using form templates and CSS styles. It's perfect for anyone looking for a simple solution to generating polls and provides a practical free option. However, unlike more advanced plugins like Tripetto, it doesn't come with a form builder. Instead, you can only create radio buttons and checkboxes to collect responses.
WP-Polls Pros:
This WordPress survey plugin is user-friendly and easy to use.
There are over seven input-type animation effects.
There are over ten different poll themes to choose from.
The plugin is free to use.
WP-Polls Cons:
WP-Polls doesn't come with a form builder or drag-and-drop interface.
You're severely limited as to how you can collect responses. If you want to build a survey instead of a simple poll, you'll need to purchase a separate add-on.
At the time of writing, WP-Polls doesn't integrate with Mailchimp, Zapier, etc.
---
Formidable Forms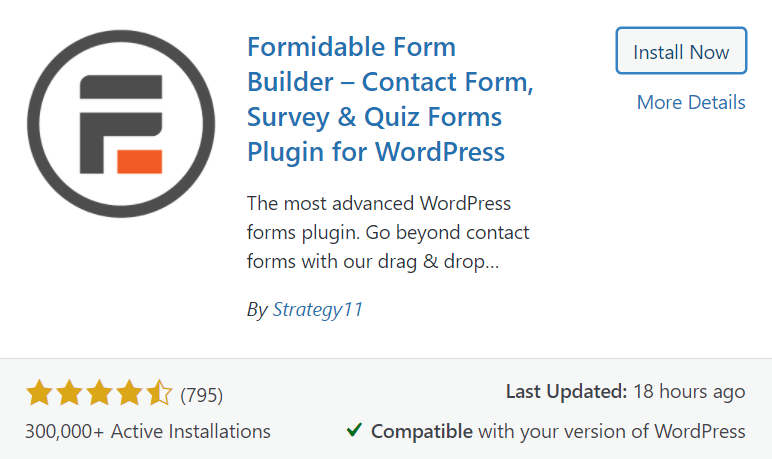 Used by over 300,000 websites, this advanced survey builder has everything you need to create forms, polls, survey questions, and quizzes from a sleek-looking interface. In addition, it comes with all the popular field types you would expect to see.
Formidable Forms Pros:
You can import and export data.
There's a drag-and-drop form builder.
There's a decent selection of pre-built templates to choose from.
This WordPress survey plugin is GDPR friendly.
The plugin is optimized for speed.
A WooCommerce integration is available.
You can build advanced forms like calculators, quizzes, etc.
Formidable Forms Cons:
The free version is enough to build a basic survey. But if you need to create multi-page forms, you'll need to purchase the Basic version, which is $39.50 per year. In addition, if you want access to more complex features, like calculators or the PayPal integration, you'll have to upgrade to the Business plan for $199.50 a year.
---
Quiz, Poll, Survey & Form by OpinionStage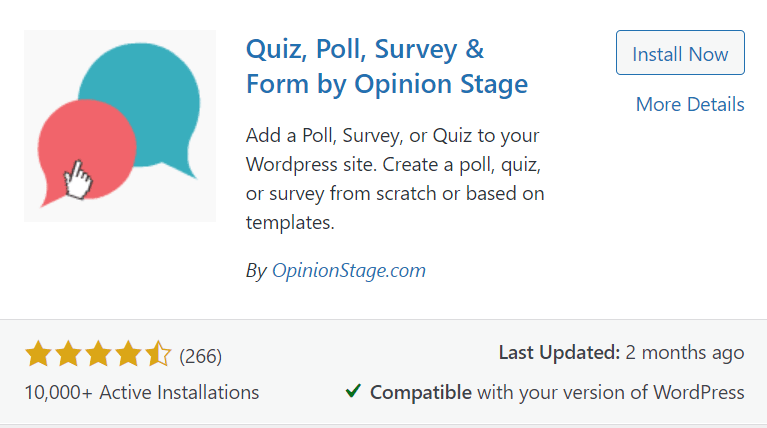 As the name of this plugin suggests, this popular and versatile solution lets you create polls, surveys, forms, and quizzes. The plugin outshines some of its competition when it comes to creating surveys and opinion scrolls from scratch and its template library. It also allows you to add images and videos to survey forms to make them more lively and engaging.
Quiz, Poll, Survey & Form Pros:
It comes with white labeling features.
You'll benefit from advanced analytics.
You can create templates from scratch or using a choice of free templates.
With added imagery and videos, you can create colorful, BuzzFeed-like surveys and questionnaires.
Quiz, Poll, Survey & Form Cons:
The freemium version doesn't include many key features. The only customization options available with the free plan are the pre-configured color themes and fonts. Also, your surveys and polls can only be loaded 250 times per month on your website. You'll need to upgrade to the Starter Plan for $19 per month to unlock more views.
---
Crowd Signal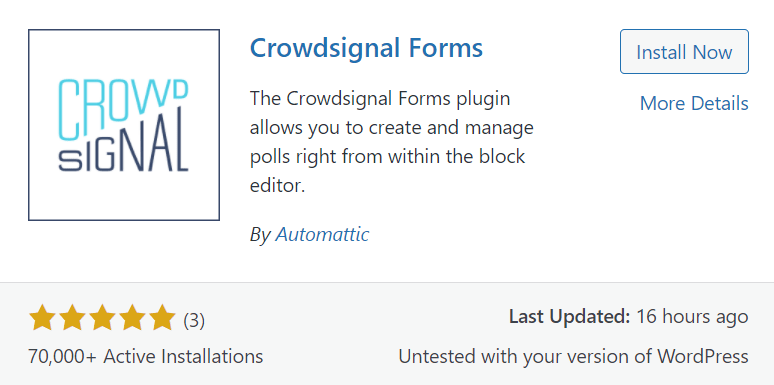 Did you know the name of the company behind WordPress itself is Automattic? This plugin is from the same creators, so you know it will integrate seamlessly with the platform.
Crowd Signal Pros:
You can use this WordPress survey plugin to build beautiful and responsive survey forms without any code.
You can pick your brand colors and work with premade themes.
You can send out interactive surveys via email, where recipients can see the form inside their email without visiting your website to fill it out.
Crowd Signal Cons:
The tool isn't as easy to use for beginners. First, you'll need to be signed in to your WordPress account and generate an API key. Then, to use the drag and drop feature, you need a CrowdSignal account, which has a range of somewhat confusing pricing plans.
---
Quiz and Survey Master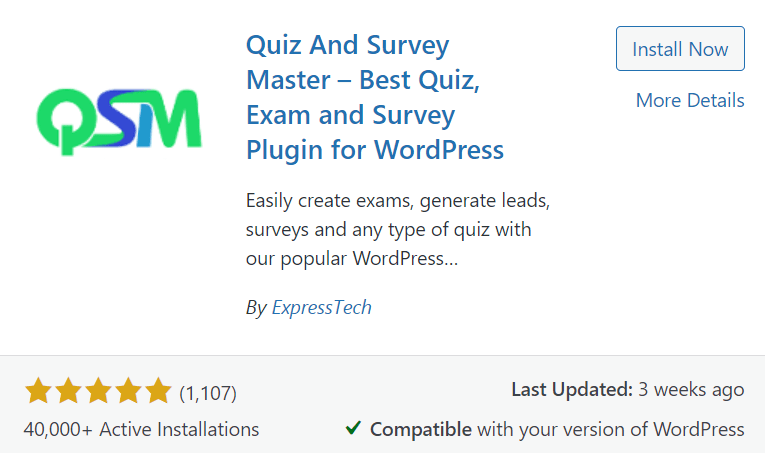 Quiz and Survey Master allows you to build quizzes and surveys to add to your WordPress site. It's well documented and comes with a range of valuable features, including the ability to send thank-you emails to users or redirect them to another page on your website.
Quiz and Survey Master Pros:
This WordPress survey plugin is easy to use.
It comes with handy features like auto-scheduling and time limit functionality. The latter enables you to track and limit how long a user takes to complete a survey.
You can export survey and poll results to Excel or Google Sheets.
You can limit how often users complete surveys.
Quiz and Survey Master Cons:
The interface is somewhat old-school.
The free version is very simple. So, you'll need to purchase separate add-ons to access reporting, analysis, logic, and export features. You'll also need to upgrade to access a MailChimp integration.
The Basic premium version is quite expensive at $99 a year and only includes six add-ons.
---
YOP Poll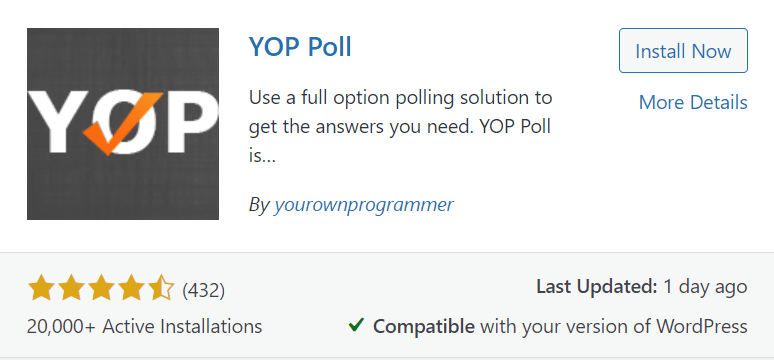 YOP Poll is a good starting point for businesses that don't need a premium tool; rather, they're after simple data collection. It doesn't have a very modern interface, but it's easy to use, no coding's required, and it provides basic templates.
YOP Poll Pros:
The free version of this WordPress survey plugin comes with simple templates, single and multiple answers, custom survey fields, and scheduling.
You can run multiple surveys simultaneously.
YOP Poll Cons:
---
Gravity Forms
Gravity Forms is one of the most popular premium form building plugins. Its powerful features have very few limitations. You can create anything from simple contact forms to complex systems that collect more detailed customer data.
Gravity Forms Pros:
You get access to a powerful drag and drop form builder.
There are over 30 form fields you can use.
Includes advanced features like conditional logic, spam control, file uploads, and email notifications.
Gravity Forms Cons:
You have to purchase the survey add-on to unlock survey functionality, and the required elite license costs an astounding $249 per year.
Several users complain the support team isn't responsive.
---
Introducing Tripetto: A Stand-Out WordPress Survey Plugin
This wouldn't be a comprehensive list of the best WordPress survey plugins if we didn't introduce you to Tripetto.
Tripetto is a powerful WordPress survey builder you can use from the convenience of your WordPress dashboard. There's no need to depend on outside infrastructure.
The plugin also provides complete control over your data: No information is ever stored by Tripetto; instead, it's kept within your WordPress account.
In addition to offering a drag-and-drop form builder like many of the plugins mentioned above, Tripetto also enables you to create forms and surveys like flowcharts using its storyboard functionality, which many users find more intuitive.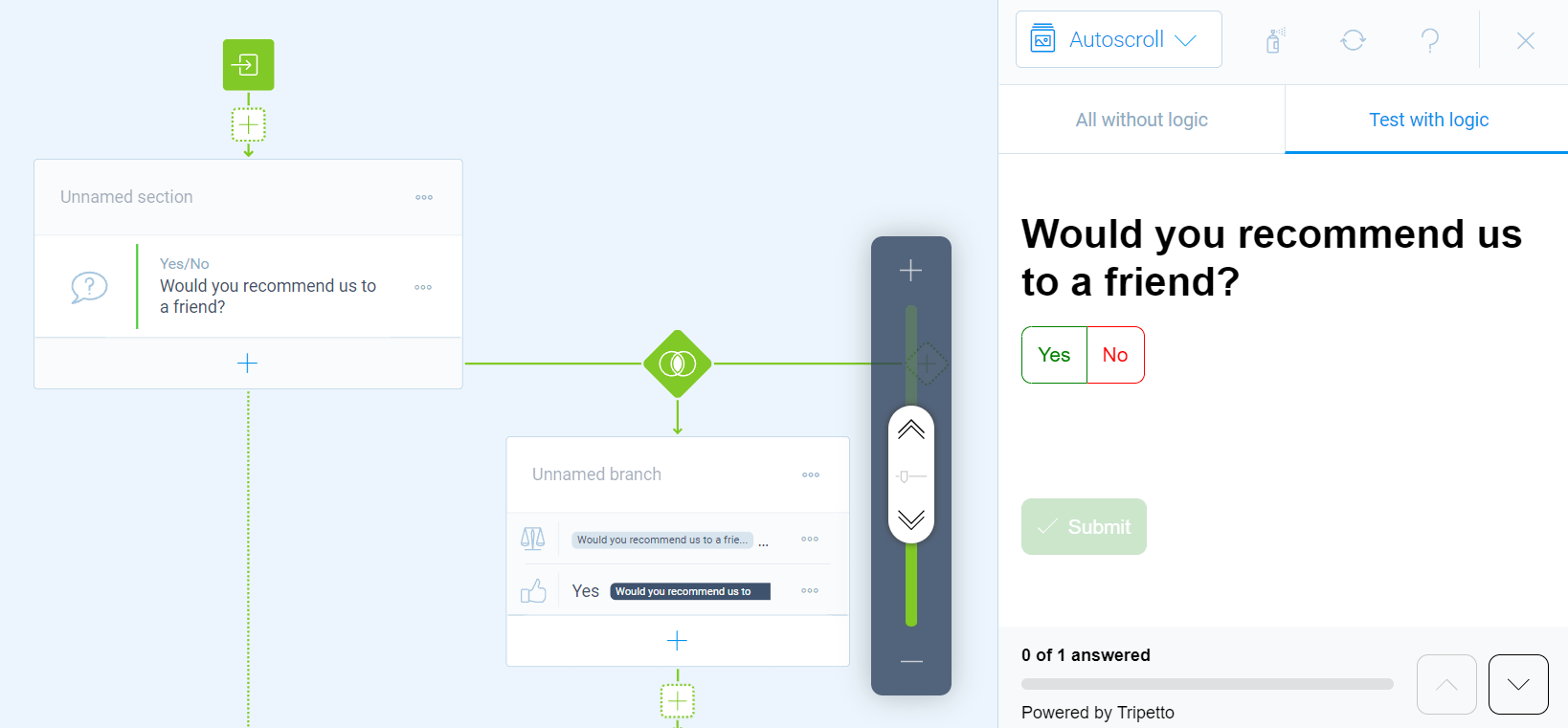 In short, Tripetto's explicitly designed to enable you to build surveys that look great on your WordPress site with a creative process that's enjoyable for you and your team.
Tripetto also provides users with convertible faces, which are far better for offering visitors different experiences. For example, you can enable autoscroll, chat, or classic face. Which face is right for you, of course, depends on the purpose of your survey. You can even switch the form face while you're building if you feel another face fits the occasion better.

When you edit faces, you'll see changes in real-time, making it easier to decide on what's best for that particular project.
In addition, Tripetto comes with advanced automation functionality. For example, you can automate email and Slack notifications when a survey's completed and use webhooks to integrate and trigger automations with other tools. In fact, Tripetto integrates with over 1,000 services already.
On top of that, Tripetto also tracks form activity using Google Analytics, Facebook Pixel or custom trackers to provide valuable insights into survey completion, drop-offs, and more. Lastly, Tripetto offers all these sophisticated features at a much better price than some of the alternatives discussed above. You can get everything Tripetto has to offer for only $99 per year - and if you change your mind, you can make use of its 14-day money-back guarantee!
---
Are You Ready to Start Using The Best WordPress Survey Plugin for You?
So, there you have it - that's it for our list of the best WordPress survey plugins.
If your business simply needs a way to create a form and collect basic information. In that case, some of the free plugins highlighted above might suit your needs just fine. However, choosing a more sophisticated plugin like Tripetto unlocks plenty of advanced features and grants complete control over your data. As a result, not only can you build amazing-looking surveys that boost the credibility of your WordPress website, but you can also reflect on your survey results right within your WordPress database.
Remember, the best survey plugin for you depends on your requirements, so ensure you know which features matter to you the most before you decide.
Lastly, before we go, we'll leave you with these essential tips:
Before you choose, check how often a plugin's updated to ensure the developers are still active and will offer continued support.
Read the reviews posted by other users.
Do some snooping to see how competitors use the plugin to see if the results match your expectations!
To learn more about Tripetto, check out our pricing packages and take advantage of Tripetto's 14-day free trial.