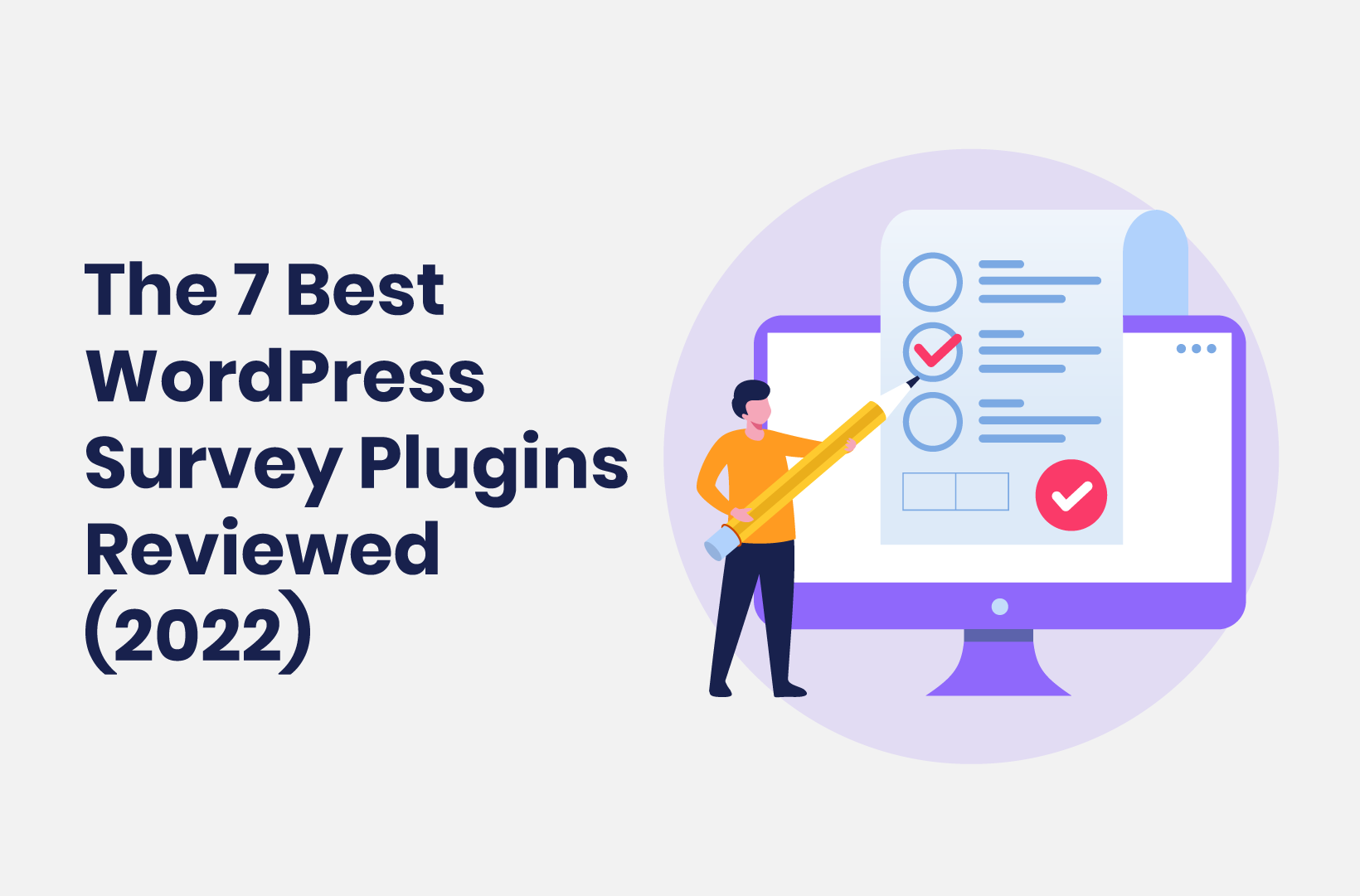 Comparison
14 Min.
The 7 Best WordPress Survey Plugins Reviewed (2022)
Surveys can help net you valuable service feedback. This post will round up some of the best WordPress questionnaire plugins on the market!
---
One of WordPress' plus points is its flexibility. The Content Management System (CMS) is a fantastic way to build all manner of sites. It's also a stellar way to collect data too. Approaches such as market research and direct customer feedback can be straightforward for WordPress, and a WordPress questionnaire plugin is a solid addition to your site.
The platform can help you save money, time, resources, and more through the right choice of plugins. The best survey plugins can help you add these collection types to your WordPress site, without the need for code or technical experience.
For this tutorial, we're going to look at some of the best survey plugins for WordPress, and discuss how to choose the right one for your needs.
---
Why Surveys Suit WordPress (And Why You Should Use a Plugin)
Surveys, questionnaires, quizzes, and similar types of experiences all serve one purpose: You get to collect data. To be specific, you'll look to collect feedback from the end-users and customers you serve.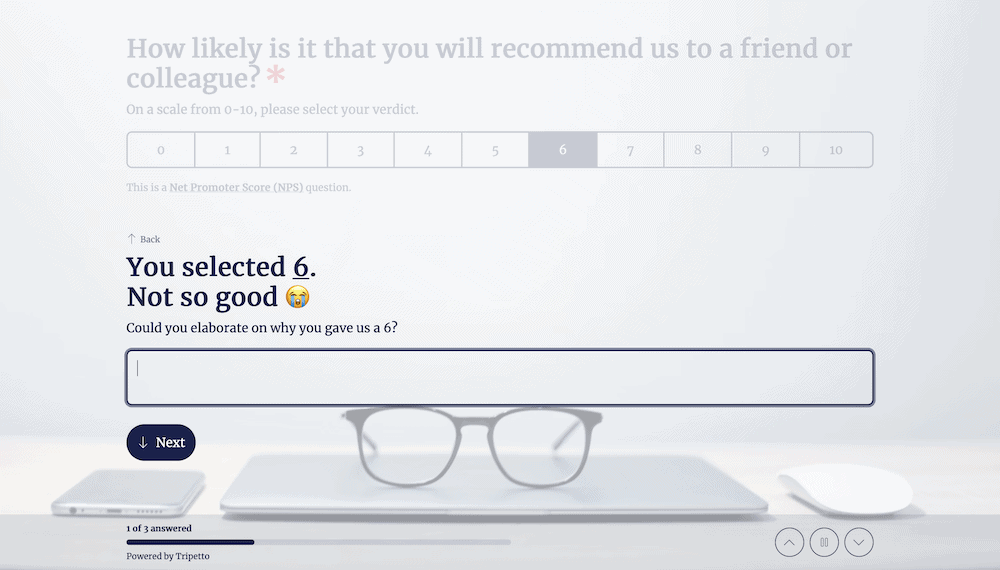 At a base level, a survey will help you understand more about your business in a few different areas:
You get to know how customers view your products and services in comparison to the competition.
Your level of service is something you'll hear about a lot – especially if you need to improve.
In some cases, you'll also find out about areas you don't yet cover.
It's a multi-pronged approach that lets you develop your service offering, improve your product line, and create brand new products and services in the future.
WordPress Plugins
For WordPress sites, a plugin represents the best way to implement all manner of functionality. When it comes to collecting data from your users, a survey plugin will be an ideal addition to your site.
There are a number of benefits to draw on here:
A survey WordPress plugin will help you create your forms fast, without the need for code, technical knowledge, or web development expertise.
You can transfer the same skills you use to create a survey, and use them to develop all kinds of different forms. This will let you conduct market research, solicit feedback, gauge customer satisfaction, and much more.
Most survey plugins will let you embed your questionnaires and quizzes in your WordPress website, and even send them through other channels. This means you can meet users where they are – on social media, within their email accounts, and many other online places.
You'll also find that the best survey WordPress plugin will let you implement advanced functionality – again without the need for code.
With the last point, conditional logic is one advanced piece of functionality that you'll want to make sure you have. This can help you create personalized, relevant, and smart questions. As a result, you'll obtain a greater set of information that will provide more value over the long term.
---
7 of the Best WordPress Questionnaire Plugins
Over the course of the next few sections, we're going to show you some of the best survey WordPress plugins available. Each one will offer a plethora of functionality, and what's more, won't dent your budget.
Also, you'll find that we will also break out of the boundaries of our definition of a plugin. This is because some services on the list – and we'll note which ones at the time – can connect to WordPress, and offer the same functionality on the whole.
Let's start with our top pick.
1. Tripetto
Tripetto can do much more than provide an intuitive way to create surveys. It's a full-featured form builder that lets you create powerful, deep, and smart contact forms, intake forms, and many more types.

The combination of storyboard interface and plethora of actions and form fields means you can use Tripetto in any number of ways. For example, it's fantastic for market research purposes, and the feature set also suits feedback forms, customer satisfaction forms, and much more.
Tripetto's features are extensive:
You'll use a drag-and-drop form builder to create your forms, flow, and logic.
Speaking of which, you'll have access to advanced conditional logic functionality. For example, there are powerful calculators, the ability to work with and recall values in a number of ways, and more. This can let you achieve functionality such as calculating scores, multiplying two values to use later, and others.
The plugin lets you implement multiple-choice questions using radio buttons, checkboxes, dropdown menus, images, and more.
There's the ability to add dedicated branch logic. This is where, based on a response, the form will branch off and run through different (and more relevant questions.)
You'll also be able to use piping logic, which is a good way to recall answers from previous questions. It's one aspect of personalization that can make a big difference to your forms, and the whole experience
You're able to extend Tripetto using 'webhooks'. These let you connect and send data to third-party services such as Zapier, Make, Pabbly, and more. This lets you use and integrate elements such as Google documents, Mailchimp signup fields, and plenty of others.
While some other WordPress questionnaire plugins ask you to work on custom off-site dashboards, Tripetto has no need for an external infrastructure. You'll find everything that relates to building your forms and collecting data within the plugin, and available from the WordPress dashboard.
Tripetto also includes unique functionality that you won't find in competing survey plugins. For example, you can switch the overall style using 'form faces'. These are like 'skins' for your form, that lets you use a typical static format, a scrolling format, and a chat form face – stellar for rich and conversational experiences: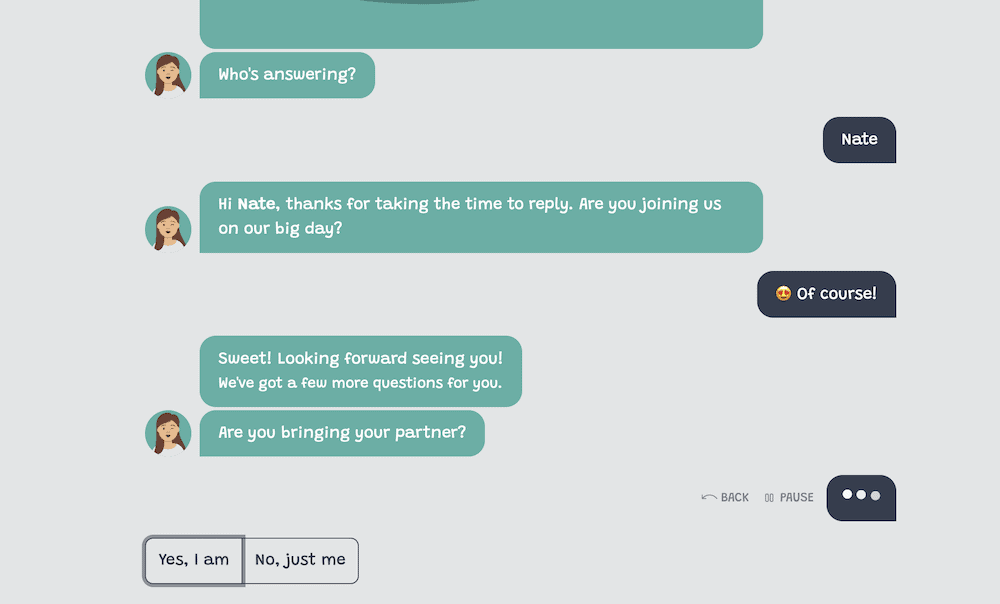 As for pricing, while there's a free version of the plugin to test out Tripetto's feature set, you'll get the most value from a premium plan. Unlike other plugins, you get the full set of features regardless of the tier you choose – a single-site license is $99 with a 14-day money-back guarantee.
2. Typeform
Typeform is a long-standing form builder that gives you the tools you need to create beautiful and rich forms, regardless of your vision. It's not a plugin for WordPress, but a dedicated service that you can connect in different ways.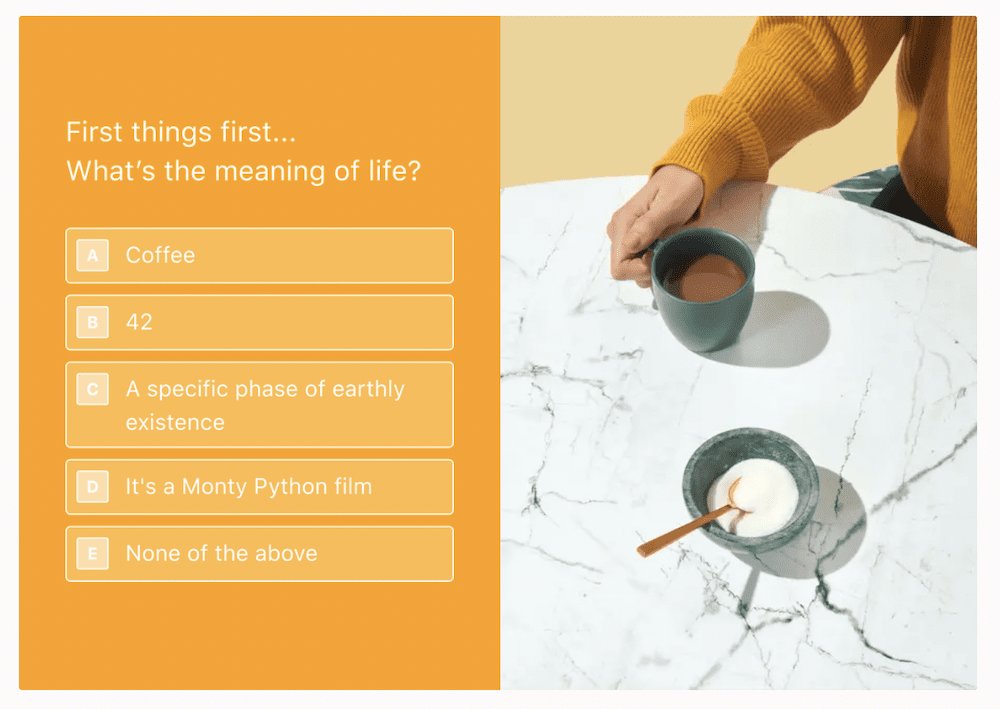 In fact, the Typeform feature set offers lots of similarities to Tripetto:
For instance, you'll use a drag-and-drop builder to create your forms.
Typeform lets you use smart logic features to boost the experience and collect better data.
What's more, forms can adapt to user input and responses – ideal for a conversational (and as such rewarding) form.
There are lots of integrations, to help you connect to third-party services.
You also have various ways to present your forms, depending on your vision and needs. You'll find customization options within Typeform's interface, but also a stacked template library too.
The features and functionality of Typeform are exciting, but the pricing isn't as tempting. For example, there's a free plan, but it's more of an extended trial version. There are lots of limitations, and this stretches to the premium tiers too.
The Basic tier is around $28 per month but restricts you to 100 responses, and you'll have to use Typeform branding on all your forms. What's more, you can't access integration with the likes of Facebook Pixel, can't use custom subdomains, and also don't get to use some 'quality of life' features, such as automatic form closing.
3. SurveyMonkey
SurveyMonkey is another perennial form builder that is a service rather than a plugin. It seems as though this one came along almost pre-internet. The clue as to what it specializes in is in the name – if you want to create surveys to collect data, this option might be near-perfect.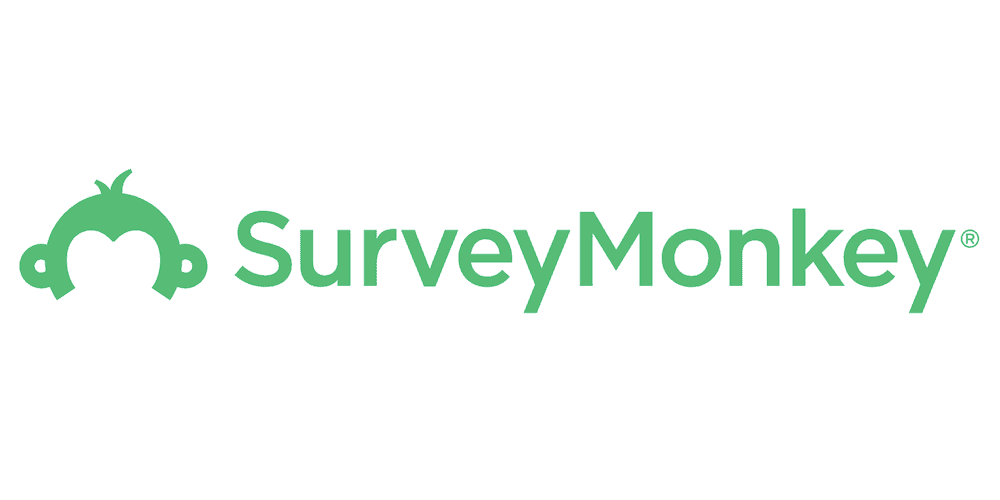 Here's what the solution offers:
You'll use an online builder, within the browser, to build your quizzes, surveys, and questionnaires.
The feature set and functionality is suited to market research – in fact, SurveyMonkey uses market researchers to help develop its offering.
You can use one of many templates to help build your forms, and even use sample questions from experts in the field to populate your surveys.
There's a fantastic and handy survey scoring system too. This grades your survey and gives you pointers on how to make it more engaging and valuable.
On the whole, SurveyMonkey is going to be an ideal service with which to build surveys. If that is all you need, it could be for you. However, this is also a limitation that other options can cover, especially for the price.
The Team Advantage tier is around $28 per month, per user – and starts at three users. What's more, you won't get the full feature set and you'll need to pay around $100 per user, per month to get this. Despite the extensive functionality, it's an expensive way to create surveys which means that other options might prove more friendly to your wallet.
4. Quiz and Survey Master
This is one of few dedicated WordPress questionnaire plugins (other than Tripetto) – Quiz and Survey Master comes with a user pedigree, in that it averages a 4.8 out of five-star rating on WordPress.org:

Much like SurveyMonkey, it lets you build quizzes and surveys, but this time you could adapt the functionality to suit, depending on your goals. Here's what it offers:
There are extensive customization options, including a number of question types.
You'll find smart and advanced functionality here too, which lets you calculate scores based on user answers, and adapt forms accordingly.
There's a notification system that will help you know when a user completes a form, without the need to log into WordPress.
There are lots of other features and functionality too, which makes this survey plugin a super solution – though this is only the case for quizzes and surveys. What's more, this functionality is completely free.
However, there are premium add-ons for the plugin, and some are essential for building smart forms. For example, the Logic add-on is a huge omission from the free plugin, which means you'll need to shell out at least $49 per year if you want the same level of functionality as other solutions.
5. WPForms
While it's a fledgling form builder, WPForms has lots of fans. This is down to its quality development, good support, and robust feature set.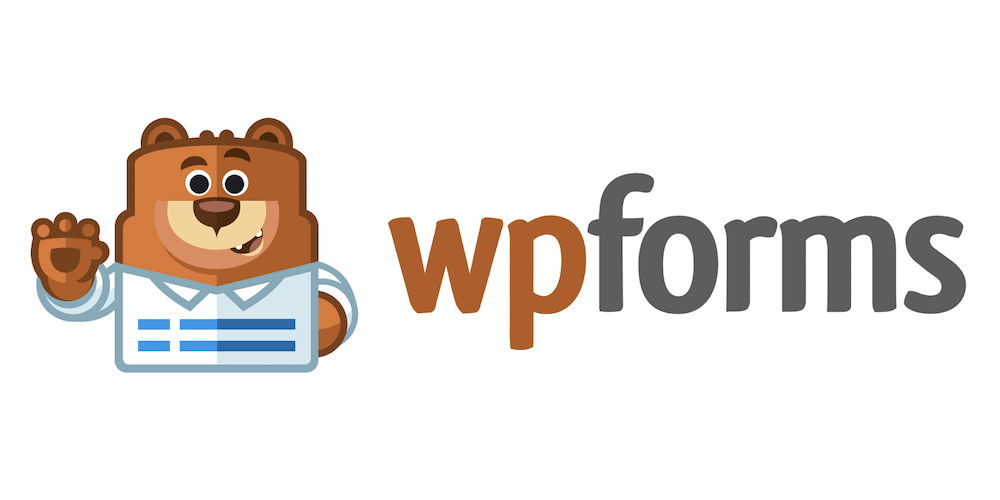 It's more flexible than other solutions – especially the likes of SurveyMonkey and Quiz and Survey Master – and most users consider this to be a contact form plugin. Even so, there is a lot in the box to get to grips with:
You're able to use pre-built form templates, then customize them further using a drag-and-drop builder.
There's the ability to turn a single-page form into a multi-page beast.
You'll find smart and advanced logic functionality within the WPForms feature set too.
Depending on your plan and goals, you can use WPForms to create custom user registration forms.
There are many add-ons for third-party services such as Square, Stripe, and Zapier. There's also integration with lots of email marketing services too.
You also have a few ways to boost the functionality of WPForms. For example, you can allow for user signatures, content locking, user journey logs, and more.
You'll find most of these features on higher-tiered plans though. For example, you can only get webhooks on the Elite tier ($599 per year). The Basic ($79 per year) plan nets you a one-site license but doesn't let you integrate with most other services, create conversational forms, and many other essential elements of a smart form or survey.
6. Formidable Forms
You'll find Formidable Forms spoken of in the same breath as WPForms, Gravity Forms, and others. As such, it's a supreme contact form plugin, as well as a solid WordPress questionnaire plugin.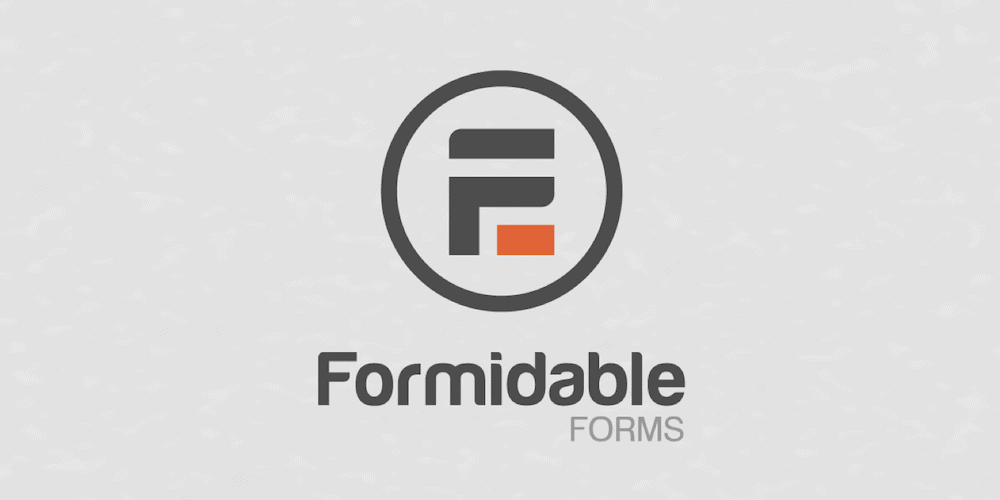 The feature set lets you build, style, and collect data from your survey forms, and comes with lots of functionality:
There's a drag-and-drop builder – a typical feature for many similar products – and a collection of pre-built templates.
You can even alter the form's HTML if you have coding knowledge, which gives the plugin more flexibility.
You're able to add conditional logic to your forms, which is key for smart and conversational surveys.
There's a visual form styler too, alongside some more advanced ways to customize the look of your surveys and questionnaires.
You also have a full suite of tools to help you collect and manage the data you obtain from your surveys.
However, there are two sticking points with Formidable Forms. First, you don't have as many integrations on hand. This might not be a problem, until you need to integrate a third-party service.
Second, the pricing is more expensive than a similar solution such as Tripetto. While the Basic plan ($79 per year) includes conditional logic, there's little else here. In fact, to get the functionality to create conversational forms, you'll need to buy the Business plan at $399 per year. This is expensive, and might not suit every budget.
7. Fluent Forms
This plugin tags itself as the "fastest WordPress form builder," but it offers lots more than just speed. Fluent Forms has the ability to park itself right at the center of your workflow.

Fluent Forms has a phenomenal number of five-star reviews on WordPress.org and has a 4.9 average rating. One reason for this is its comprehensive feature set:
You won't need code to build surveys or any type of form. Instead, you'll use the drag-and-drop builder within WordPress, and combine this with pre-built templates.
You're able to implement multi-step forms with ease, which can cut down on the fatigue a user will often feel with a longer form. There's also the option to use multiple columns within your form.
Fluent Forms offers conditional logic and interactivity through a conversational approach. There's calculation functionality too.
You'll find some advanced functionality here too. For example, you can collect payments, which could turn your survey into an appointment or intake form. With the ability to connect to a Customer Relationship Manager (CRM) tool, you can store any leads your surveys generate and target them with relevant content down the line.
Our favorite aspect of Fluent Forms is the pricing. Like Tripetto, you get the full experience regardless of the tier you select. A single-site license is $59 per year, but you can also net five-site licenses, and there's a plan that offers a practically unlimited number of licenses too.
---
How to Choose the Best Survey Plugin for WordPress
You'll notice that each WordPress questionnaire plugin and service on the list offers a slightly different focus. Of course, in some cases – such as SurveyMonkey – you'll know exactly what it can do. In fact, this option is fantastic for surveys, but you won't be able to create many other types of forms. You also can't integrate it too well with WordPress, given that it doesn't come as a plugin, but is a dedicated service. Overall, it's not the right choice for larger projects or flexible needs.
Instead, you might want to move to a solution such as Typeform. On the surface, this offers almost everything you'll need to create all types of forms. However, the price is prohibitive, and you'll need more than a limited skill set to get the most out of the form builder service. Again, this isn't a plugin much like SurveyMonkey. As such, you have more work to do in order to integrate the solution into WordPress.
If you use WordPress, a dedicated plugin might be a good option. While WPForms and Formidable Forms offer a lot, the feature set on lower tiers is restricted. This is not good if you have a limited budget, in which case it is better to choose a plugin such as Tripetto.
Tripetto provides the right level of functionality to create personalized and conversational survey forms. In addition, the price is reasonable, and there is no feature restriction based on your budget. You get the entire set of features regardless, which makes Tripetto the best survey plugin for WordPress in most use cases.
---
What Makes For a Great WordPress Questionnaire Plugin
On the whole, the exact features and functionality you need for a good WordPress questionnaire plugin are subjective. Even so, you can guarantee that almost one of the following will end up as a non-negotiable – lots of times, you'll want to tick every box:
You'll want a top-notch UI that is straightforward to use, easy to navigate, and intuitive to understand.
There needs to be a solid set of basic actions and fields, not just for surveys, but for any form you'll create.
You'll want a few ways to embed a survey on your site, such as through a widget or shortcode.
Your survey responses need managing too. On this end, you'll want to make sure your chosen WordPress survey plugin offers robust management for those responses – ideally from the WordPress dashboard.
A perennial need is for a WordPress questionnaire plugin of any type to offer a cost-effective price both in the short- and long-term. You'll want to know that you can build a plugin into your workflow, as an essential part of your setup, and a solid price is one key you'll need to factor in.
---
Conclusion
Surveys, quizzes, questionnaires, and other types of forms all have a goal: to obtain information from a respondee. The type of information you gather depends on your needs, goals, and scope. In most cases, you'll want to collect information either about your current products and service offering or to find out about new income streams you could potentially explore.
Survey plugins can add this functionality to WordPress without the need for any code or technical knowledge. Tripetto is one of the best WordPress survey plugins available because it offers a user-friendly interface, lots of ways to build any type of WordPress form, and immense flexibility.
What's more, you can have all of the functionality of the best survey WordPress plugin starting from only $99 per year. You also get a 14-day money-back guarantee – no questions asked!