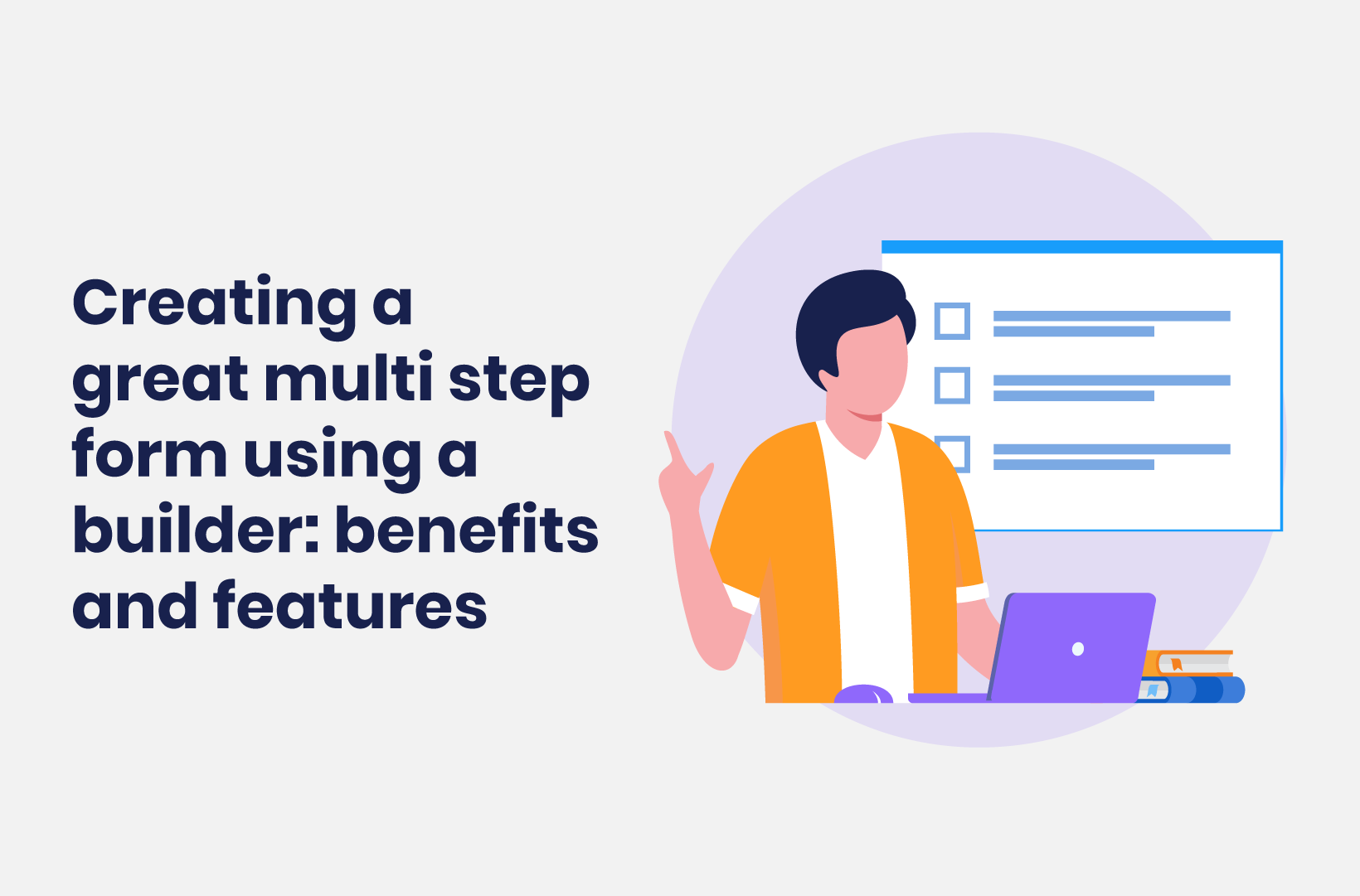 Background story
8 Min.
Creating a great multi step form using a builder - Benefits and features
If you're looking for a quick tutorial on how to create a WordPress multi-step form using a builder, you're in the right place. Read further for more info!
---
Online forms are a vital part of any lead generation strategy. In fact, as many as 74% of companies use web forms for this end, with nearly half ranking online forms as their highest converting lead generation tool.
However, lead generation isn't the only purpose your online form might fulfill. What about collecting survey data? Or feedback forms? Not to mention the facilitation of more complex sign-up procedures containing multiple form fields.
While simple forms will do the job if you just want a basic contact form or newsletter sign-ups. However, performance may waver if you're looking to gather more insightful, comprehensive responses.
For this purpose, you'll need a conversational WordPress multi-step form (sometimes also known as a multi-page form or multi-part form).
With that said, we're explaining what a multi-step form is, how it performs, and a step-by-step guide on how to add one to your WordPress website.
---
The Benefits of a WordPress Multi-step Form/Multipart Form
Multi-step forms are similar to traditional forms but with one major twist: They break down a seemingly long task into smaller chunks. This reduces the chance of respondents feeling overwhelmed and, as such, works wonders for boosting your forms completion rate and reducing drop-offs.
This makes them perfect for advanced use cases, including selling services or products through online chatbots. They also work well if you're looking to conduct market research surveys where you might need to ask open-ended questions. Namely, because you can use WordPress multi-step forms to encourage respondents to provide longer, more insightful answers, to generate higher-quality qualitative data to work with.
Multi-step forms also enable you to apply conditional logic. This ensures you gather the most relevant information and avoids asking respondents irrelevant questions. Again, this goes a long way to boost the user experience - in fact, 10% of users abandon forms due to unnecessary questions!
Let's use an online medical form as an example. The first question might ask for the person's gender. If the respondent says "male," there's no need to later check if they are or might be pregnant. In this instance, conditional logic would omit this question.
Another benefit of WordPress multi-step forms is that you can gradually build a rapport with respondents.
Pro Tip: Save any sensitive questions towards the end of your form, as you would have built up a bit of trust with the respondent by this point.
Lastly, as each section of the form can be viewed on a new page, you have tons more space to get creative compared to traditional forms. This allows you to, for example, use image selector buttons instead of text buttons.
---
A WordPress Multi-Step Form in Action: A Real-life WordPress Example
Now that we've covered the basics, let's compare a standard form with a multi-step one to further showcase the above benefits.
For this purpose, we'd like to introduce you to Tripetto.
This is a user-friendly WordPress form builder plugin specifically designed to solve website owners' typical problems with traditional and conversational forms without needing any coding know-how (like CSS and Ajax). Even beginners can use Tripetto effectively. Tripetto boasts advanced functionalities such as live previewing, logic conditions, and using webhooks; you can also connect with Google Sheets, Zapier, etc.
Let's look at the wedding RSVP form illustrated in the screenshots below. The couple's goal is to know who will be attending their big day.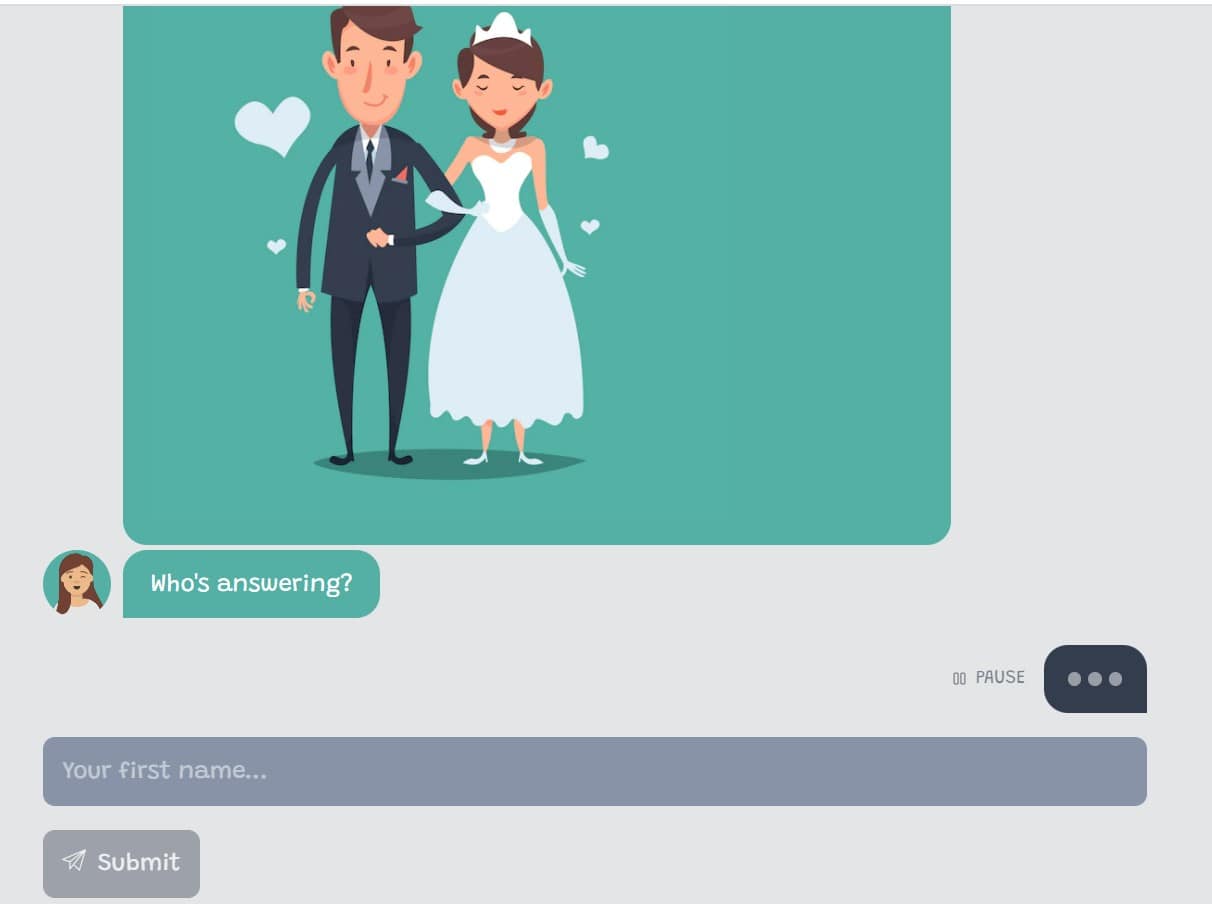 Here, Tripetto's multi-step RSVP form uses the chat form face, which appears conversational and exudes a light-hearted feel. In comparison, traditional forms don't usually offer chat features and feel more formal and impersonal. Despite that, the primary request would be the same: i.e., for respondents to fill in their names and hit the submit button.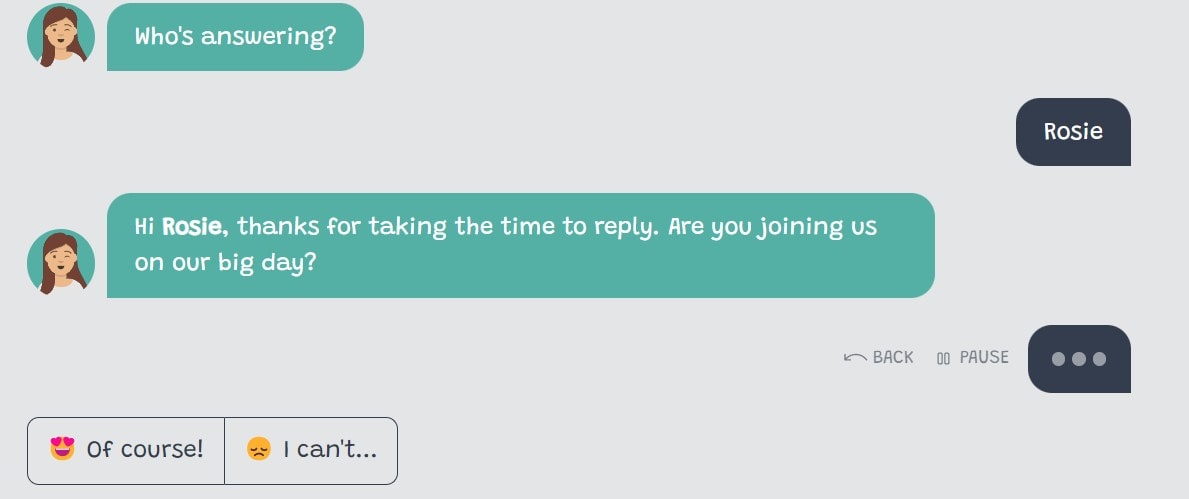 The next step of the form is a simple yes/no question. Again, styling this conversationally and using expressive emojis keeps the form fun and light. This is where the first instance of conditional logic applies. If we say "no," the form ends with a personalized message.

However, if we say "yes," the form continues to ask us further questions. Users are prompted to confirm if they will bring their partner and children. Again, if the answer is "yes," conditional logic allows the user to enter how many children will attend.
In contrast, with a traditional WordPress form, this might have been a redundant question that might not have been omitted. Thus creating unnecessary hassle for the respondent.
Using a multiple-choice style question, users can now choose which part of the day they'll attend. Tripetto easily allows users to select one or more options here.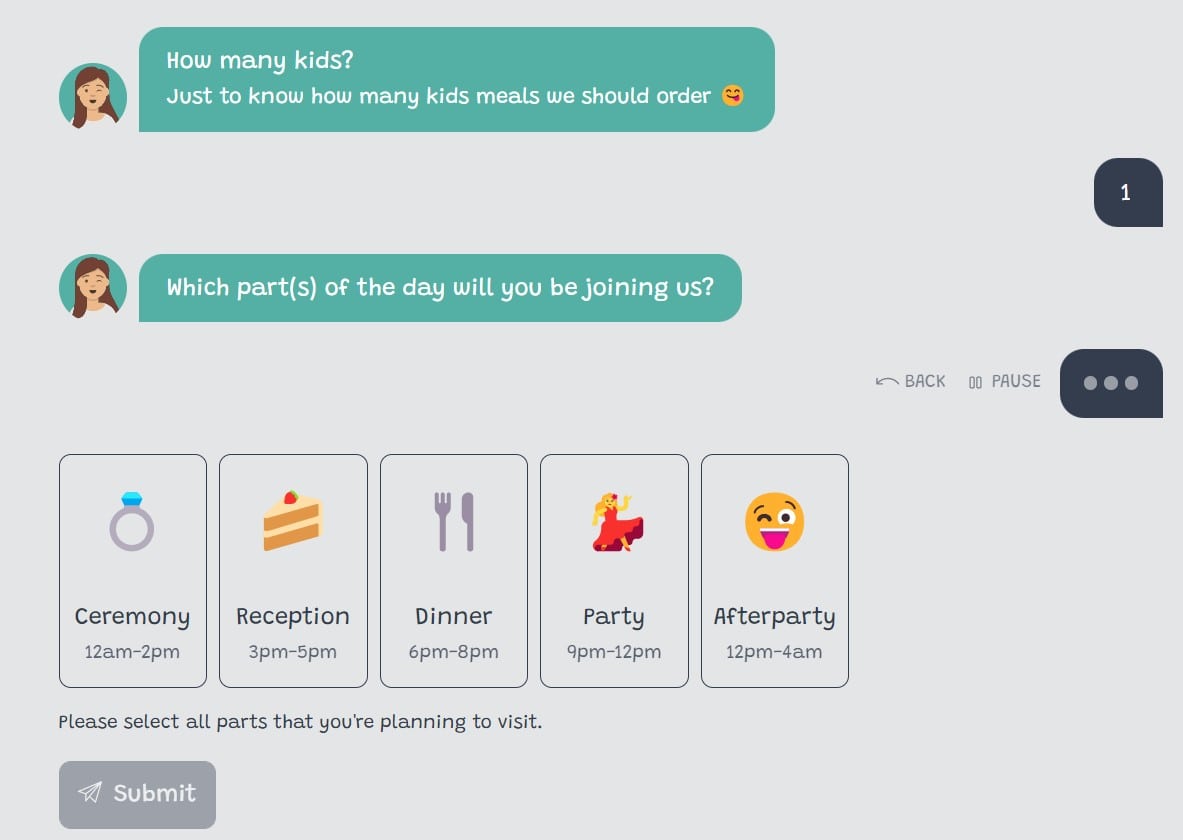 Finally, the form concluded with a personalized message.

At this point, it's also worth noting that with a multi-step form, you can program the conversation to pass comments on answers or throw in a "thank you" once in a while. Again, this isn't something a classic form would offer. Needless to say, this is one of the many ways you can use a conversational form to boost engagement.
All that said, it's no wonder that multi-step forms are 70% more likely to convert people than static web forms at just 30%. If that isn't a reason to start looking at chat formats like the one we just explored, we don't know what is.
---
How to Set Up a WordPress Multi-Step Form
Suppose you liked the look of the example from above. In that case, you'll be pleased to hear that creating a similar setup is easy and intuitive using Tripetto.
Tripetto offers three form layouts. We've already explored the chat layout, but in addition to that, Tripetto also provides autoscroll and classic form options. The latter appears more static, with distinctive pagination to add breaks. Whereas the first two are more conversational and fluid.
That said, here's a quick tutorial on how to set up your first WordPress multi-step form:
1. Set Up Tripetto on Your WordPress Site
First things first, install Tripetto onto your WordPress website by navigating to the WordPress plugin directory and searching for Tripetto. Once you've found it, click "Install" and then "Activate." Then you'll be able to find the Tripetto plugin under the plugins tab on your WordPress dashboard's sidebar.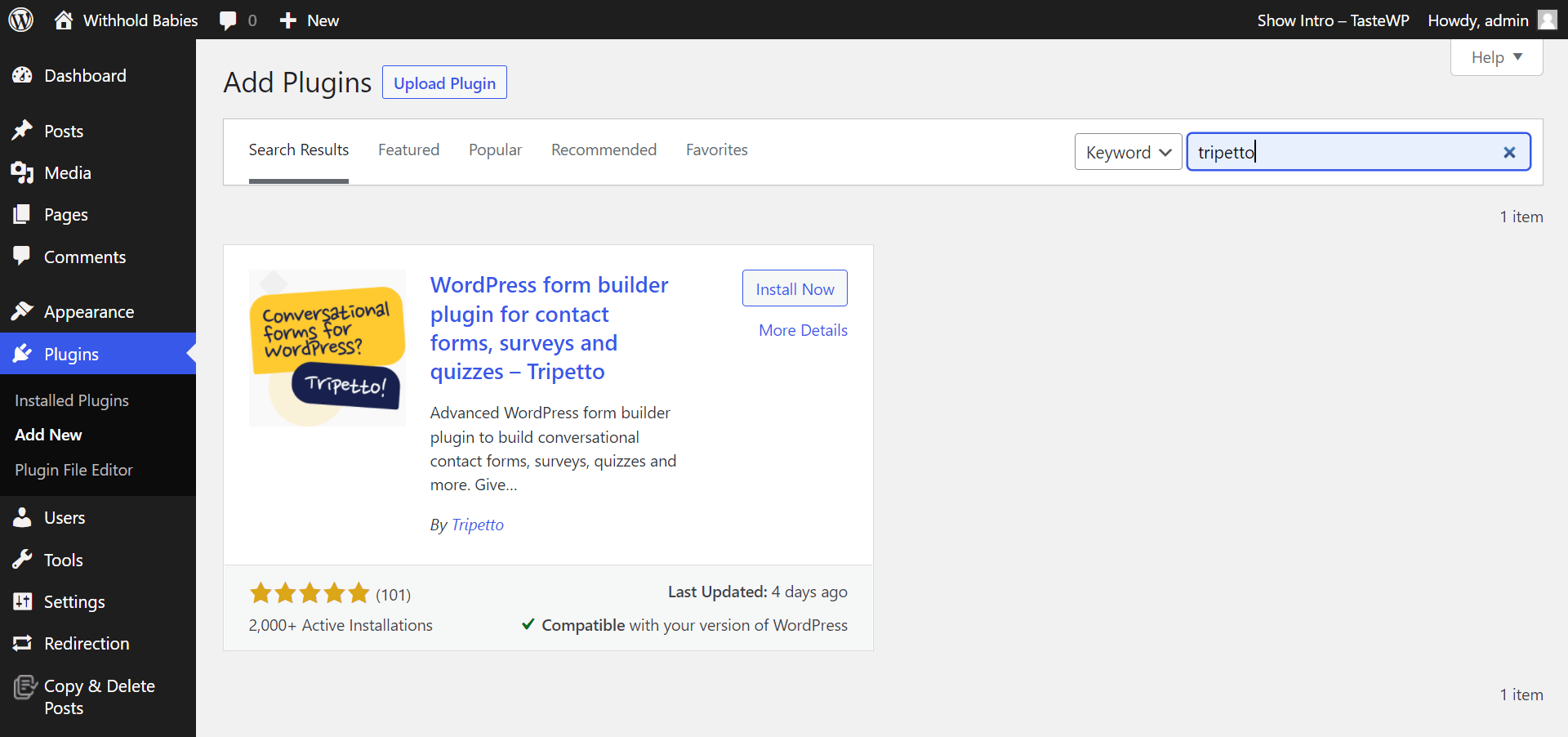 You don't need a Tripetto account to start using the plugin, however to unlock more sophisticated features you can upgrade to the Pro Plan. You'll benefit from things like unlimited forms, unlimited questions, unlimited logic, unlimited responses, etc For more info on Tripetto's pricing plans, click here.
2. Set Up a New Form
Each form starts with a simple "storyboard" highlighting your form's progression. Simply click the plus symbol to add question blocks and choose your question type. These include things like:
Text boxes/ text fields (single line, multiple lines, or paragraphs);
Image upload boxes;
Checkboxes;
Dropdown lists;
Dates;
Short-form answers;
Long-form answers;
Add 'fancy' question types like ratings, scales, yes/no, matrix, etc.;
A calculator block.
You can also add descriptions to each question and state whether an answer is required or not.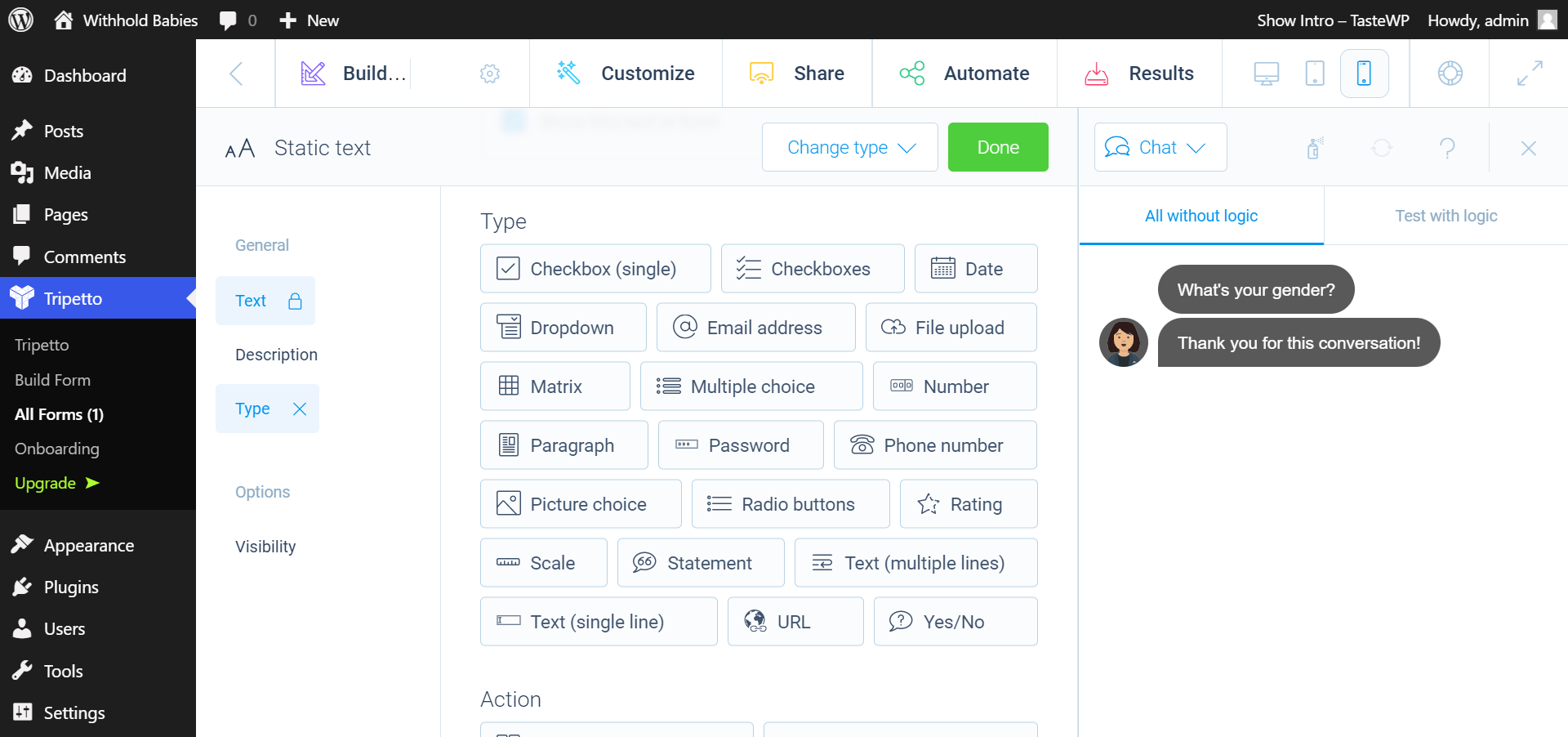 3. Apply Conditional Logic
You can add conditional logic to your forms with branches using the intuitive flow-chart builder. For example, add a branch condition (e.g., a yes or no in answering a question) and a branch behavior to determine reactions to these responses.
At this point, you can add the form blocks that respondents will see when they enter a particular branch in the form. You can also add new logic conditions if necessary.
Finally, at the end of a branch, you can either choose a unique branch ending or feed users back into the remainder of the form.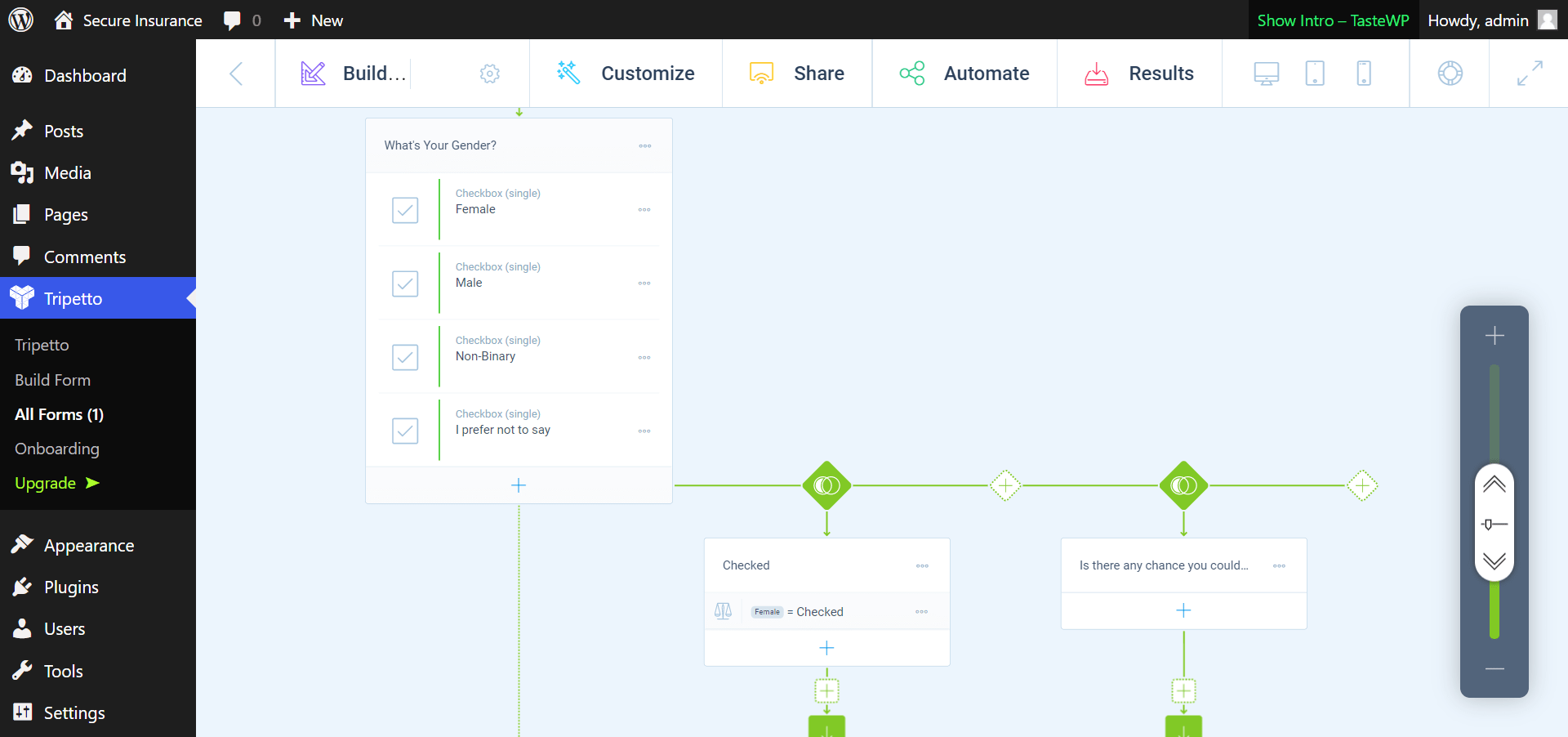 Add and Customize a Progress Indicator
A progress bar is great for keeping users engaged and reducing your form abandonment rate. Progress bars enable users to clearly see how much of the form is left to complete in real-time. This works wonders for ensuring respondents aren't deterred by the seemingly endless flood of questions. You could go as far as to say that progress bars gamify the survey so that it feels more satisfying to complete questions and advance to the next 'stage'.
With Tripetto, progress bar availability depends on the form face. Tripetto's progress bars are linked to sections, branch logic, and required questions. To add a progress bar, it's as easy as heading to the top menu bar of the form builder and clicking on "Customize" and "Styles." Here, you can simply opt-in or out of showing a progress bar.
On top of this, you can dig deeper into your form settings to customize the following:
Add your forms to relevant WordPress pages and posts to get more responses. Form conversions are tightly linked to accessibility, so the easier it is for your users to find and use the form, the better!
Set up confirmation emails that are sent to respondents upon form completion. This is a great chance to include a thank-you message or discount code or simply confirm the form's receipt.
Set up email notifications to inform you when you receive a form submission. This is especially useful if you're using this as part of your ticketing system, appointments, order forms, application forms, or registration forms. That way, you can respond as soon as possible without any visitors falling through the cracks.
Add 'Automate follow-up processes,' including connections to external online services. For example, you can automate the transmission of data to Google Sheets, or add the responses to your business' CRM system.
---
Are You Ready to Create a Great WordPress Multi-step Form?
Multi-step forms boast a 13.9% conversion rate, which is double the average conversion rate for single-page forms. This stat speaks for itself: multi-step forms are an excellent way to better use your online forms. Not least because they allow you to engage visitors with more insightful, long-form, and complex questionnaires that they otherwise might have been overwhelmed or bored by.
With Tripetto, online forms can be good-looking, conversational, and even fun. Using icons, progress bars, chat menus, and more, complex forms are streamlined, simple, and engaging. Tripetto is an all-in-one form builder plugin that allows you to create and manage forms, surveys, and quizzes within WordPress in just a few simple steps.
So, what are you waiting for? Check out the Tripetto plugin today and take advantage of their unconditional 14-day money-back guarantee!