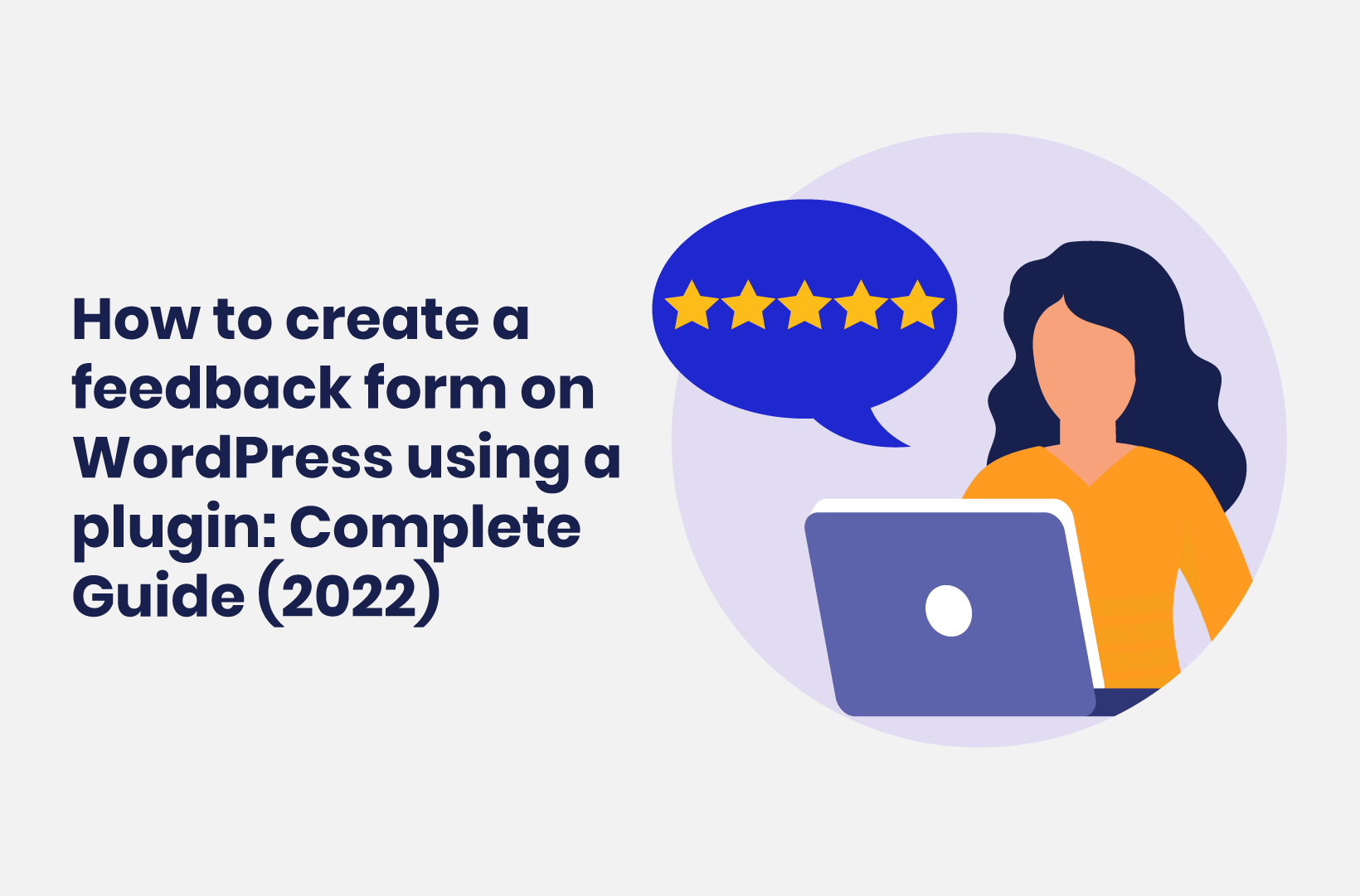 Guide
10 Min.
How to Create a Feedback Form on WordPress Using a Plugin - Complete Guide (2022)
Customer feedback is the lifeblood of a business, and should be for yours. This post will look at how to use a WordPress feedback plugin such as Tripetto!
---
No matter what point of the chain your product development is at, feedback is a vital resource. In fact, it's a key element once you begin to sell that product too. Constructive feedback from both your team and customers can take your business to new heights. As such, a WordPress feedback plugin should be a part of your arsenal.
A feedback form is a typical way to engage with your customers on how they perceive your products and services. It's not only popular, it's efficient. What's more, you can employ these types of forms for internal use too.
For this post, we're going to look at how you can implement feedback forms within WordPress, and use a dedicated feedback tool to integrate the functionality you need.
---
How a Feedback Form Can Help Your Business
While dynamic, a typical website form really only provides one-way traffic. The standard use case is a contact form: a user types into the fields, clicks a button, and the message heads your way.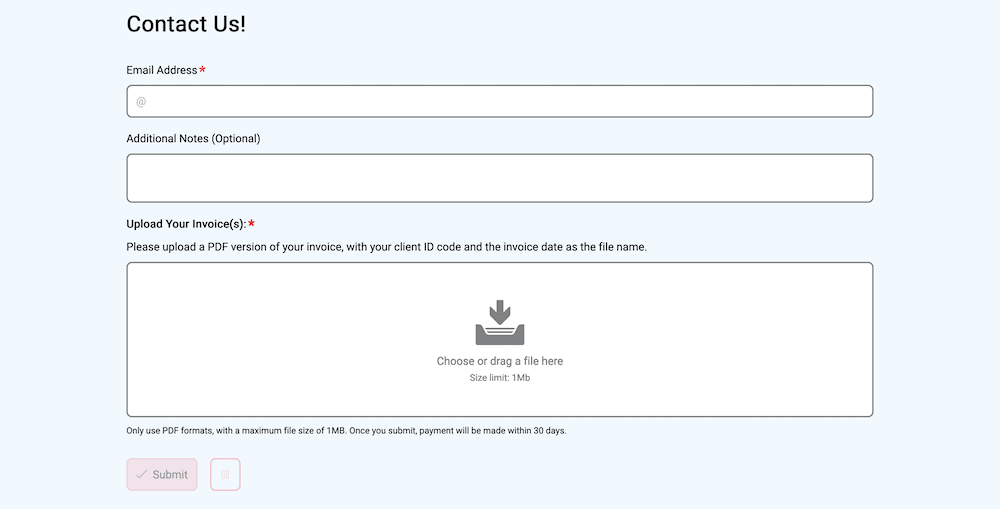 However, much like the web itself, forms have seen an evolution that makes them not only dynamic, but conversational and smart too. A feedback form helps website visitors deliver their opinions, but the form itself can adapt to their answers (and your questions).
There are lots of benefits to consider here:
The engagement you have with your customers and users can give you valuable insights. For example, you will be able to collect feedback, but also market research. What's more, you can generate leads too with the right setup.
The customer's experience will take a boost when you provide intuitive smart feedback forms. Core to this is giving the customer a sense of value, which goes some way to building stronger relationships in the long term.
Depending on the form you create, you can get real-time feedback, and this will help improve your products and services further. This enriching experience is cyclical and perpetual in nature too, which means you'll benefit to a greater extent.
However, to implement a user feedback form on your site, you'll need a dedicated WordPress feedback plugin. Next, we'll explain why.
Why You'll Need a WordPress Feedback Plugin for the Platform
WordPress has a market share of around 43 percent. This astounding figure is due to its features and functionality, usability, and extendability. It's a full-featured Content Management System (CMS), and is a great platform to host forms and collect data.
However, despite WordPress being a full-featured platform, it can't help you build forms. In fact, a smart formsform builder</a> isn't part of its default offering. For this, you'll need to lean on the platform's extendability, and use a WordPress feedback plugin.
We'll talk more about some of the options available to you later. First, let's discuss another aspect that you'll want to use: conversational feedback forms.
---
Why You Should Use Smart, Conversational Forms
While a standard dynamic form has its place – it's a necessary component of almost every WordPress site – there are many positives to earn from a smart, conversational form:
For starters, you can offer a better User Experience (UX). This makes sense because the form will adapt to user input and won't feel as 'robotic'.
Speaking of which, conditional logic elements let you ask questions personalized to the user. You'll do this through the answers the user gives, which means the form can receive more relevant data.
By extension, asking relevant and personalized questions means you can increase the completion rate for your form. The user will be less bored or prone to exit the form, which gives you a more complete set of data.
One common thread among all of the benefits here is that your data will be more complete, and have greater value. This is because each piece will be relevant to a customer, and your potential target persona.
While some of these benefits appear straight away, especially with regards to completion rates, others will be apparent further down the line. This makes smart, conversational feedback forms a great long-term investment for your business and stored data.
---
4 of the Best WordPress Feedback Form Plugins Around
Next, we're going to take a look at some of the leading WordPress feedback form plugins on the market. Following on from that, we'll tell you why you should choose our favorite!
1. Tripetto
First, Tripetto is a top-drawer way to create a near-unlimited number of forms that are deep, personalized, and smart. In fact, we think it has more features and functionality than practically every other WordPress feedback plugin.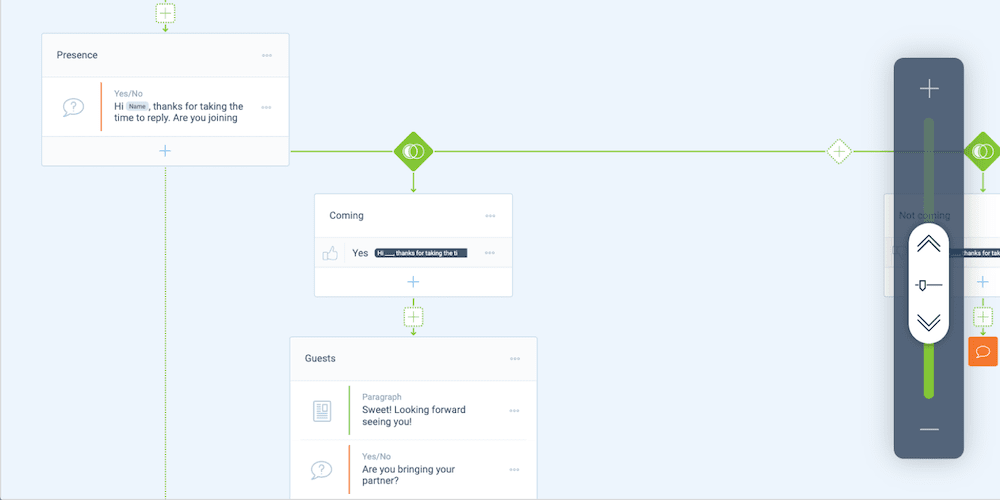 It offers a wide range of customization and design options to create responsive and conversational forms, questionnaires, surveys, and much more. Along with templates and the typical settings for fonts, colors, button design, and more, you can also use 'form faces' to help set your desired User Interface (UI).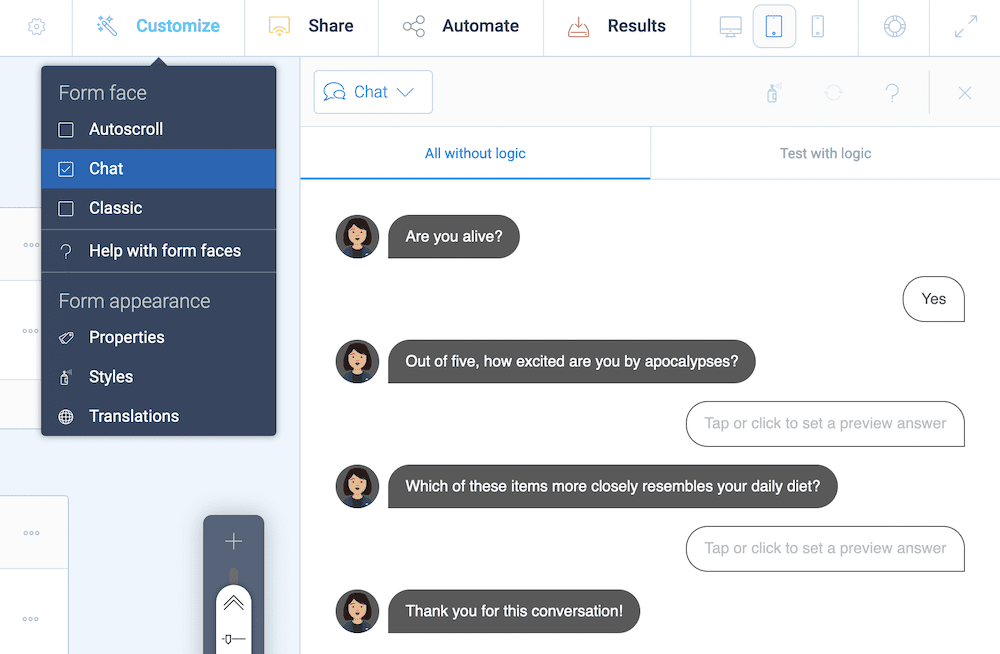 This is a quick and simple way to 'skin' your form so that you can present a standard form, a 'stepped' form that runs through sections, and a chatbot. However, you don't have limitations for choosing a form face. You can apply this at any time, which means you can concentrate on building your form first.
Here's more about what Tripetto has to offer:
You don't need any code (such as HTML or CSS) to create beautiful forms that use advanced logic and smart functionality.
All of the data you collect resides within WordPress. This means nobody else owns it but you.
There are over 1,000 integrations you can make with Tripetto. The plugin is as extendable as WordPress itself, and lets you make Tripetto central to your workflow.
Tripetto uses 'action blocks' to help you add advanced functionality fast. For example, you can create calculators, 'forced stops', pre-populate sections of your form, and much more.
Tripetto costs $99 for a single-site license. You'll also get a 14-day money-back guarantee on any purchase you make. However, you'll find a premium version to suit every budget, that also includes the right blend of features and functionality you need.
2. Gravity Forms
Next up, Gravity Forms is a long-standing WordPress feedback plugin (and contact form plugin) that you'll want to take a look at.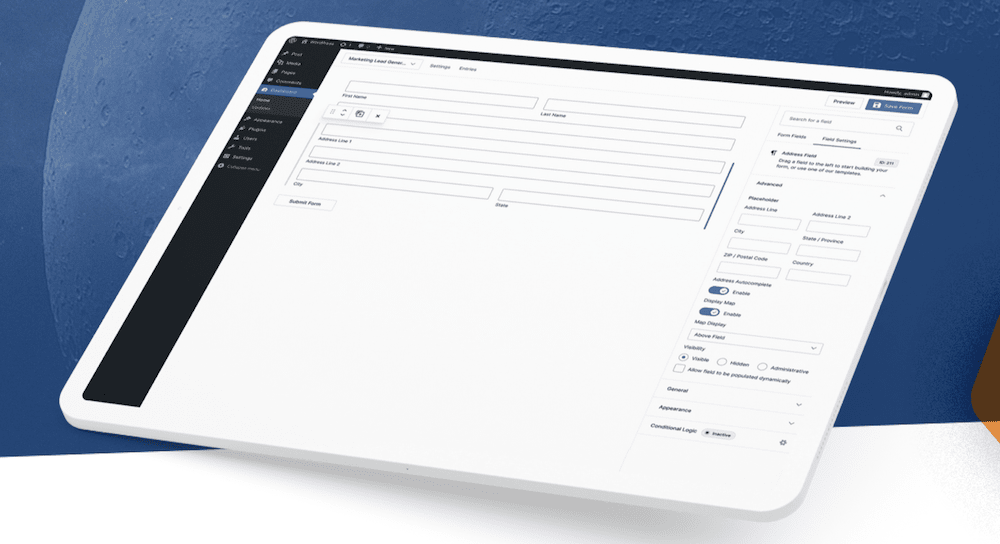 Here's what the plugin has to offer:
It lets you create responsive forms that can also include a spam filter, to keep messages relevant and your administration down.
The plugin provides around 30 different form fields to help you design your forms.
You'll use a drag-and-drop form builder within the WordPress dashboard.
There's the ability to import form designs too, so you can take yours to other installations.
On the whole, Gravity Forms is good if you want to build complex forms with ease, within WordPress. A single-site license is $59 per year but doesn't include the same level of functionality as Tripetto. You'd have to opt for one of the more expensive plans to get the same blend of features.
3. Ninja Forms
Ninja Forms is a common and popular WordPress form plugin that is a solid step up from some of the other plugins you might choose in its place.

It lets you create the form you need within WordPress, and looks fantastic. It's developer-, -beginner, and all-around user-friendly too. With the right blend of add-ons, you can create a unique form-building solution.
While the free version of Ninja Forms offers a lot, you'd have to buy a premium plan to harness all of its functionality. There's a somewhat convoluted pricing model, where you can buy add-ons on an individual basis, and also subscribe to an annual plan.
Regardless, you can jump onboard for $59 per year, but you'll miss out on some advanced features such as Slack and SMS notifications.
4. Formidable Forms
If you want a simple way to create forms using a drag-and-drop interface, Formidable Forms is an outlier that you'll want to look at.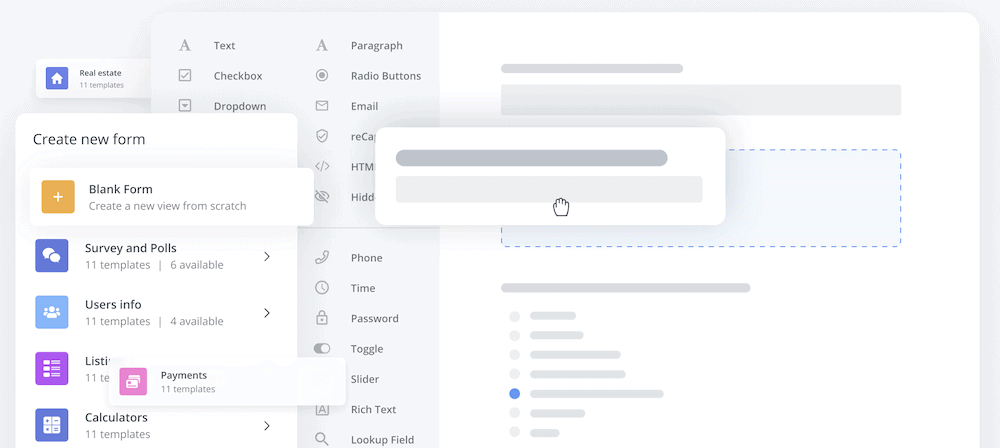 Here's what it can offer you:
There are a suite of tools to help you design, build, and customize your forms.
It includes a bunch of templates to help kickstart your design project.
You can create polls, surveys, quizzes, and more using the built-in tools.
The WordPress plugin also includes advanced functionality such as calculators, conditional logic, and more.
Pricing-wise, the cheapest premium plan is $79 per year, but this doesn't give you a lot in the box. The Business plan at $400 per year looks to offer the same range of features as Tripetto, but for much more of an outlay.
---
Why Tripetto Is the Best WordPress Feedback Plugin for Your Needs
In a moment, we're going to discuss how to use Tripetto to create a WordPress user feedback form. However, before that, let's talk about what Tripetto can provide, feature-wise.
For example, personalization is key for any form, and Tripetto can help you implement it. You can include names and locations within your forms, but also pull in other Tripetto features such as a calculator. You can also personalize a form through recall, using previous answers to alter a future question or actions: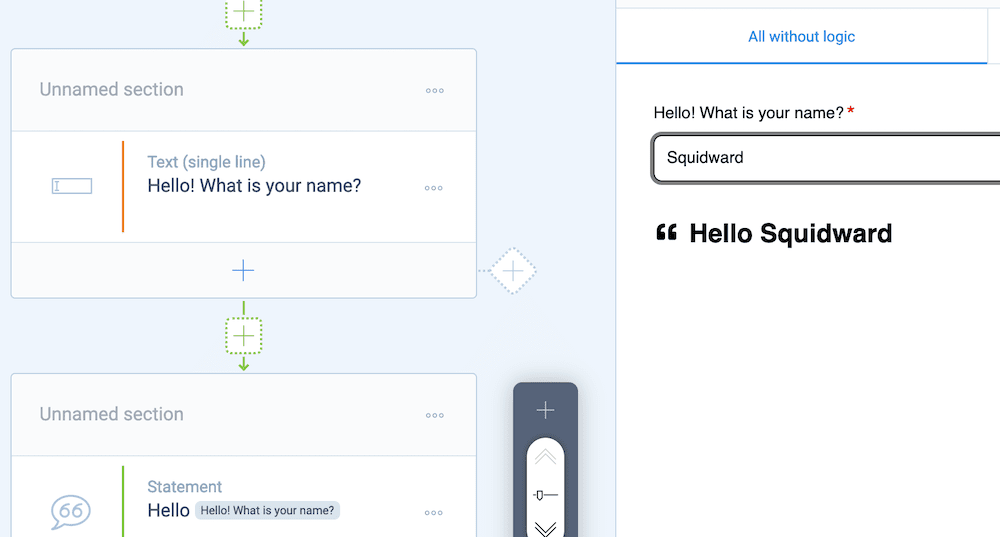 What's more, you can set 'jump questions': This lets a user skip to a more relevant question based on the answers they deliver. It's a great way to further personalize your forms.
Being aware of completed forms is important. As such, you can integrate your email or Slack with your forms to help you provide real-time notifications: Handy if you need instant updates on when a user completes a form.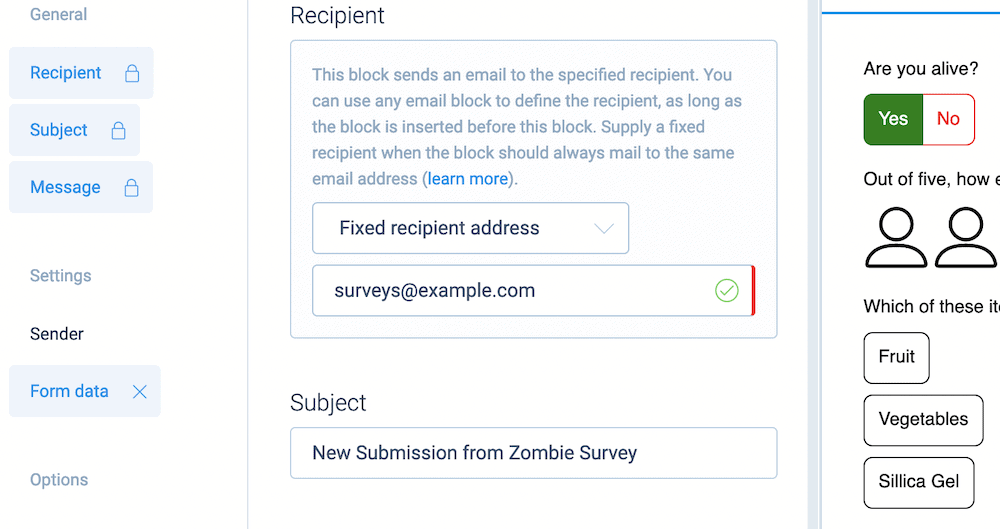 If you want to enhance the functionality of your forms or have a favorite third-party service you want to use, Tripetto will let you. There are over 1,000 different integrations to make, using webhooks to link everything together.
There's much more to discover, but the best way to find out is to use the plugin! Let's do this next.
---
How to Use Tripetto to Create a User Feedback Form
Once you install and activate the Tripetto WordPress plugin, you'll need to set it up. However, this takes around two minutes tops thanks to the Onboarding Wizard: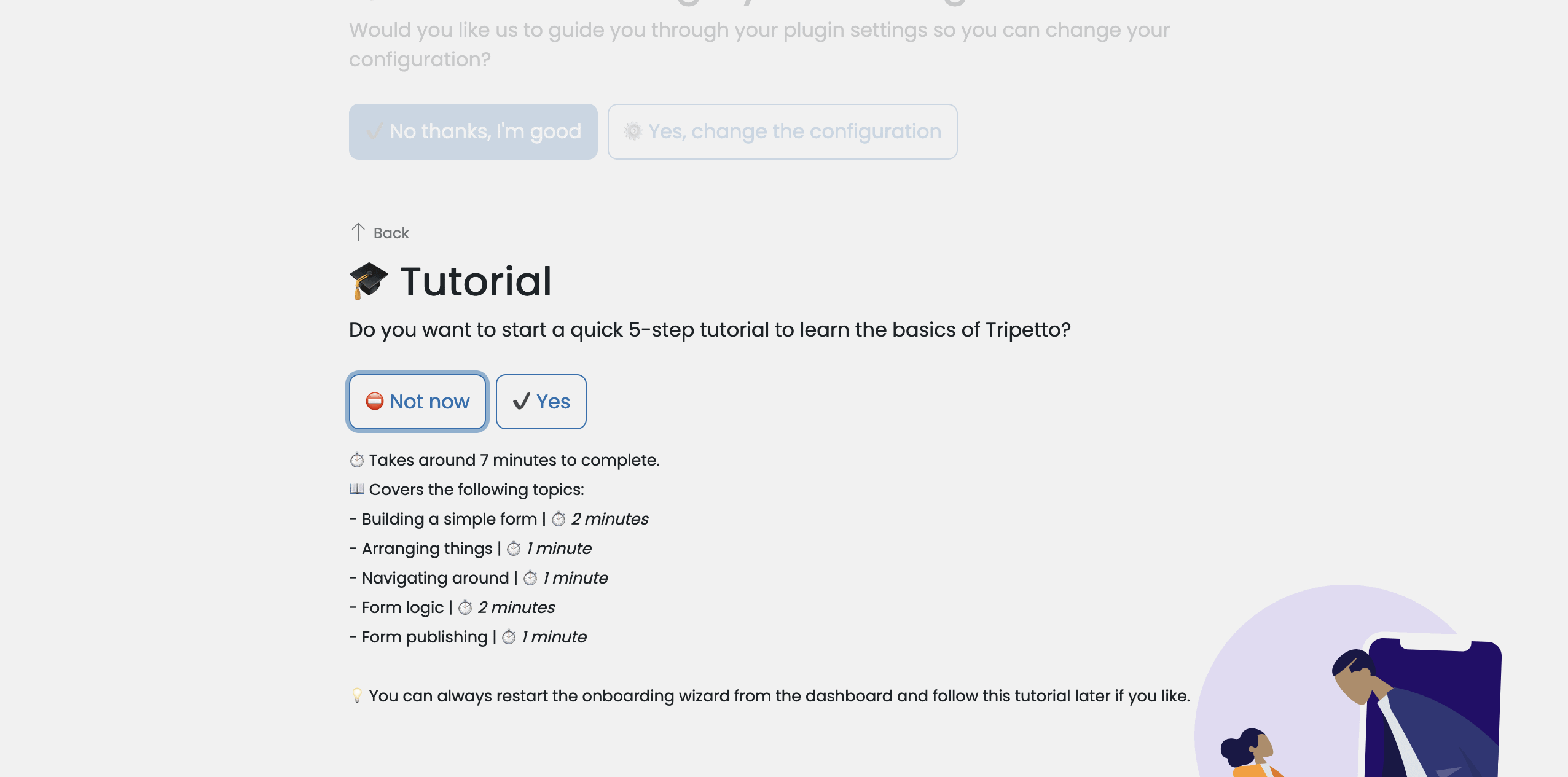 To build your first form (which you can do from the Tripetto dashboard), you'll head to the Storyboard and get to grips with the drag-and-drop builder: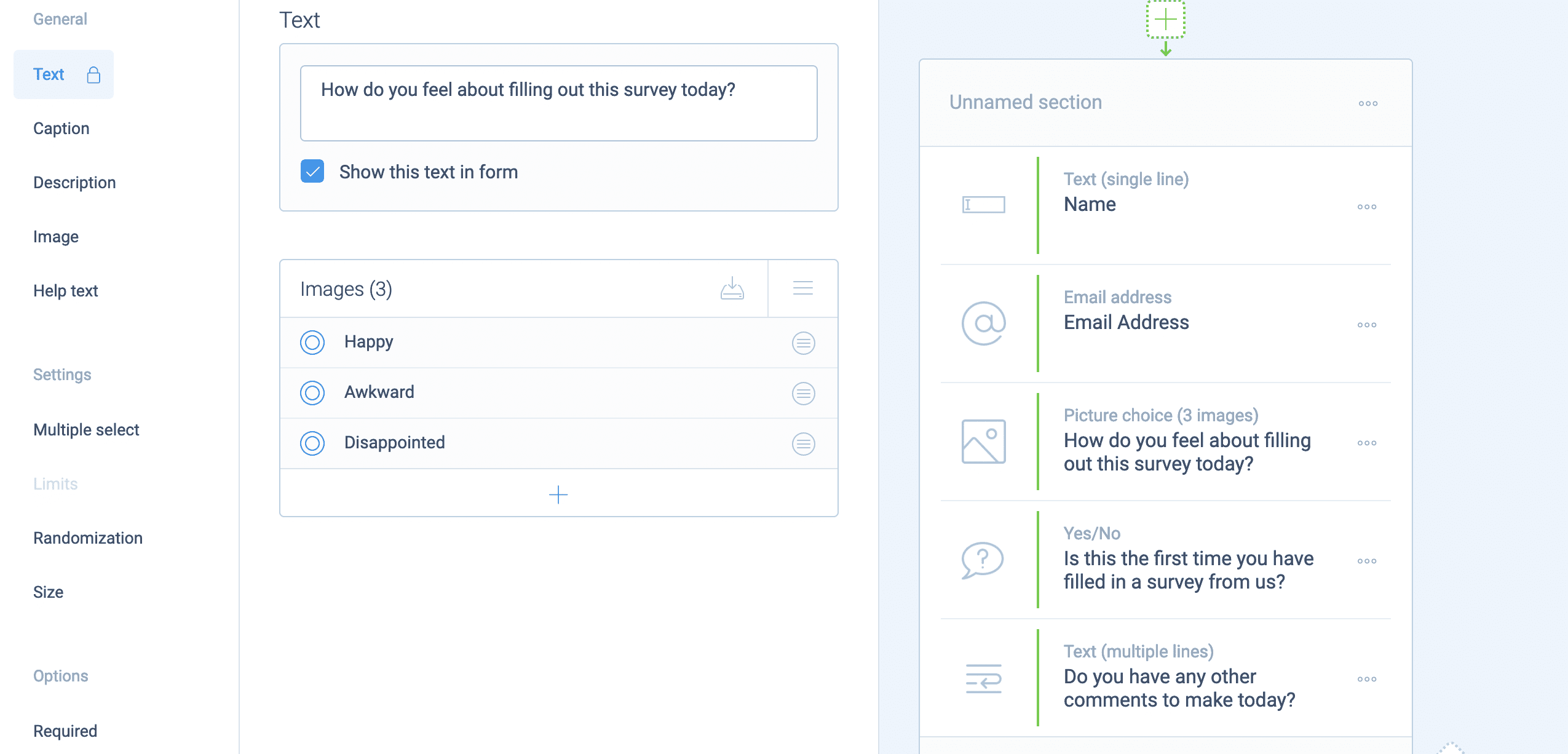 From here, you'll drag in the Blocks you need to design and build your form. Using Tripetto's conditional logic features, you can build out personalized user feedback forms with ease: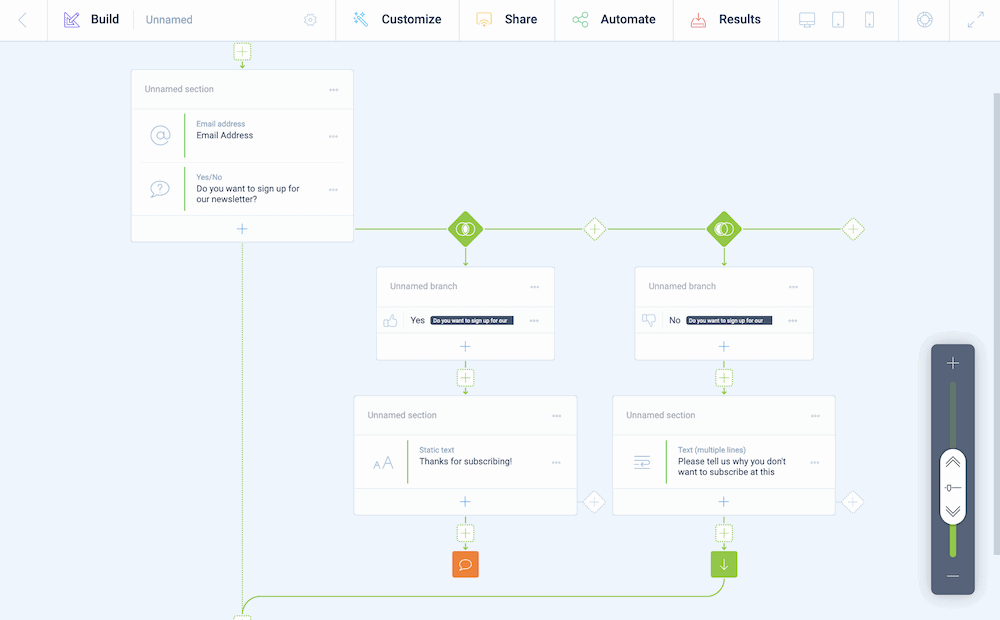 You'll also need to stay on top of your form submissions. You can do this through a number of integrations, and features. For example, you can choose which data you save, then find the best way to export it. Regardless of whether you want to get notifications through email or Slack, Tripetto can accommodate.
If you want to know more, check out the Tripetto Help Center. It offers articles, tutorials, documentation, and more on everything to do with the plugin.
---
Conclusion
A website without a form should put that right. However, a standard dynamic contact form is great, but you'll need more for a modern WordPress website. A smart feedback form that's conversational will offer your user more relevant questions, and encourage them to provide better-quality answers. A WordPress feedback plugin will give you almost every piece of functionality you need to implement on your site.
Although there are a lot of solutions on the market, Tripetto is one of the best. It offers an intuitive setup process, straightforward ways to customize and design your form, and lets you manage your responses from the WordPress dashboard. It's a native app which means you don't need to login and manage the plugin using a third-party interface.
What's more, a single-site license is $99 per year. Each premium plan also comes with a 14-day, no-questions-asked, money-back guarantee!