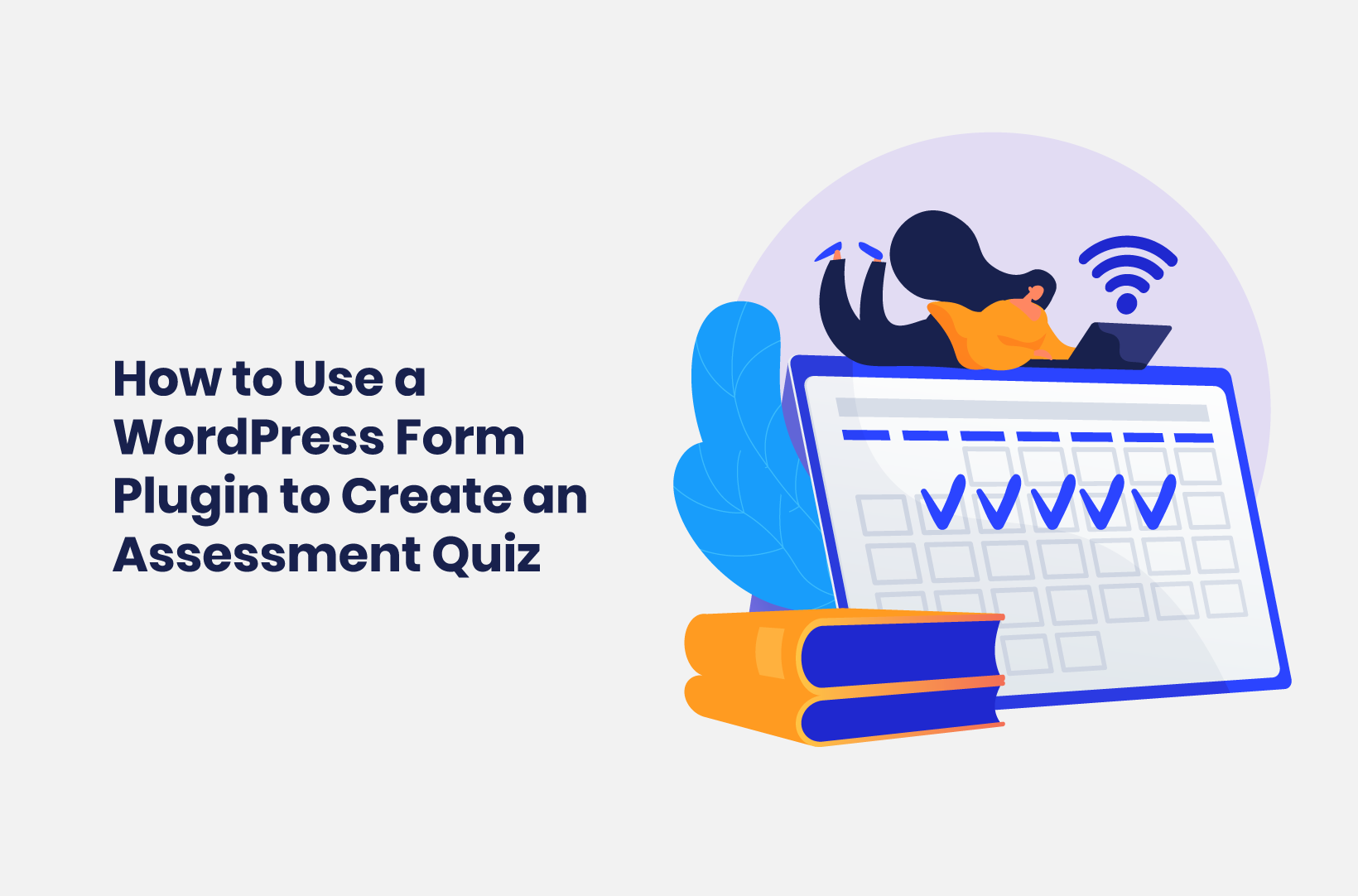 Background story
10 Min.
How to Use a WordPress Form Plugin to Create an Assessment Quiz
Assessments can help you understand users in a better way. This post will show you how to use the leading WordPress assessment plugin, Tripetto!
---
User analysis in the way of gauging personality traits, topic comprehension, and subject mastery is more common than you realize. Lots of businesses conduct this sort of core profiling, in a number of different ways. For example, schools may need to assess student knowledge, or companies might have a desire to evaluate a candidate's soft skills.
You can even use assessments to provide a more engaging way to gain visibility and as a technique to generate shareable content. For all three of these cases, an assessment, test, or quiz is going to be an ideal way to find out this information. WordPress provides lots of different ways to create and distribute assessments on your website.
In this post, we're going to show you the various types of evaluations and assessments you can undertake. From there, we'll discuss how to choose a suitable plugin for your website, and introduce a WordPress assessment plugin in Tripetto.
---
What an Assessment Quiz (or Test) Is
An assessment quiz or test is a way to evaluate and profile some aspect of the respondent. It's a tool often used in areas such as academics and traditional businesses to understand whether a candidate has the right personality blend for a role. You'll also find less complex assessments on entertainment websites, so they don't always have to be formal and straight-laced.
These kinds of tests and quizzes are a popular way to uncover the information an institution needs because they're efficient. If you consider an equivalent method such as an essay, an assessment is faster to complete, potentially more fun, and still offers enough to glean many insights into the candidate.
What's more, an assessment gives users a way to showcase their unique traits and skills, and share them with others. While it's important to make the respondee feel special, the ability for them to compare quiz results with a wider pool means they also get to feel part of a community.
On the whole, you can tailor an assessment to the needs and ideals of your own business or institution. In fact, we can show you how adaptable quizzes and tests can be.
---
Use Cases for an Assessment Quiz
There are a few concrete examples of where using an assessment is optimal and valuable. Let's look at a few, in order to help you understand specific ways a test, quiz, or questionnaire is of value.
Human Resources (HR) Departments
An HR department relies on managing different personality types. What's more, it will often be on the frontline when it comes to hiring employees.
An aptitude test or pre-employment quiz is a fantastic way to understand potential hires, and can help you assess motivation for a role. Depending on how you set up the assessment, you can also use a quiz to set expectations and align individual goals with company-wide targets.
An assessment can also help HR to conduct appraisals and evaluations for performance reviews. You can take the data you find, and work on creating the right team blend across the entire company, which has a knock-on effect on almost every department.
Company Marketing Initiatives
It's hard to browse the internet without butting up against a viral quiz. The reason for this is how well viral content can increase your visibility online. Websites such as BuzzFeed use trivia quizzes to capture subscribers, with topics ranging from Halloween to cult children's TV shows, and everything in between: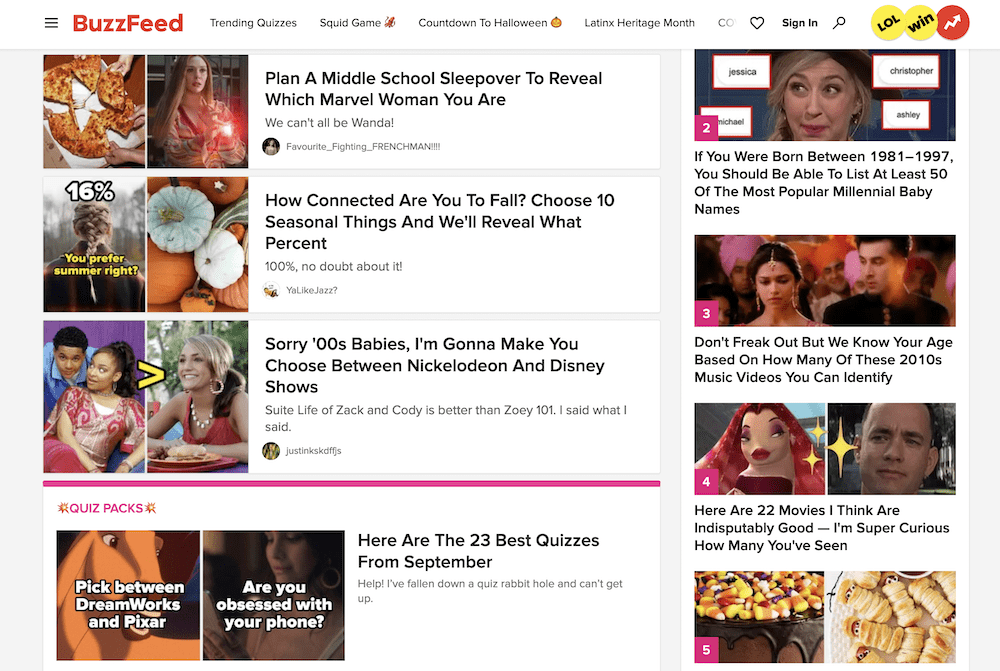 These BuzzFeed-style quizzes and assessments do well on social media, especially because of the user capture method. In most cases, you'll need to enter an email address to connect a social media profile to take part and share the results.
For a website, quizzes can keep the user engaged for longer, and boost the 'Time on Site' metric. However, they can also help users to understand a brand in greater detail. For example, you may want to assess how well a user knows your history, your products and services, and more.
Education and Academic Institutions
Academia can use an online assessment as an extension to (or even a replacement for) the official syllabus. The basic approach is to measure the individual's skills and knowledge as it relates to the course contents.
You can also use tests such as this to find weak points and knowledge gaps. This is invaluable for student improvement, and even for enhancing the various modules and topics within a course.
A great thing about this approach is that the same assessment is a multi-use component of a course, and you can run it at various times during the school year.
---
How to Choose the Right WordPress Assessment Plugin for Your Needs
Even a quick glance at the WordPress Plugin Directory will show that there are myriad solutions available to create and display quizzes. However, these quiz makers aren't equal, and you'll need to compare them based on your requirements, needs, and goals.
It's a good idea to choose a WordPress assessment plugin that provides not only the functionality you need now, but scales for future applications. This will give you complete control over the quality of your assessments, and offer you peace of mind for the future.
Some of the specific and non-negotiable elements you'll want to have seem quite basic:
A choice between various ways to fill in a form, such as radio buttons, checkboxes, drop-down menus, and more.
Integration with your site's design – in the case of WordPress, this is with your theme. Without the need to set up basic styling, you can work on the content of your assessment.
The ability to publish the assessment on your site without the need for code, advanced technical skills, or headaches – and embed it within seconds.
As such, if your choice of WordPress assessment plugin doesn't have this, it's not going to cut the mustard. However, there are other options that we would consider essential. For example:
A way to split questions and create a multi-part form.
The ability to add hidden fields to your assessment, so you can leverage that data in other areas of your form.
A way to include conditional logic and implement it in order to personalize your forms.
Question and answer weighting, to make some aspects of your assessment a higher priority.
Integrations with other popular third-party solutions such as MailChimp, Google Docs, and more.
Speaking of which, the ability to process answers using webhooks through services such as Zapier and Make (formerly Integromat) opens up a huge world of extra functionality.
Analytics to monitor aspects such as conversions, completions, and abandonment.
A robust notification system to help you know when you have a complete assessment, regardless of where you are (Slack, for example).
The good news is that there is a WordPress assessment plugin that covers all of these bases and more.
Tripetto Can Provide All of These Elements In One Package
Thousands of WordPress website owners already know that Tripetto can provide almost everything you need to create high-quality forms, assessments, tests, quizzes, chatbots, and more.

The plugin ticks every box for the essential requirements you need; it integrates with your current site's design and content to present a form that might not need any style customization once you nail down your requirements. In fact, to help with this, there are three ways to add a form to your content:
A Block for the default editor that provides full functionality, so you can stay within the Block Editor to work.
An Elementor widget to embed your forms in a snap.
A dedicated shortcode that will embed your forms into your site's content.
What's more, the Pro version of Tripetto gives you more ways to make your form professional. For example, you can set default values for each question, and remove the Tripetto branding. You can also track activity through Google Analytics, Facebook Pixel, and other similar services.
---
How to Create a Test, Quiz, or Assessment within WordPress Using Tripetto
The first step when creating assessments or personality quizzes is to set the basics. You'll want to settle on the right type, such as a personality test or knowledge assessment. From there, you can look at how best to present the results of the test to your respondents. For example, you might want to show a percentage score or a specific explanation of a personality type: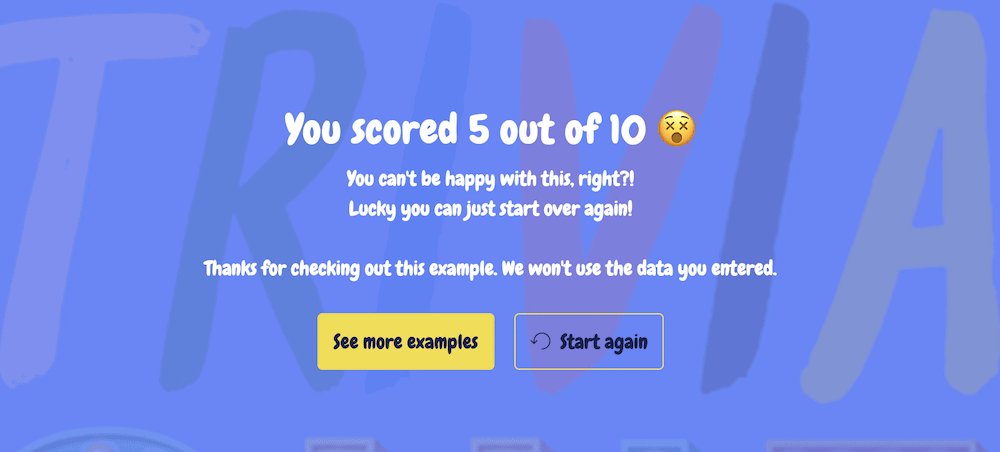 Of course, you also need to create your quiz questions and answers, and this will be something that's down to your own requirements. However, when you have these aspects in place, you can begin to build your test.
Once you install and activate Tripetto, you'll use the Form Builder storyboard to add your questions and answers. You can also implement any desired logic here, as the storyboard is perfect for this: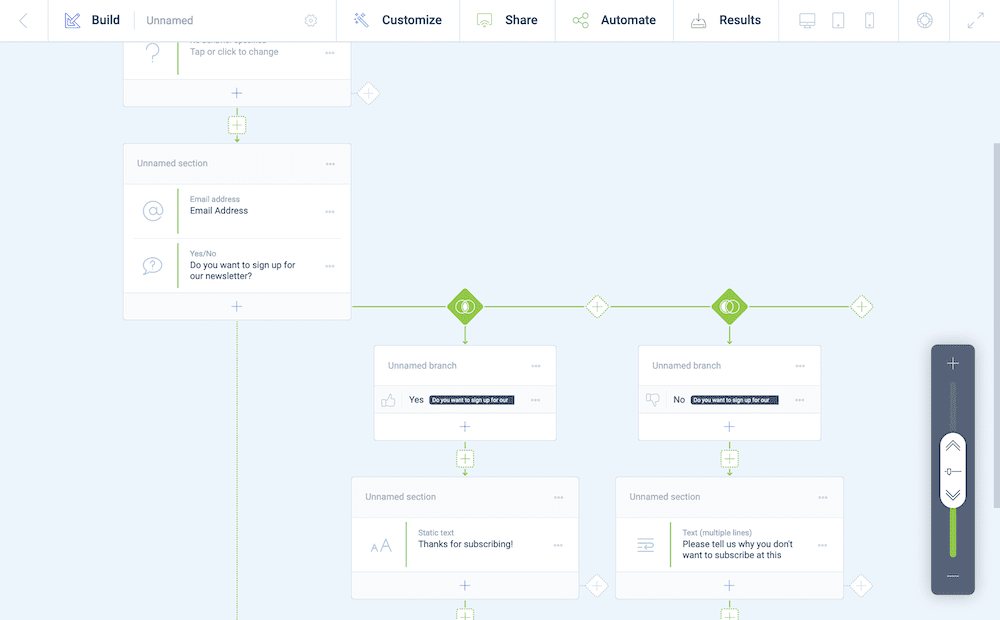 Here, you can also assign points values and weighting to your answers to calculate scores: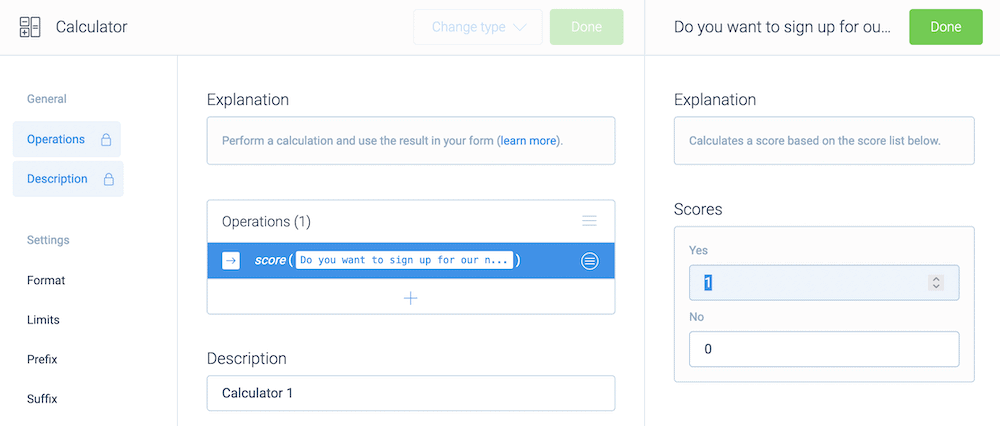 Customizing your quiz should be a key aspect of the building process, as you can gain more engagement using the right colors and typography. The Tripetto quiz builder has plenty of ways to make your tests unique to your needs: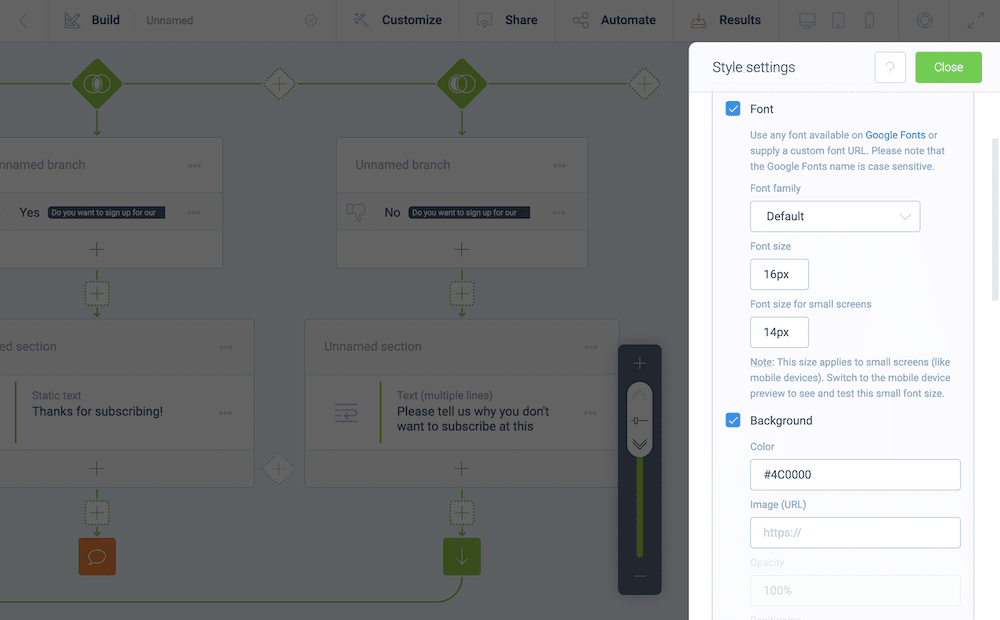 Also, you can choose one of three form faces to help your users navigate the test. For multi-page quizzes, you'll also want to decide on the format of the quiz, such as the number of questions that go on each page.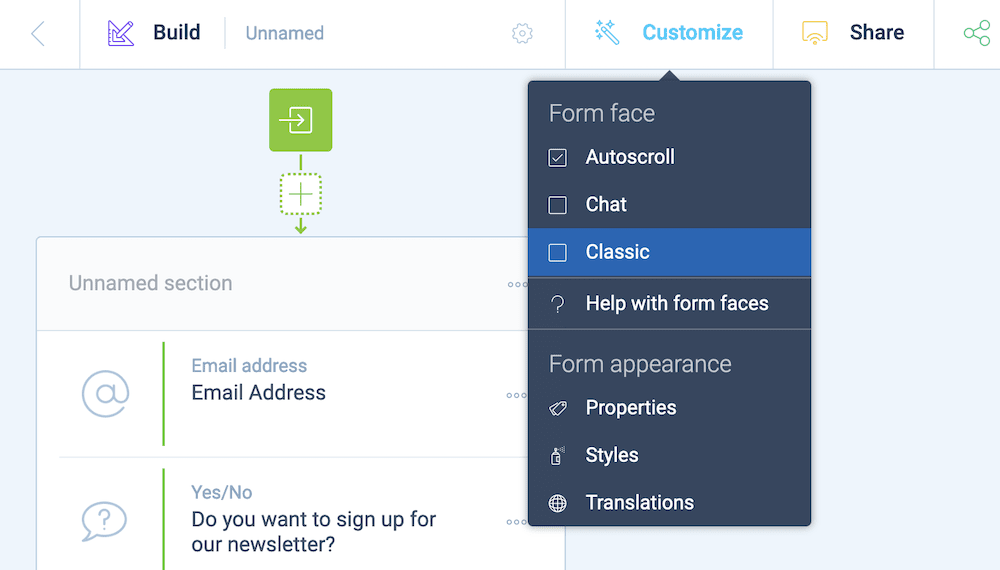 However, when you finish, you'll want to decide how to share your quiz. While you can add the test to your WordPress site using Blocks, an Elementor widget, or a shortcode, you can also include a dedicated URL for social shares. It's at this point you might want to implement any marketing automations that you deem necessary.
The last step is to configure your results page. Of course, this is going to be dependent on your test, but you might want to add the score, a personalized message, further images, and much more. You could even add a halfway marker if the quiz is long: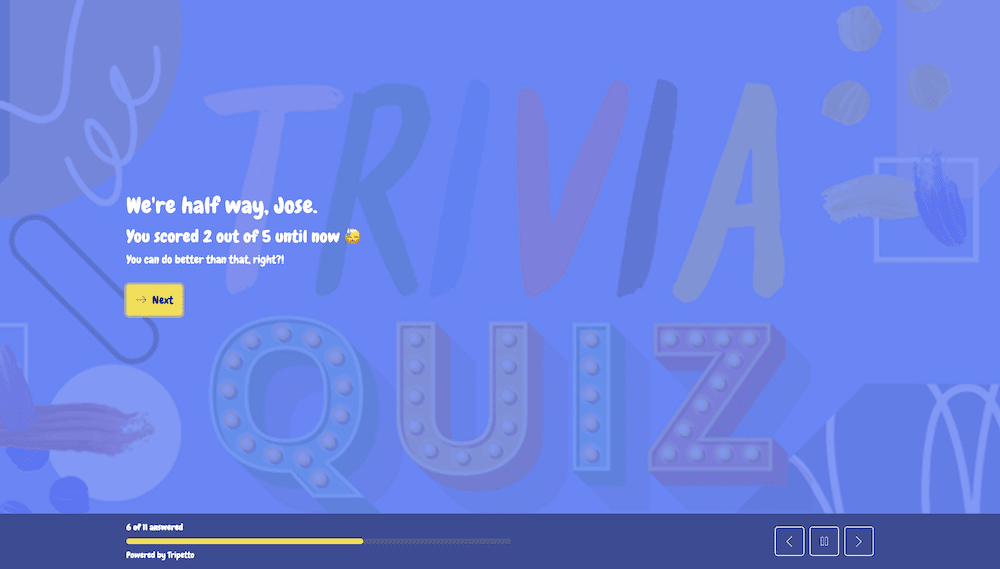 This gives you a chance to show the user how long is left in the quiz, and encourage them to complete it.
---
Quick Tips to Create the Best Quiz, Test, or Assessment You Can
Once you have a form in place and ready to roll, you might want to make sure it's the best it can be. After all, a captivating and optimized form will let you convert more users, get more completions, and give you greater success on the whole.
For starters, look to offer an incentive for users to take your quiz or test, especially if this is for entertainment or viral purposes. Obtaining contact information in return for an e-book, an entry into a giveaway, or even some advanced results sharing options will balance out the transaction.
Speaking of which, you'll want to optimize your test for social sharing. Here, you'll want to follow the same rules as you would for website content. Images, appropriate colors, conversational writing, and a good Call To Action (CTA) go a long way towards boosting user engagement and getting the results you want.
Also, honesty is vital. For example, if you want email addresses to then run further email marketing campaigns, you should divulge this in an explicit way. The respondee should understand exactly what to expect when they fill in a contact form and take your quiz.
Further to this, don't ask for information you don't need. You only want data that you can use, and no more. This is something the advanced logic functions of Tripetto can handle. This way, you can obtain the information you need, without presenting a barrage of personal questions that may elicit a different response.
---
Conclusion
An assessment or quiz is a fantastic way to understand more about your employees, students, and users. As such, it's a good idea to build it yourself. This way, you can tailor the questions to your own needs, and gain greater insights as a result. However, you don't need complex code or advanced technical abilities to ensure your assessment gets results.
The right WordPress quiz plugin can carry out the heavy lifting, and won't require you to get knee-deep in code. Tripetto is a leading plugin for the task, and in a few clicks you can have a professional, engaging, and enjoyable assessment adapted to your needs.
If you're ready to start, we're here to help! Tripetto lets you begin for free, and offers cost-effective upgrade options for all types of budgets!