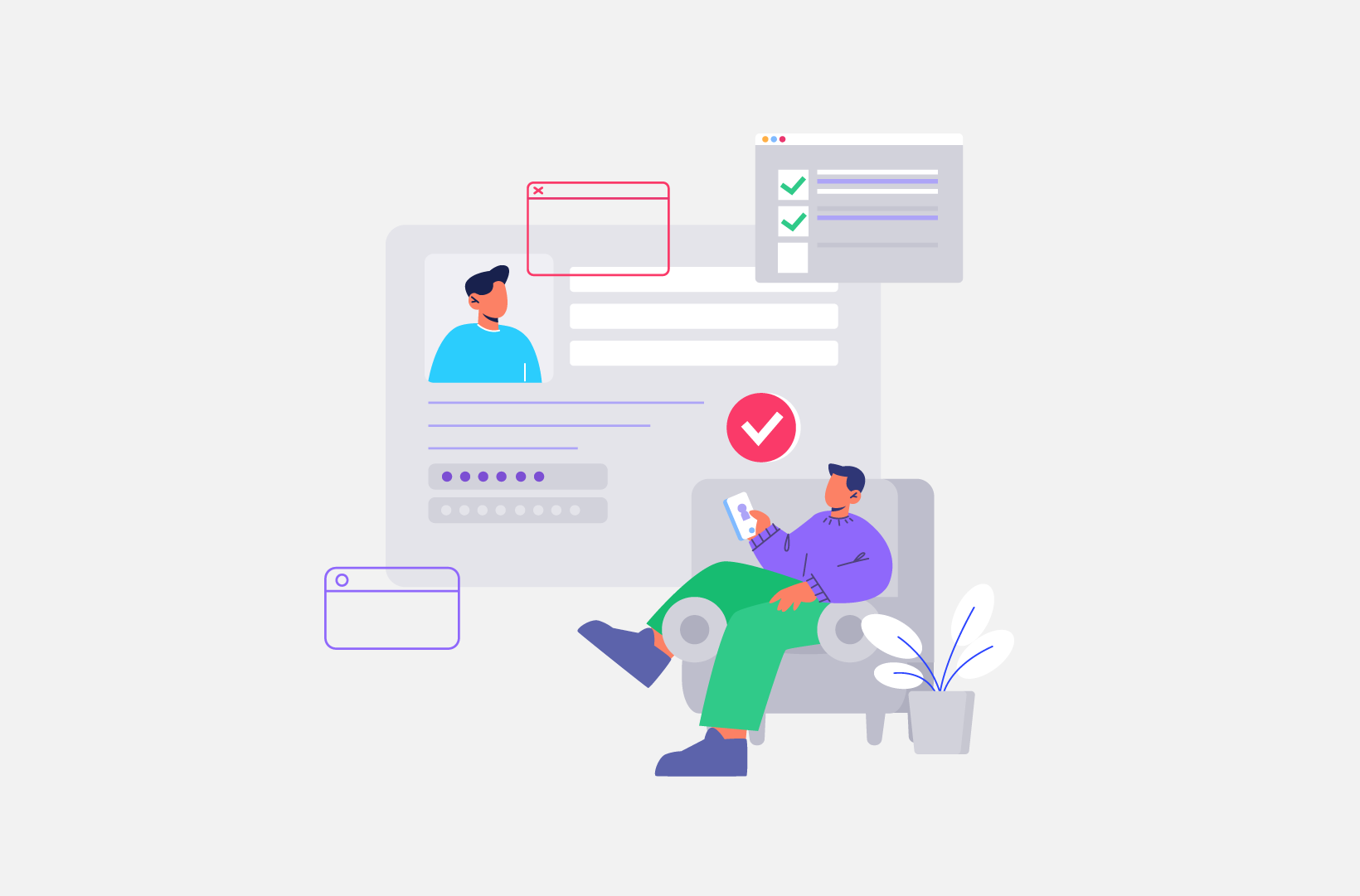 Guide
14 Min.
How to Create an Opt-in Form in 4 Easy Steps (+ 5 Best Plugins)
Consent is vital, especially for web forms – and when collecting data. This post will show you how to create an opt-in form in WordPress!
---
Opt-in forms are a great way to generate leads. For the end user, they will often have a simplicity that means you can amass lots of vital information and data. From there, you can further connect with potential customers, and make a sale (or two). Even better, it's straightforward to create an opt-in form in WordPress.
There are lots of plugins to help you build an opt-in form in WordPress, but not all will have the features and functionality you need. For example, you might need ultimate customization, plenty of integration options, or flexibility to create different form types. This means you'll want to search well for the right plugin, which can be a challenge.
For this tutorial, we'll round up some of the best WordPress plugins to help you create an opt-in form, and give you our take on the top pick. We'll also show you how to use it, step-by-step.
---
What an Opt-in Form Is (And Why Should You Use One)
An opt-in form is one where the user gets the opportunity to sign up to a specific email list. In almost all cases, this will give you consent to contact them. Again, in most cases, this will involve an email address. However, you could ask for any relevant information, such as a telephone number or house address.
In return, the user will receive a benefit of some kind. This could be a discount on a future purchase, a free ebook, or something else relevant to your business and their needs.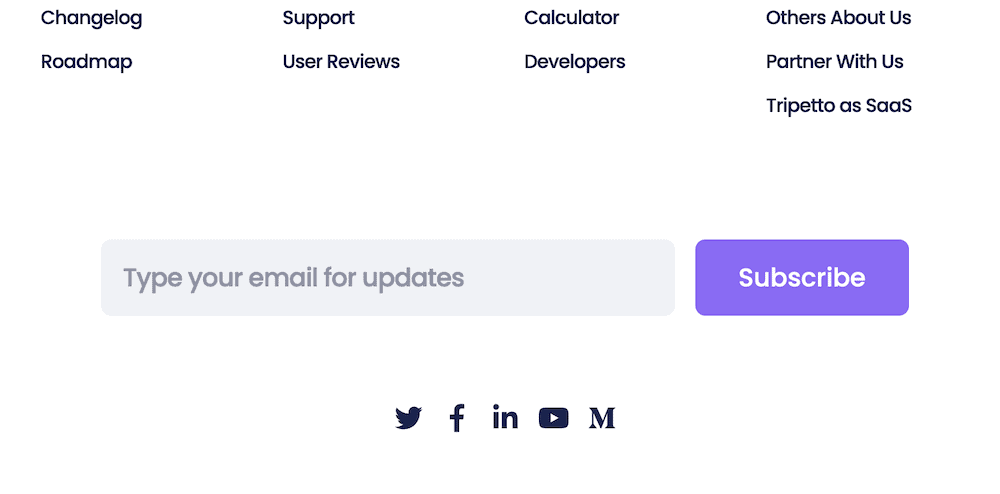 While an opt-in form can be straightforward, there are a few different types you can implement:
Pop-up forms. These display based on set intentions, such as a new visit, or an attempt to leave the page (known as 'exit intent'). This is one of the more common types of popups, and succeeds because you bring the form to the visitor, which stands to increase your conversion rate.
Slide-in forms. This is a similar type of opt-in form to popups, without being so intrusive. It will slide onto the screen, again based on the intent of the visitor.
Bar forms. If you ever see a form sitting in the sidebar or along the top of the screen, it's a bar form. You have less intrusion, yet arguably greater visibility.
Inline forms. You might choose to sit your opt-in forms within your content as a way to break it up. This still makes it visible, and semi-qualifies the user too.
Regardless of which type of opt-in form you want to implement, there are lots of benefits to doing so.
The Benefits of Using an Opt-in Form
One of the best ways to generate leads for your business is through using opt-in forms. Despite the number of ways you can generate leads on your WordPress website, the tactic has a number of benefits you'll want to harness:
Building an email list is a fantastic way to boost your email marketing efforts. You have a direct platform to share content relating to your products and services with potential customers. Even better, these 'qualified' leads will often produce a better conversion rate.
One great way to increase your conversions is to give leads custom offers on your products and services. It's an 'exclusive' deal that makes the customer feel special.
The direct connection you have with potential customers is a great opportunity to build a relationship with them. In turn, you can learn more about those customers, and tailor your offerings to suit. They will also give you greater loyalty in return.
However, in order to get these benefits, you'll need to implement an opt-in form in WordPress. There are a few options at your disposal, but only one you should really pursue.
---
How to Set Up an Opt-in Form in WordPress
While there is merit in creating an opt-in form from scratch – after all, you have ultimate flexibility – a WordPress plugin is a much better option. One reason for this is the sheer amount of choice available to you.
However, it could be difficult to make that choice, which is why you'll want to narrow down the options using the following criteria:
Customization options. An effective opt-in form needs an engaging and user-friendly layout. It also needs a clear Call To Action (CTA). The plugin you choose will have to have a wealth of customization options available. Even better, your plugin will offer advanced conditional logic and calculations to increase the personalization and your completion rates.
Automation and integration. Managing the leads you collect is a step many will skip over. However, you'll want to make sure you can carry out tasks such as sending automated notifications to respondents, automating storing the data in your Customer Relationship Manager (CRM) and integrating with your analytics. As such, your chosen plugin will need a simple way to integrate almost any third-party service.
Flexibility. Iteration is key when it comes to creating a WordPress opt-in form. You'll want to try out different placements on your landing page of almost all of your elements for the most optimal results. Each iteration could impact your conversion and completion rates. If your plugin lets you make adjustments 'on-the-fly' to almost everything relating to your form, it's a valuable feature.
Smart logic. Deploying conditional logic effectively is a great way to make your opt-in forms more personal, which in turn can help to boost response rates. You'll therefore want to look for a plugin that supports advanced conditional logic options.
Over the next few sections, we'll look at some of the leading plugins to help you create an opt-in form in WordPress.
---
5 Popular Plugins to Help You Set Up an Opt-in Form in WordPress
While there are hundreds of plugins to help you build opt-in forms in WordPress, these five stand out. We'll cover why that is next, and begin with our top pick.
1. Tripetto
First up is Tripetto – a flexible and user-friendly form builder plugin that lets you create smart, conditional forms within minutes.

It's an all-in-one solution that lets you create not only opt-ins, but quizzes, event signup forms, and much more. Here's what makes Tripetto great:
The entire feature set of Tripetto is available with any license, with no restrictions to functionality based on how much you pay. A single-site license is $99 per year, and comes with a 14-day money-back guarantee.
2. Optin Forms
If you're after a straightforward form builder that requires no HTML, CSS, PHP, or JavaScript knowledge, Optin Forms could be a good plugin for you.

The plugin comes with a number of cool features to note:
You have a choice of five different templates for your forms.
You can change typography, colors, and more on your form in a straightforward way from the WordPress dashboard.
There are integrations with third-party services too, such as AWeber, ConvertKit, GetResponse, MailerLite, and more.
What's more, Optin Forms only has a free version. It's a solid choice to create simple opt-in forms in WordPress, but it lacks lots of the advanced functionality and scope of a plugin such as Tripetto.
3. Bloom
For a more advanced opt-in form builder plugin, Bloom might be on your shortlist. It lets you build lead generation and opt-in forms in WordPress using the same level of functionality you'll get from the developers (Elegant Themes).

There's plenty on offer with Bloom, with an extensive set of features and functionality:
There are six different types of opt-in form, including popup, slide-in, and in-line forms. You'll also find six form trigger types too, such as on-scroll, timed delays, and more.
You have hundreds of built-in templates to choose from, which you can also customize.
You'll get integration with nearly 20 different email marketing platforms.
Bloom includes built-in split testing (also known as 'a/b testing') and analytics functionality.
The only way to get Bloom is through an Elegant Themes membership starting at $89 per year. There are lots of features here, but Bloom can only help you with opt-in forms. What's more, there's no visual editor, which reduces its flexibility.
4. Thrive Leads
Thrive Leads is another opt-in form plugin that includes advanced functionality. The main goal here is to optimize your lead generation.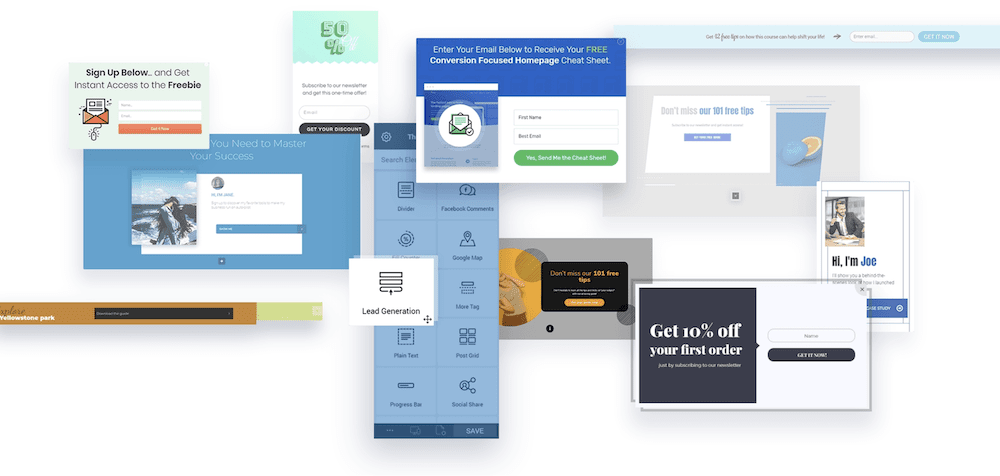 The plugin offers a variety of features to help you build stellar opt-in forms in WordPress:
You can target where and when your opt-in form will display with unparalleled accuracy.
There are lots of built-in templates to choose from, which you can customize using a drag-and-drop editor.
You'll find lots of reporting options within Thrive Leads. The plugin also includes split testing functionality to help you optimize it for conversions.
On the whole, Thrive Leads is a sophisticated plugin that could provide everything you'll require to build opt-in forms in WordPress. It costs a similar amount to Tripetto at $97 per year, though Tripetto offers much more scope to create, integrate, and display your a wide range of form types.
5. OptinMonster
OptinMonster uses a WordPress plugin to connect to its Software-as-a-Service (SaaS) platform. Because it provides advanced analytics and an array of opt-in form types, it's a popular choice among users.

Given the powerful infrastructure of the plugin, it provides a lot out of the box:
You have a wide range of opt-in form types, such as a lightbox popup, a full-screen overlay, countdown timers, coupon wheels, and more.
You'll use one of hundreds of templates and a drag-and-drop builder to create your form, then carry out customizations.
There's 'behavior automation' built-in, which lets you target customers with offers based on how they use your WordPress site.
You'll also get split testing and advanced analytics insights to help you boost your conversion rate.
While OptinMonster's plans start from $9 per month, this won't net you the same level of functionality as Tripetto. Instead, you'd need to head to the $19 per month plan – a considerable outlay for arguably less functionality.
---
How to Create an Opt-in Form in WordPress Using Tripetto (3 Steps)
The rest of this tutorial will show you how to create an opt-in form in WordPress using Tripetto. Before you do anything, though, you'll want to install and activate the plugin as you would any other with WordPress. From there, you can run through the dedicated onboarding wizard to set up the plugin: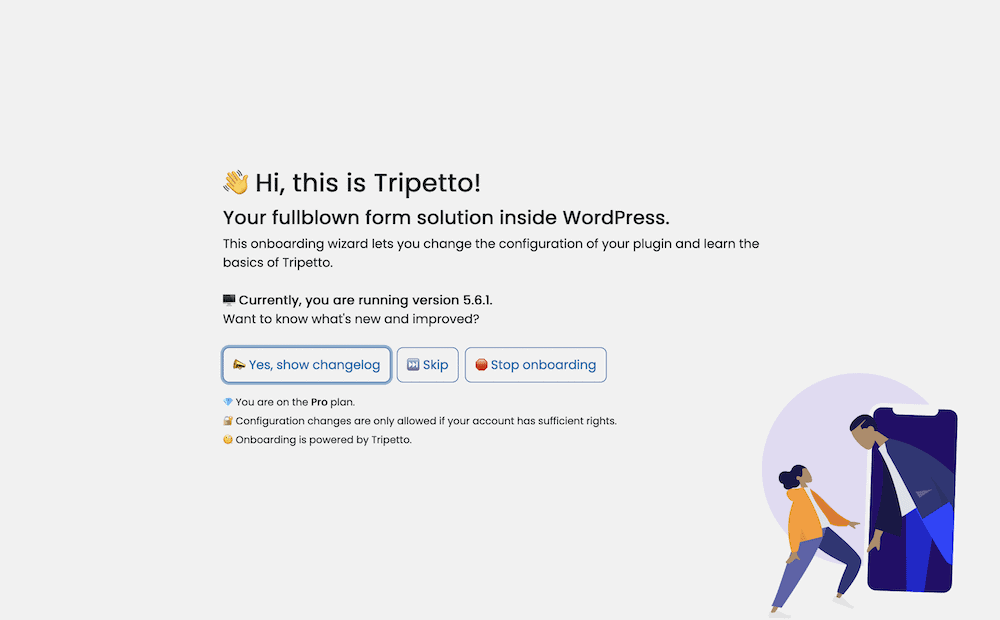 Once you do this, you're ready to create your opt-in form. Read on to find out how.
1. Create Your Form Using Tripetto's Storyboard
Most of your time will go towards creating your form. Tripetto can save you thousands of hours on this, starting with its template library:
Once you choose the right one, you can begin to use the drag-and-drop storyboard to create your opt-in form. There is a multitude of field types, question types, and customizations at your disposal: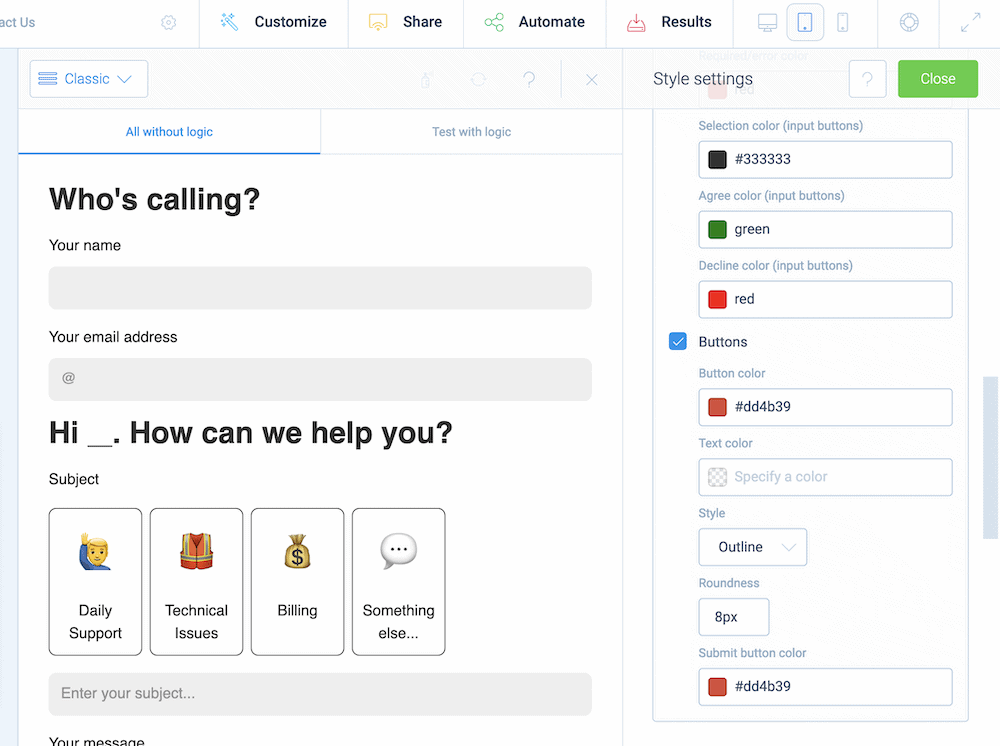 An opt-in form is often simple, so this might not take you too long. However, for more than a few fields, you'll want to consider the right form face. Consider this like a different 'skin' to present your form, which doesn't touch the underlying functionality.
You can choose a Classic form face, an Autoscroll form face that highlights one question at a time, or a Chat form face. This lets you present the form in a question-and-answer style, which is great for engagement.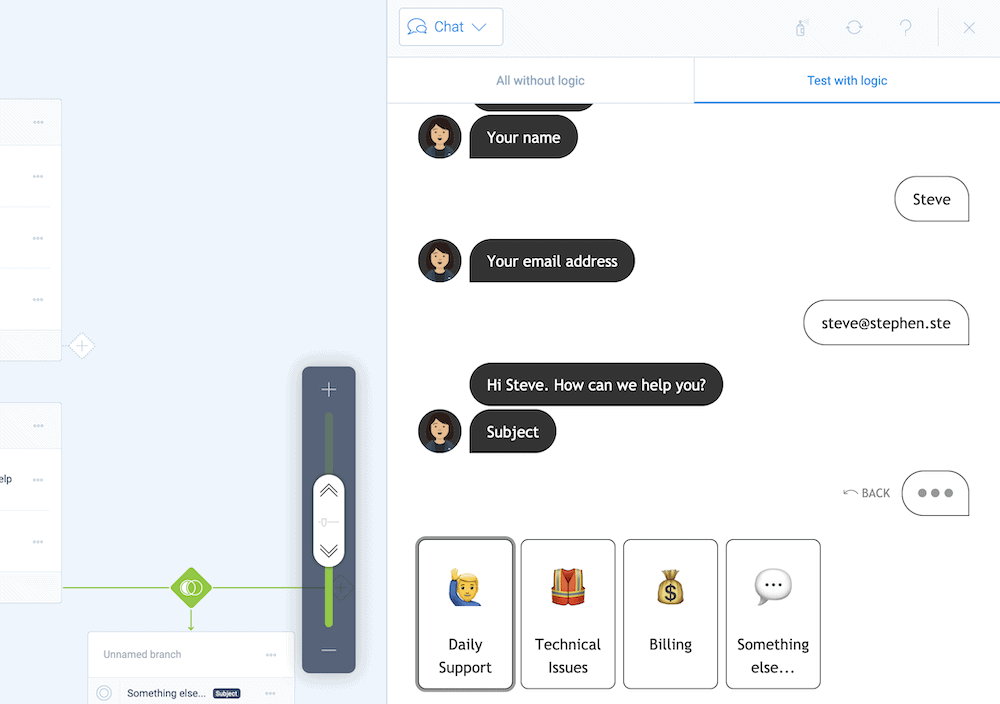 From there, you can begin to add in conditional logic to help make your form more relevant and engaging. It's a full-featured part of Tripetto, and an essential guide on creating smart forms is available on the Tripetto blog, along with articles within the Help Center.
2. Set Up Third-Party Integrations With Tripetto
Tripetto includes a powerful way to set up third-party integrations in a flash. The storyboard offers the dedicated Automate > Connections screen, which you can find on the top toolbar: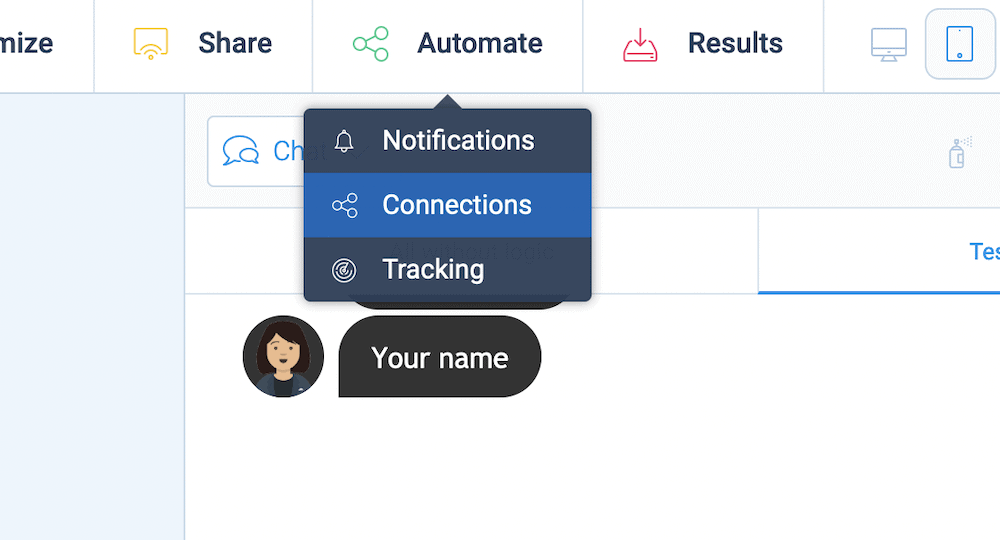 This will pop out a sidebar, and give you three different fields relating to Zapier, Pabbly Connect, and Make. Here, you'll add in your dedicated webhook from your automation app, and click to connect everything together.
You'll have the opportunity to connect all of your favorite third-party services this way. For example, you can integrate your choice of email marketing app (such as Mailchimp). Also, you could send the data you collect to a Google Sheets instance to work with the data, and link up Google Analytics to pore over the numbers even further.
If you have a split testing app, this is another great integration you can make. Regardless of the platform you'd like to bring into Tripetto, it's a straightforward process. It means you can have the ultimate opt-in form builder right within your WordPress dashboard.
3. Test Your Opt-in Form in WordPress and Push It Live
Testing your form is a vital step, because you'll want it to work without a hitch once it's live. You can do this within Tripetto using the dedicated live preview: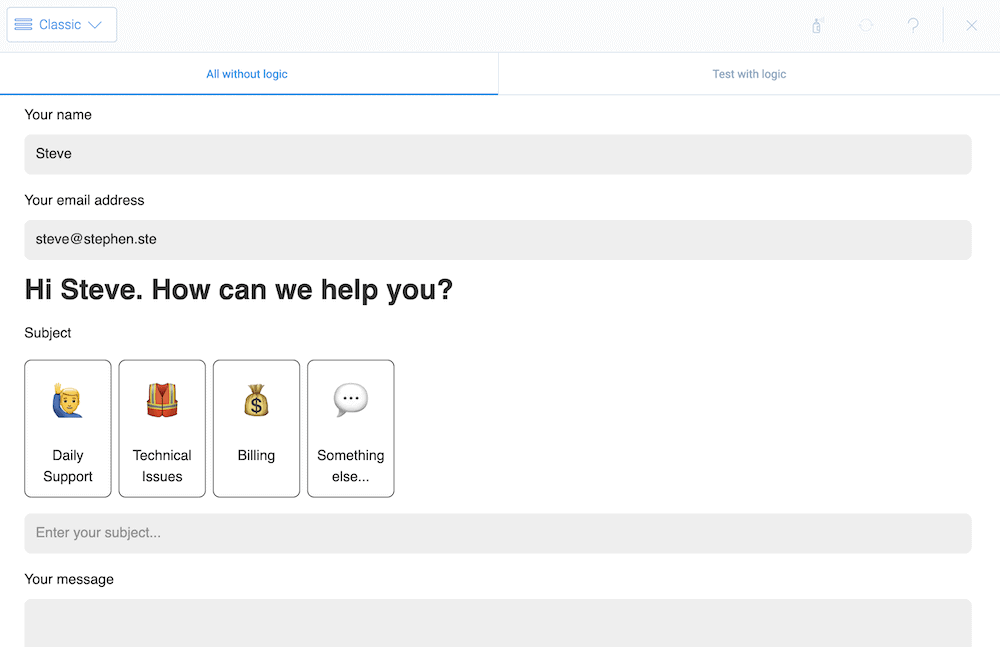 This lets you see how the form will look on the front end of your site. There are options to view the form both with and without logic functionality. With logic, you'll be able to run through the form as a user would. Without logic, you have the opportunity to view each element of your form as it looks on your site.
When you're ready to go live, Tripetto's Share menu is the place to go:

This gives you a number of ways to display your form. While there's a shareable link that's great for social media, the dedicated WordPress shortcode will give you more scope to place the form on your website. It even comes with lots of options to customize how it looks: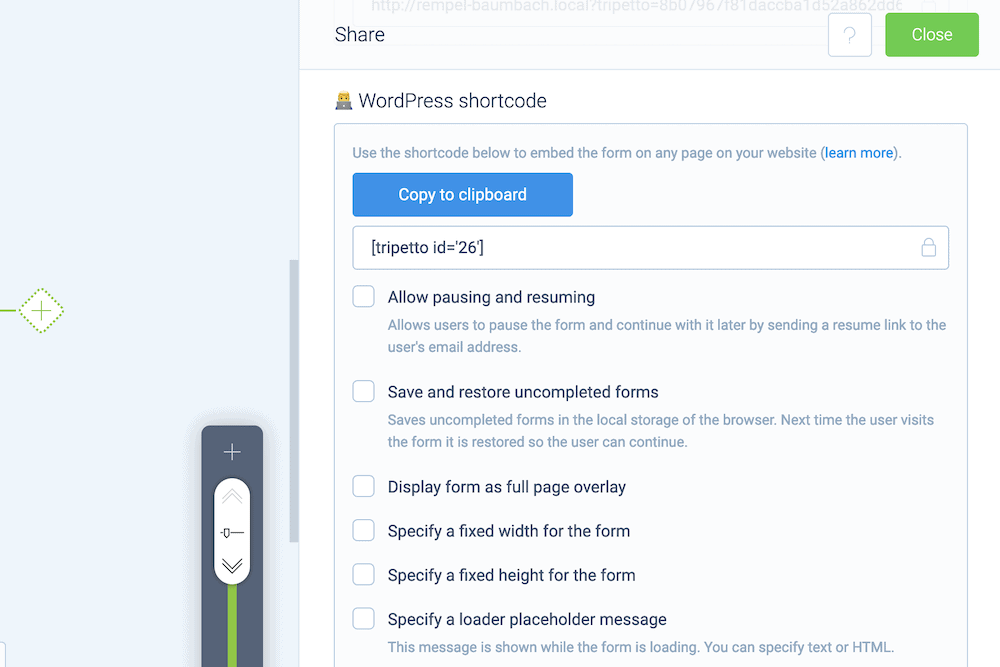 You also get the option to display your form in an Elementor widget, for users of that page builder. With all of these options, you get to work on your form within the editor in question. The Block Editor offers a number of sidebar options…

…while Elementor lets you combine Tripetto with almost all of its functionality.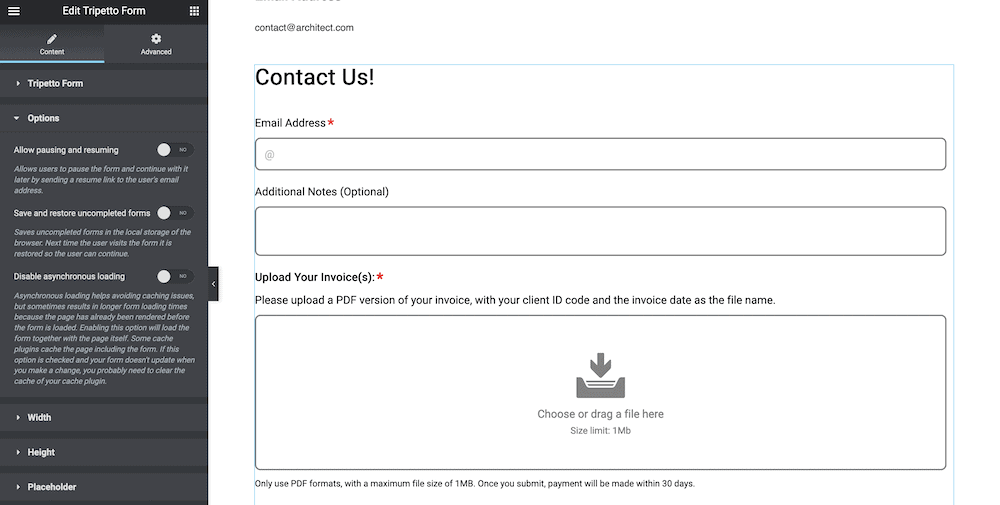 This includes Elementor's popup functionality, which means you can create the best opt-in form in WordPress with a minimum number of tools, all from a central location.
---
Create list-building opt-in forms with Tripetto
If you want to generate leads for your business, an opt-in form is one of the best ways to do it. With the right information in hand, you have a way to market to a group of potential customers who are already interested in your business. What's more, you can build a better relationship with your user base, hand out custom offers, and much more.
The best opt-in form plugin for WordPress needs flexibility, lots of customization options, and integration with third-party services. This lets you manage the data you collect in the most optimal way.
Tripetto is one of the best form builder plugins for WordPress that lets you create stellar opt-in forms. What's more, it offers extensive functionality to create all types of forms, not just opt-in-style forms.
The plugin also provides flexibility with regards to design. You can choose from a number of form faces, templates, and field types. You also get advanced conditional logic functionality built-in. When it comes to integrations, there are thousands available through webhooks and your chosen automation app (such as Zapier).
Tripetto's licenses start from $99 per year, and every purchase comes with a 14-day money-back guarantee – no questions asked.