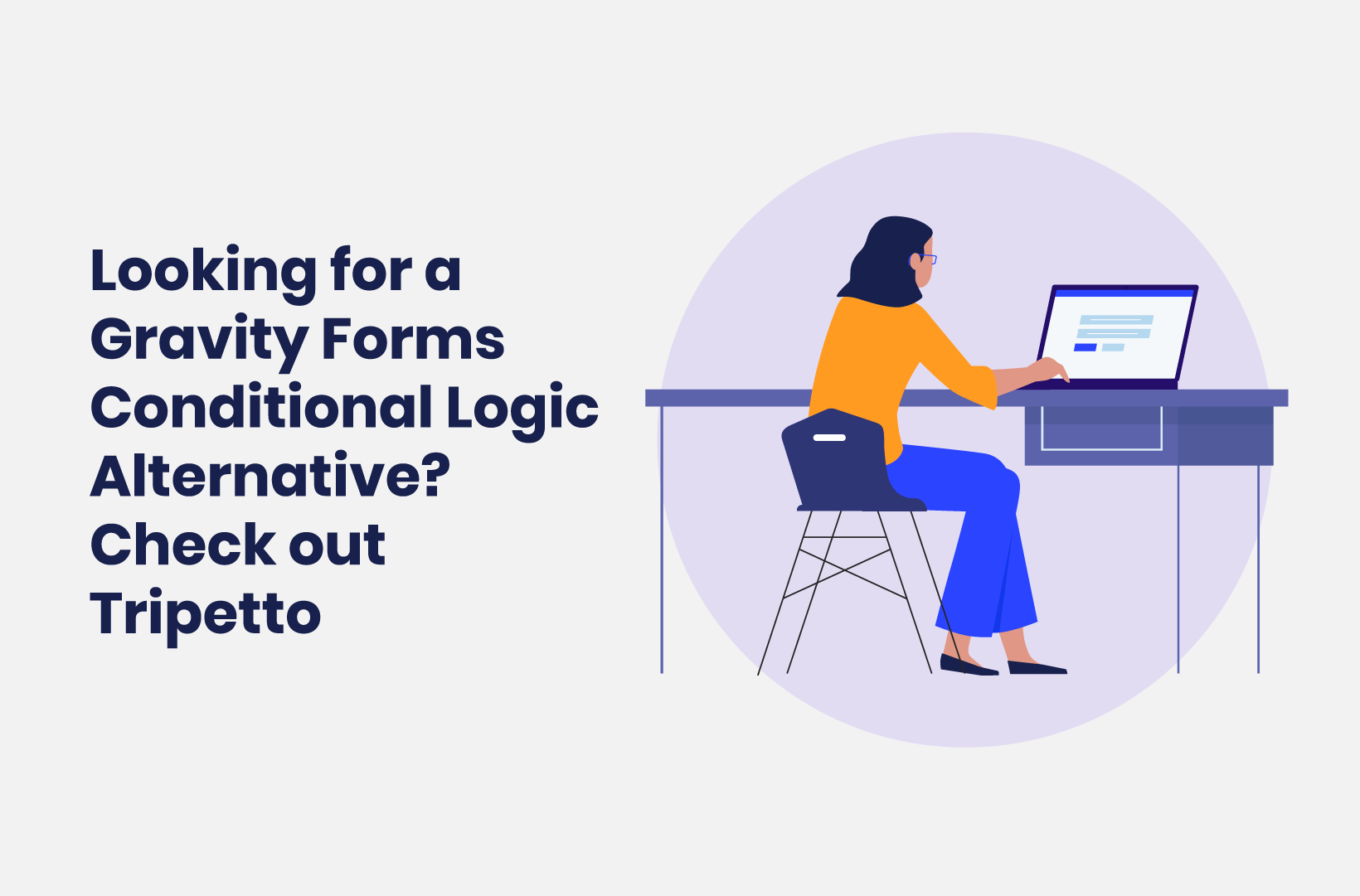 Comparison
10 Min.
Looking for a Gravity Forms Conditional Logic Alternative? Check Out Tripetto!
If you like Gravity Forms' conditional logic, but want a more recent alternative, we can help. In this article, we'll discuss how Tripetto could be ideal!
---
Many online businesses use online forms to collect information from users. There is a wide range of reasons for this: event registration, gathering feedback, collecting leads, and more. By extension, creating attractive forms with good functionality can generate more of this information. As such, it's in your best interests to tick all of these boxes.
Conditional logic is a fantastic way to build interactive and dynamic forms to help keep a user engaged. In most cases, you'll install a plugin on your site dedicated to building forms. Gravity Forms is one of the most popular as it delivers on features and usability. However, it has drawbacks, and there might be a better option for you on the market.
For this article, we're going to discuss Gravity Forms' conditional logic through talking about the concept in general. From there, we'll introduce Tripetto and discuss how this form builder can offer more potential than Gravity Forms.
---
Why Conditional Logic Is a Powerful Feature for Form Builders
For the unaware, conditional logic is how you can build interactive and dynamic forms that adapt to user input. For example, you can create forms that show extra conditional questions based on the respondent's answers to previous questions, and more.
It's a powerful element of any registration form (or questionnaire) because it lets you guide the user through based on their behavior.
By using conditional logic rules, and learning how to implement them in the right way, you'll be able to harness a number of positives:
You can simplify and improve your workflows. For example, you could receive different notifications based on form submission, along with information such as the time and date to help you take the next step in the process.
You're able to create a more personalized user experience. For instance, you could hide certain form fields until those elements are needed, or apply discounts based on the information a user gives.
There's much more we could say here, but you get the point. On the whole, when you enable conditional logic, it can offer immense power to you as a form builder – and greater usability to the end-user.
---
Why Gravity Forms Is a Popular WordPress Form Plugin

Conditional logic is a key component of a form builder, but you won't be able to use just any plugin to implement it. The Gravity Forms plugin is a popular choice for many WordPress websites because:
It offers a fast way to create your forms. The features and functionality of Gravity Forms let you build and publish all manner of forms, as quick as a flash.
Gravity Forms also offers stellar usability, which is important for any successful product or service.
You're able to customize your forms to your liking using Gravity Forms' options. This lets you create personalized forms, including leveraging Gravity Forms' conditional logic where necessary.
The versatility of Gravity Forms is also an attribute of note. While contact forms are a 'bread and butter' application, the feature set can help you create all manner of interactive form types.
Even so, Gravity Forms isn't a perfect solution. This is why alternatives exist. Speaking of which, let's look at some of the reasons you might want to seek out a Gravity Forms alternative, and why.
---
Why You'd Want to Look for an Alternative to Gravity Forms' Conditional Logic
Because there are lots of form builders on the market, it stands to reason that some of these will approach the process of building forms in unique ways. What's more, you might find that a solution will offer a different experience to that of Gravity Forms.
First off, Gravity Forms is a veteran WordPress solution. The first version was released in 2009, which isn't necessarily a negative. In fact, this 'length of service' brings experience and stability, which is worth noting. However, it does mean that the codebase could be dated in places. Newer form builders may offer a more streamlined experience under the hood, which transfers to a better experience overall.
While the core functionality of Gravity Forms is fantastic, some users find that there are more cost-effective options to build forms. What's more, for simple forms that offer quality, Gravity Forms may pale in comparison to the competition.
The cost is a relevant issue, as advanced users may be able to get the same (or greater) functionality with a different builder to Gravity Forms, all while retaining a similar experience to boot. The cost could also be out of reach for beginner budgets, as Gravity Forms doesn't offer a free version. This tier could provide a way to 'test-drive' the form builder without risk.
On the whole, there are several alternatives to Gravity Forms, depending on the platform you're using to create your forms. For example, WordPress users have myriad options to choose from. In fact, let's look at one next – Tripetto.
---
Comparing Gravity Forms' Conditional Logic, Usability, Styling, and More to Tripetto
While there are lots of alternatives to Gravity Forms, Tripetto could be your number one choice. Let's break down how both Gravity Forms and Tripetto compare in a few different areas.
Usability
Both Tripetto and Gravity Forms are both highly-usable solutions – neither would be popular without usability. However, there are two distinct groups of users to consider:
For advanced WordPress users or developers, you may enjoy using Gravity Forms. In fact, we'd say that because of the complex functionality of Gravity Forms, you'll need to have the right level of knowledge to use it.
In contrast, Tripetto is a no-code solution that gives you a way to create complex forms without development knowledge. For example, you can add custom variables, use conditional logic to create questionnaires, hide fields, and more without writing a line of code.
By extension, you'll find that the creative process of building a form is good in both Gravity Forms and Tripetto. Both use a visual builder to create your forms, and work with the specific fields.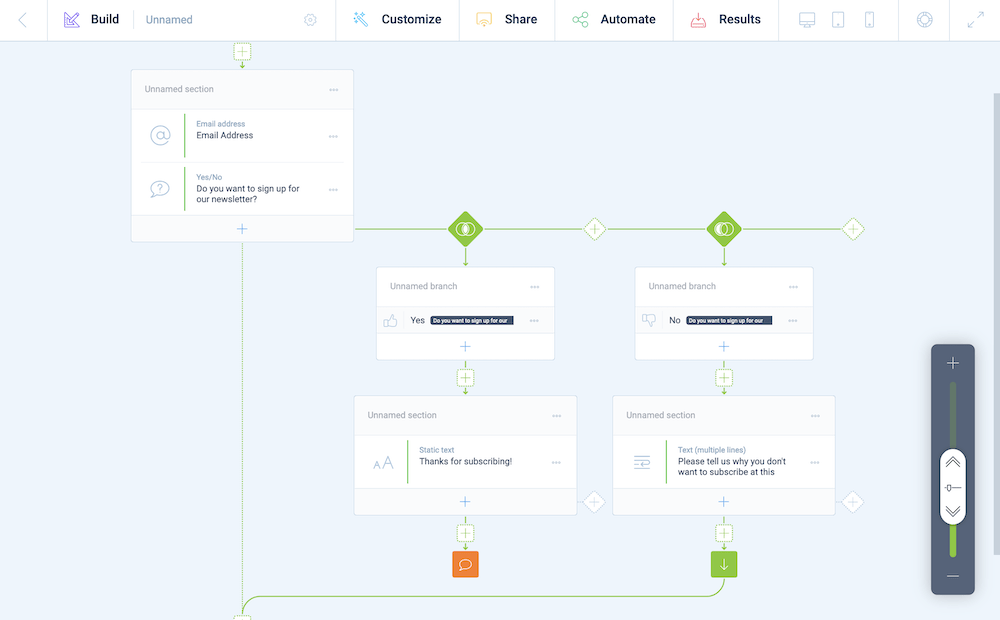 The difference here is that Gravity Forms often needs you to have some technical knowledge in order to use the entire feature set. In contrast, Tripetto provides you with three smart form faces that require no technical knowledge to implement.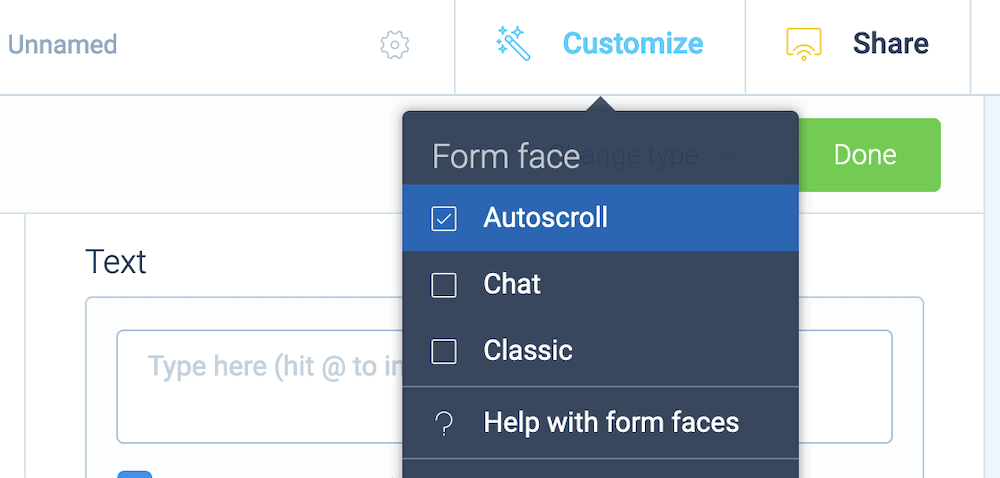 What's more, they're simple to build and come with flexibility. For example, you can embed them in posts on an individual basis, and switch between the styles to fit your overall design.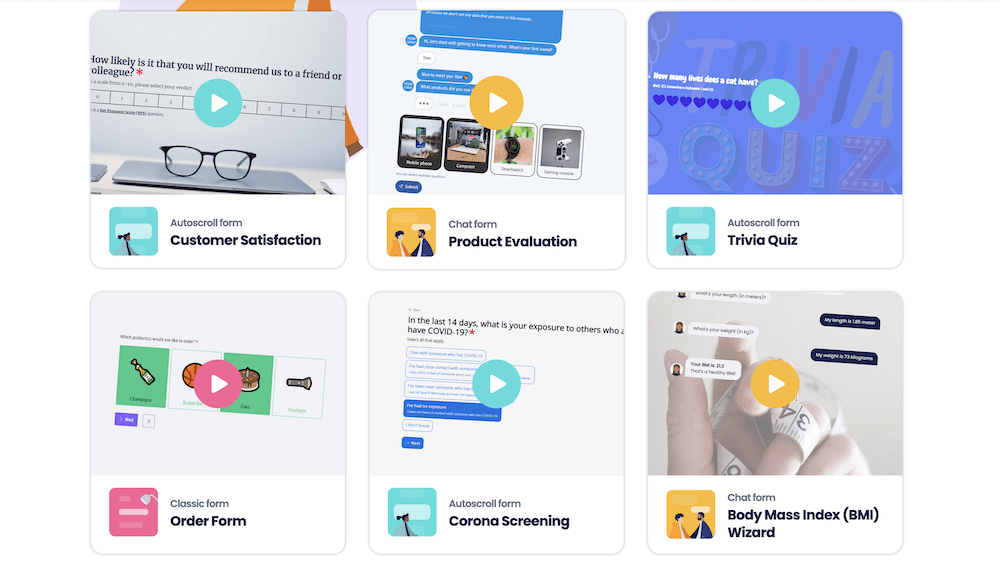 Gravity Forms' conditional logic is also worth comparing with, because it's a key feature. Once you have the technical considerations in mind, you can produce dynamic forms fast. However, to get to that point requires you to thumb through use cases and documentation until you understand the concepts.
Also, you'll need to purchase a separate extension for some additional Gravity Forms conditional logic features. Without this, you won't be able to hide fields, direct users to a relevant and targeted completion screen, and more.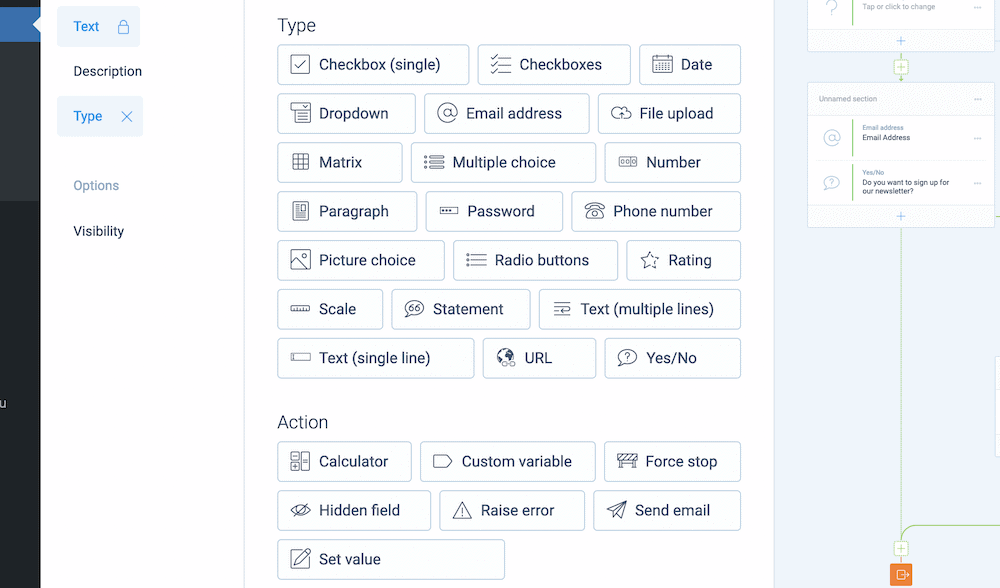 With Tripetto, you can use conditional logic without restriction from the off, so you won't need to purchase and install extras. This means you can have branch logic, skip logic, and more ready to roll once you activate the plugin.
Styling
While Gravity Forms offers a custom dashboard and form editor, you won't be able to use this for styling. Instead, you'll have to use the stock WordPress Customizer. While it's functional, it's not a great idea to give users a different interface with its own quirks and flow.
Besides, you're stuck with whatever options the Customizer provides. Also, you may want to obtain an extension, which could be an extra expense on top of everything else so far. What's more, the list of available styling add-ons is so long that you could be overwhelmed with which one to choose.
However, with Tripetto, you have a bunch of customization options built-in and ready to use:
There's no need for an extension – or an extra purchase – and you can change fonts, colors, input form fields, buttons, and more with a few clicks.
Customer Support
The mark of a quality product is the support you get, and both Gravity Forms and Tripetto offer priority support to customers. However, this doesn't tell the full story:
For example, Gravity Forms only offers priority support to users with an Elite License. This means new users, smaller companies and others who can't pay the $259 per year for a license, have to contact the standard support channels. There are no documented turnaround times for both flavors of support, but a price-based hierarchy might not help you when you need assistance.
In contrast, Tripetto offers a hands-on approach to customer support. All users have round-the-clock access to the Help Center. Free users can always contact us for support, and paid plans offer priority support – there is no discrimination based on the premium license you choose.
We could tell you more about how much Tripetto supports users, but we don't have to. Instead, check out the reviews straight from the horse's mouth!
Pricing
While budget shouldn't be the number one consideration you make when choosing an alternative to Gravity Forms, it's high on the list. Even so, you might not know whether Gravity Forms is right for you in the first place. This presents a problem.
First, you can only see how Gravity Forms works through the free demo. This is okay, but it doesn't give you a true hands-on experience with the plugin. The only way to do this is through a purchase. Given that Gravity Forms is a pricey outlay, this might represent a risk for you. While there's a 30-day money-back guarantee, it's a less than ideal situation.
On the other hand, there's a full-featured free version of Tripetto that offers you the opportunity to test out the feature set. From there, you can upgrade to a Pro license and get a 14-day money-back guarantee. This offers you less risk and a greater chance to see what Tripetto can do for you.
---
Gravity Forms vs Tripetto: In Summary
On the whole, there are a lot of solutions on the market to build forms for your website. Not every plugin is equal, and almost all do something that is better than the rest.
Even so, let's summarize what we feel are the 'core values' a good Gravity Forms alternative should have:
A user interface that's straightforward to use and simple to navigate.
Features and functionality that end-users need, rather than flashy 'marquee' inclusions.
Drag and drop functionality, in line with current typical practices and technologies.
Integrations with third-party services, so you can use other helpful tools alongside your form builder.
Top-notch customer support, along with robust and clear-to-read documentation.
Value for money, as well as good core pricing.
As we note, you can find all of these in Tripetto – a premium WordPress form builder plugin. It checks all of the above, along with including additional action blocks (such as a calculator, custom variables, and more). You can remove Tripetto's branding, use webhooks to connect to third-party services, and implement email and Slack notifications to keep tabs on the activity of your forms.
What's more, Tripetto represents amazing value for money over almost all of the competition at $99 per year for a single-site license. The entire package could be a winner, especially as it can tackle Gravity Forms' conditional logic functionality, and other additional perks, out of the box.
---
Conclusion
Gravity Forms' conditional logic isn't the only example of the feature. However, the implementation is going to be different on a per-plugin basis. There are other factors to consider too, and you'll want to do so before you choose a solution. The plugin that's right for you will balance your needs, budget, and expertise in coding. What's more, you may also have to flex your technical muscles to download and install extensions depending on your desired functionality.
Lots of users look to a full-featured solution such as Gravity Forms, and there's a lot that the plugin does well. However, many Tripetto users talk about how it's a 'hidden gem' among form builder plugins. It offers a mix of usable features to help you create great-looking, functionality-rich, and sophisticated forms at a cost-effective price.
To discover Tripetto for yourself, check out our pricing. The features and functionality are consistent across tiers, so regardless of the plan you pick, you'll get the full Tripetto experience!