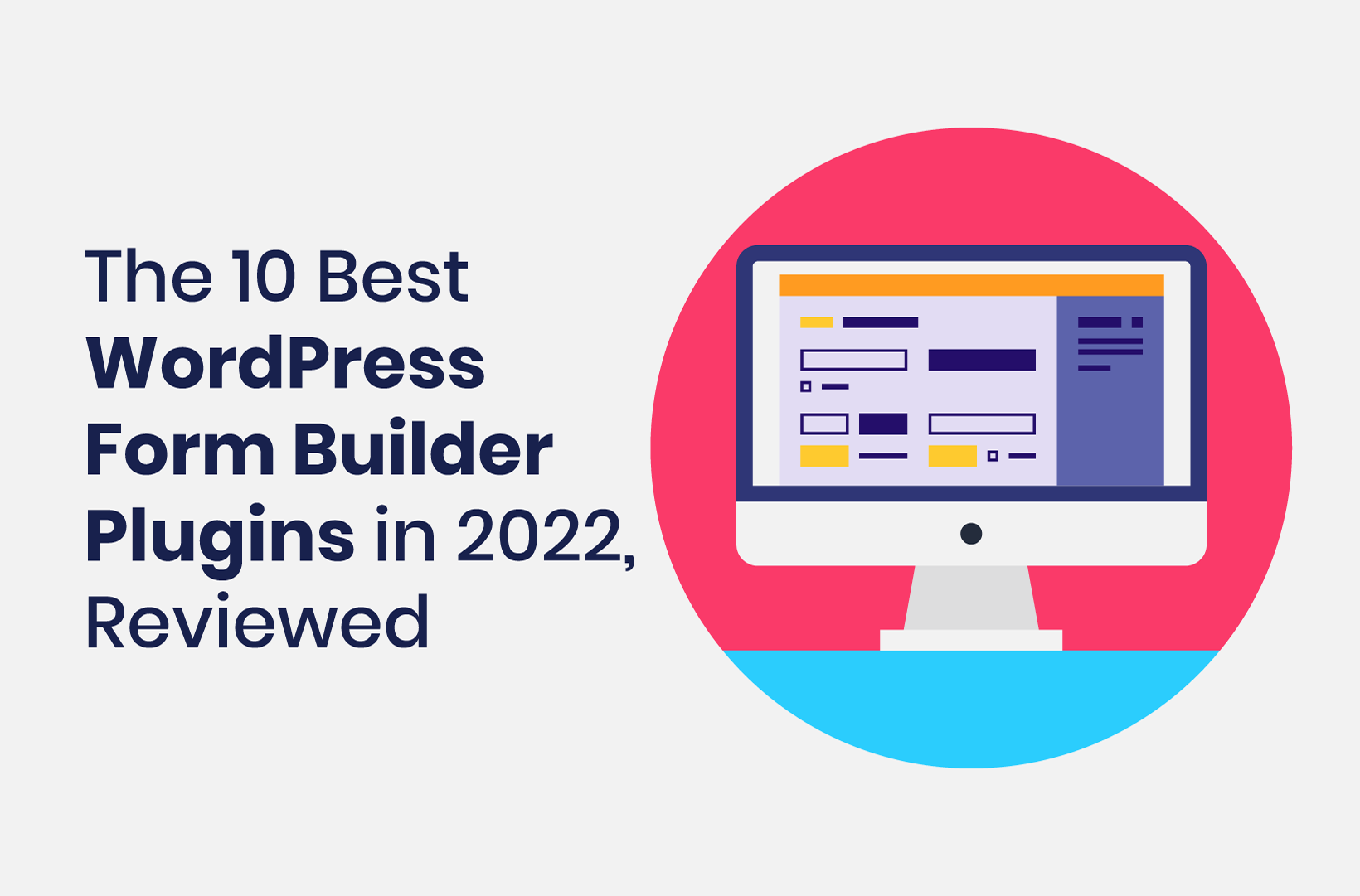 Comparison
13 Min.
The 9 Best WordPress Form Builder Plugins in 2022, Reviewed
If you want to use forms, you need a tool to help you create them. This post will look at some of the best form builder tools for WordPress!
---
When it comes to a WordPress website, forms run the show. They can be engaging and flexible ways to ask for and capture information from your users, especially when your web forms provide lots of interaction. A plugin form builder is essential for almost every website, and there are many choices on the market.
However, not every WordPress contact form plugin is equal. As such, you'll want to weigh up each option at your disposal and find the right one to fit your needs. From there, you should have all the functionality you require.
For this post, we're going to round up some of the very best WordPress form builder plugins and discuss how they work for a WordPress site. We'll also provide some comparisons where necessary.
---
The 9 Best WordPress Form Builder Plugins in 2022
The list below features nine different form builder plugins for WordPress. The list is in no exact order, so we encourage you to flit around the post and check out all of the entries.
However, we did put our favorite plugin first in the list, so let's start with this one, then get onto the rest.
1. Tripetto
If you want the most comprehensive form builder WordPress plugin on the market, Tripetto is it. You can use it to build powerful, customizable, and dynamic forms without any third-party add-ons or extensions. What's more, all of the data you collect stays within WordPress for maximum security.

Tripetto is one of the easiest and most intuitive plugins around, and it also offers scalability. This makes it perfect for many different applications such as quizzes, surveys, questionnaires, market research purposes, employee feedback forms, order forms, and much more.
The form builder plugin offers a number of standout features:
There's a drag-and-drop form builder tool that doesn't require any code or technical knowledge to use. The full experience is at your fingertips.
Tripetto also includes unique 'form faces'. These let you 'skin' your forms based on a typical layout, one that autoscrolls, or a chat-based format. You're also able to switch between these styles on a per-form basis, which isn't in any other competing tool.
Tripetto includes advanced conditional logic features to help you build custom forms with high engagement and greater functionality and value. You can include branch logic, skip logic, recurring logic, use boolean operators, and many more types.
You're able to include hidden form fields, custom variables, advanced calculators, and many more actions in multiple forms, for use across all of them.
Tripetto is flexible to your choice of site editing. You're able to use shortcodes or Elementor widgets to place your forms almost anywhere you need on your site. Also, you can create a direct link to each form.
If you do want to expand the functionality of Tripetto, you can do so using webhooks that let you connect to thousands of services. This lets you integrate services such as Mailchimp, Google Workspace apps, and more using tools such as Pabbly or Zapier.
Unlike other form builder plugins, Tripetto is a complete standalone solution that requires no third-party dashboard or external dependencies. You get the full experience and feature set regardless of your budget, and every action the plugin takes happens within its infrastructure. Each Tripetto tier includes everything on offer – the only difference is with the number of licenses. Regardless, a single-site license is $99 per year, and each tier comes with a 14-day money-back guarantee.
2. Contact Form 7
If you're a WordPress user, Contact Form 7 should be familiar to you. It's likely the oldest WordPress form plugin available – certainly the most well-known among users.

This plugin is also one of the simpler and more beginner-friendly solutions to use, which is one reason why it has huge popularity. There are lots of other plus points too:
You're able to manage multiple contact forms from the familiar WordPress dashboard.
There are simple customization options available, using markup language to implement.
The plugin supports CAPTCHAs, Automattic's Akismet spam protection, and other security technologies.
Because Contact Form 7 is popular, you'll also find lots of third-party integrations and support across numerous WordPress products and services.
However, despite the positives, there are some big drawbacks with Contact Form 7. For starters, there is no visual builder or drag-and-drop functionality. This means you'll need HTML knowledge in order to customize and display your form (although the actual implementation uses shortcodes.)
Also, if you compare this to what Tripetto offers, you'll find a lack of available conditional logic options. In fact, the advanced functionality is poor across the board, so you won't be able to build conversational forms either.
It's also worth noting that you can't store form submissions in WordPress without a dedicated plugin. The Contact Form 7 developers do offer Flamingo, but this means an extra plugin on your site, and regardless, it doesn't come with the best reviews.
3. WPForms
Over the past few years, many users are turning to WPForms as a better alternative to Contact Form 7. This is for a number of reasons, not least its impressive set of features and functionality.

For starters, it offers a drag-and-drop builder and a collection of templates to help start you off, just like Tripetto. It can also provide lots of other features for your form-building exploits:
You can implement conditional logic.
There's the option to create multi-page forms too if you wish, which can help flow and break up an otherwise repetitive form.
You're able to create all sorts of forms, such as user registrations, payments using PayPal, file upload forms, and more using the array of elements and form field types.
If you want to connect to other services, you can do so through the webhooks within WPForms.
However, while WPForms offers plenty of scope, this is only if you choose a higher-tiered plan. For example, if you compare Tripetto to the Basic or Plus plan, you lack a number of essential features and functionality:
There's no way to create conversational forms, payment forms, survey forms, and other essentials.
You can't access webhooks to connect to third-party services.
Many of the reporting, site management, and premium integrations won't be accessible to you.
You can only access these if you pay up to $399 per year, which compared to $99 for Tripetto's full feature set is an expensive proposition.
4. Ninja Forms
Ninja Forms is a WordPress form builder plugin that lots of users love, not only as an alternative to the competition, but as a product in its own right.

This is another long-standing plugin that comes with plenty to help you create forms under the hood:
While there isn't a drag-and-drop form builder available per se, you do use a visual builder that's user-friendly and also includes drag-and-drop elements.
There are a lot of extra and hidden fields for you to leverage, which is great if you need to add custom fields.
You're able to export submissions from Ninja Forms to a number of formats, in case you want to move your data elsewhere.
Ninja Forms is also fantastic for developers, as there are lots of ways to work with the HTML and CSS through the custom control panel. Also, there is plenty of scope to extend the plugin's feature set through add-ons.
However, this provides one of the bigger drawbacks of Ninja Forms. The core plugin is free, but you'll need to stump up for a premium plan if you want to take advantage of the vast number of add-ons available.
What's more, Ninja Forms lacks extensive conditional logic, and embedding options. It's a negative that means you might be better off with a more complete package, such as Tripetto.
5. Formidable Forms
Not every WordPress form builder plugin can get column inches, and this is somewhat true for Formidable Forms. However, it's a top-drawer plugin that you'll want to check out.

It's arguably one of the most feature-packed form builders for WordPress around too:
You're able to build complex forms using features such as a dedicated builder, form templates, and even HTML if you have that knowledge.
There's plenty of styling on tap, with basic options for colors, borders, padding, and more.
However, there is more advanced styling functionality available. For example, you can create conversational forms, landing pages, polls and quizzes, and many more types.
You can implement SMS-based voting on surveys and polls, accept digital signatures, and myriad other ways to get responses from your responders.
Formidable Forms also provides lots of integrations with third-party services. There are webhooks for email marketing services such as Mailchimp, Constant Contact, and AWeber, CRMs such as Salesforce, and plenty more.
However, much like Ninja Forms, you'll need to pay to access some of the more advanced features of Formidable Forms. Even the free version of the plugin compared to Tripetto's version pales. As such, you may want to consider this form builder plugin as a larger business or developer. However, for everyone else, Tripetto is a clear winner.
6. Gravity Forms
It seems as though almost every mention of WordPress form builder plugins will offer Gravity Forms as a winning solution. This is because it offers a lot of functionality for the money, along with a stellar pedigree.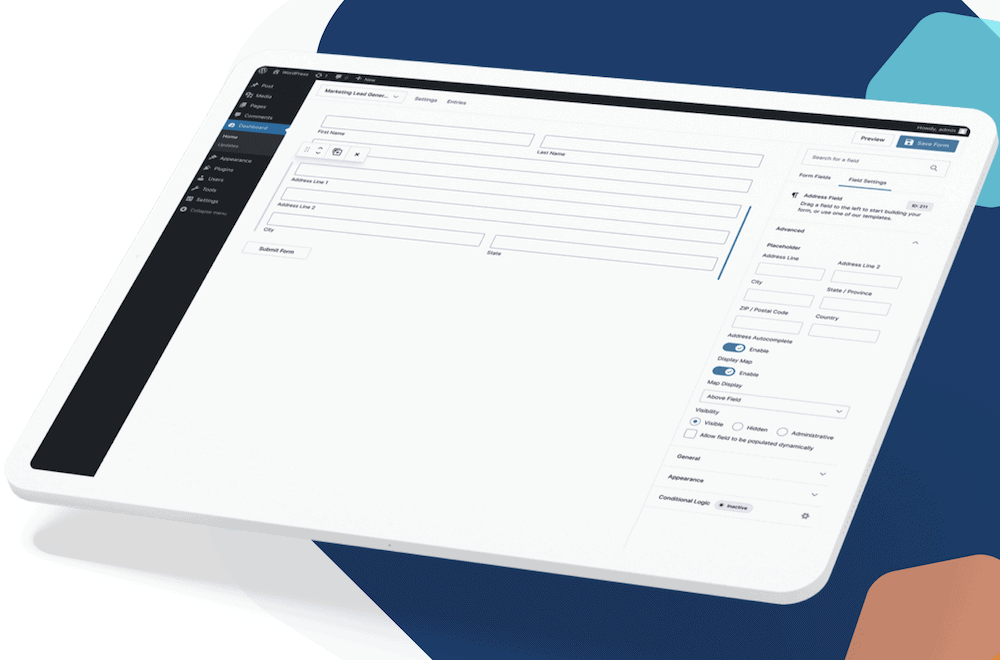 While many of the features for this plugin are similar to others, it comes with a number of unique possibilities that you won't find elsewhere:
You're able to use merge tags to help set placeholder content that you can use with dynamic population.
You can route emails along complex pipelines based on your needs, along with the data you capture.
Gravity Forms can also capture partial data, which you can then remind users about. This will cut down on abandoned forms and bolster your non-conversion rates.
Along with a huge number of add-ons, you can also build your own using a custom Gravity Forms framework.
Much like Formidable Forms, Gravity Forms will suit a large business or developer who needs flexibility and power from a form builder. However, the cost is the biggest gripe we have with the plugin.
When it comes to pricing, the full experience is $259 per year, which is much more than an equivalent plan from Tripetto – and many other plugins. While you might be tempted by the free version, it's really more like an extended demo of the full product. What's more the Basic tier at $59 per year doesn't include much more to get your teeth into.
7. Typeform
Typeform is the gold-standard form builder for many, and has been for a while. In fact, you can see how it inspires all manner of other form builder plugins with its features and functionality.

Much like other solutions, Typeform has practically everything you need to build forms, on paper at least:
You have a bunch of templates to help start you off with your own forms.
There are advanced functionalities on hand, such as conversational forms, chat-style interfaces, and more.
You're able to use video within your forms, maybe as an interactive element, or just to break up your designs.
There are lots of connections to other services too, such as Salesforce, Hubspot, Slack, Google Analytics, and more.
Even better, there's a free version of Typeform that you might want to consider. However, even Tripetto's free version beats it in a straight comparison, and that's before you consider the cost of Typeform's premium tiers.
In fact, Typeform can be expensive, which has more of an impact when you consider that it restricts features based on how much you pay. Typeform costs around $25–85 per month, which is a far cry from $99 per year for Tripetto.
It's also worth noting that Typeform isn't a WordPress plugin, but an online form builder tool. As such, you'll have to store your form submissions on other servers, and could potentially experience workflow trouble when you look to integrate the solution with your site.
8. SurveyMonkey
If you ever want to ask other web users for an opinion using a poll-style of form, SurveyMonkey is one of the first options you'll consider. Many users have done this over the years, and it can be a go-to solution for surveys.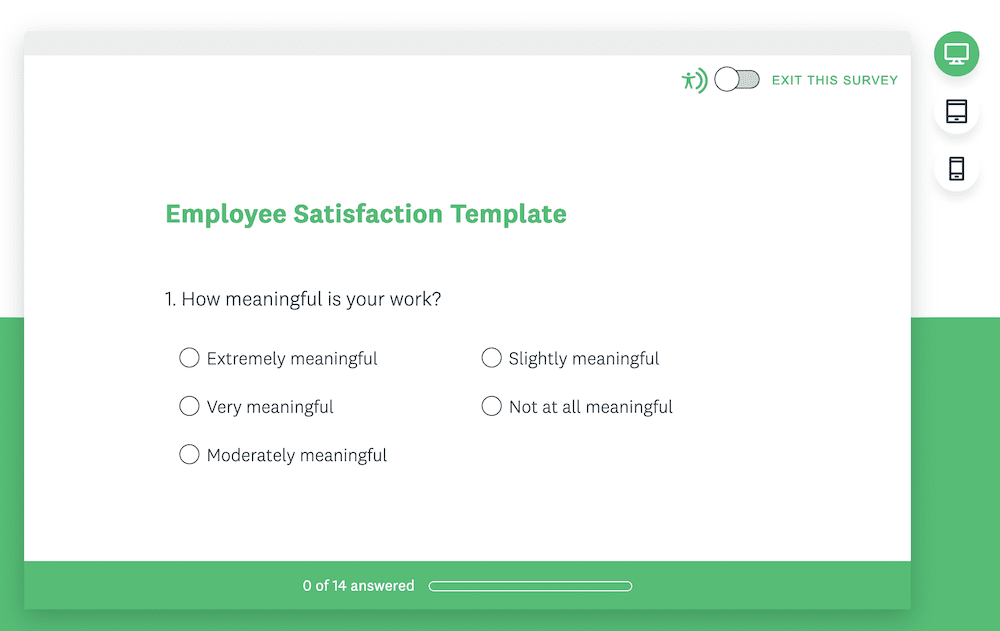 SurveyMonkey provides lots to get to grips with too:
You can create conversational forms using the default functionality.
There are lots of embedding options to help you share your forms.
You get lots of styling options, themes, templates, and more to build your forms with.
SurveyMonkey provides sample questions you can use in your forms, created by experts in the field.
With the SurveyMonkey Genius tool, you can grade your surveys and find out whether they are as optimal as possible.
The reporting options are arguably the best available – even better than Tripetto.
However, there are a few negatives to note. The free version of SurveyMonkey seems tempting, but it suffers from lots of limitations, and it's a viable solution for anything but informal surveys. You also can't use logic jumps, style your forms, or get any more than 40 responses from a single survey.
For a premium version, you'll have to pay up to around $40 per month (using annual billing) to get the full SurveyMonkey experience. Even so, it's a standalone SaaS solution without its own WordPress plugin. This means you won't be able to integrate it with the platform too well, if at all.
9. Google Forms
Lots of people turn to Google's products to fill gaps in their lives, and with Google Forms, you'll be able to fulfill the same goals as you would with a tool like SurveyMonkey.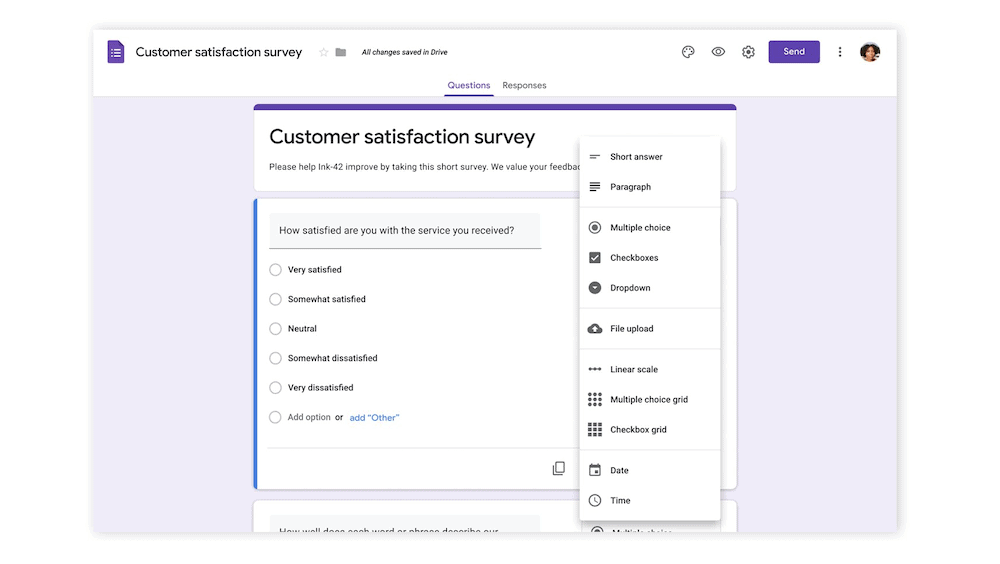 Much like many other Google offerings, you get a solid set of core features:
There's a familiar interface, similar to other Google tools.
You'll get a number of question types and fields to use, which helps if you have specific forms in mind.
Google Forms provides custom logic options if you need to create something more complex than a standard form.
As you'd expect from a Google product, the reporting is top-notch and valuable.
However, you're in no doubt that Google runs the show here. The interface is bland, yet in keeping with other tools in the network. As such, you also don't get a lot of variety with form templates, customization, or advanced logic. What's more, Google Forms isn't a WordPress plugin, so there's almost zero integration or management from your site's dashboard. Even so, it's free and could do in a pinch if you want to use a standalone form builder.
---
Conclusion
If you create a form with simple, clear wording, relevant questions, and an entertaining design, you'll see fantastic completion rates. In turn, this will give you information that will help to reference other forms and your overall business strategy.
If you use a form builder plugin for WordPress such as Tripetto, you can add more features and customize your forms further. For example, you can build in conditional logic and apply different form faces to suit your needs and develop a conversational experience.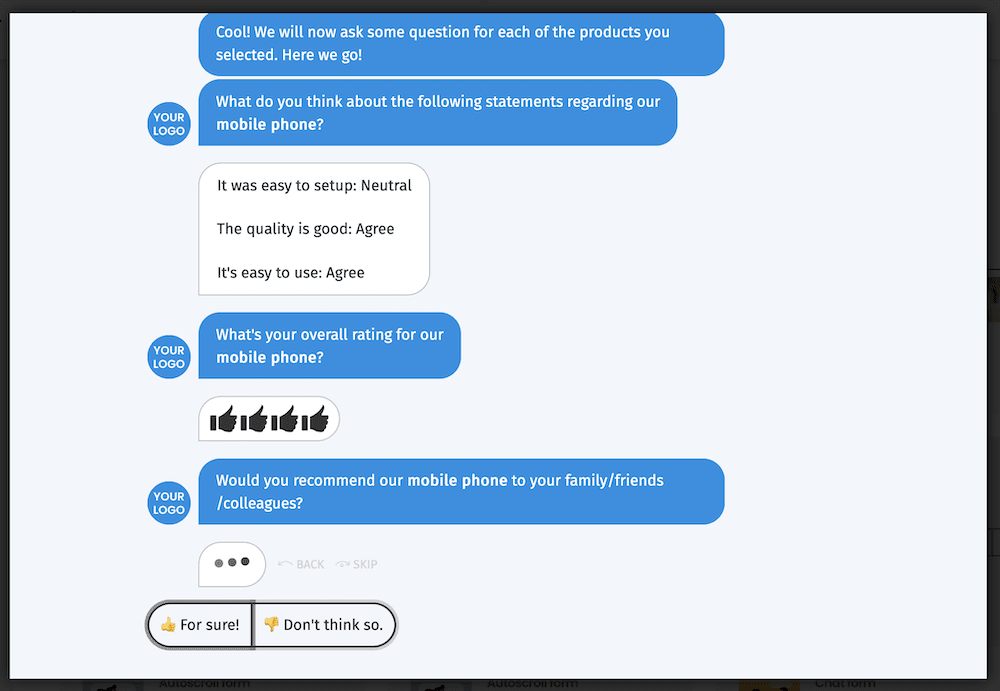 Combined with the storyboard layout that lets you see your form's design and structure at a glance, and the collection of elements to build your forms, you'll have plenty at your fingertips to engage your user base.
You can take Tripetto for a spin from $99 per year for a single-site license. What's more, there's a 14-day money-back guarantee on every purchase – no questions asked.